Dell is ushering in the next era of computing with a redesigned portfolio of business and consumer PCs designed to take advantage of advances in new operating systems. Built to best optimise Windows 8, Dell has crafted inspired designs that enable new user experiences and make touch computing available to more customers than ever before. Dell today is making available the Latitude 10 tablet, OptiPlex 9010 All-in-One with touch, Inspiron 15z , Inspiron One 23 All-in-One with touch, XPS 12 convertible, and XPS One 27 All-in-One with touch. Available from November 9 will be the Latitude 6430u Ultrabook.
The new offerings free customers from carrying multiple devices, helping them save time and be more productive. The gorgeous and durable designs offer unparalleled security and manageability, empowering users to keep pace in an always-connected world.
"We're unveiling a comprehensive refresh of all our consumer and commercial products to take advantage of Windows 8. These stylish new products include clean and intuitive touch experiences, the security and manageability required by IT departments, and features to allow anytime, anywhere access to data and applications."
New Dell Tablets: Built for Work & Play
The 10-inch Latitude 10 tablet fits simply and securely into existing IT environments and offers rich multi-media features, Microsoft Lync enablement, accessory compatibility, and full compatibility with current Windows applications. Like all products in Dell's commercial laptop line, the Latitude 10 plugs easily into existing management consoles, features a swappable battery and touts robust optional security features such as Dell Data Protection | Encryption for encryption from the hard drive to USB port.
For industries such as healthcare and government, the new tablet will feature an optional fingerprint and smart card reader for two-factor authentication; available in early 2013. The Latitude 10 also offers up to 18 hours of battery life and an optional productivity dock and active stylus. Ideal for work and great for home, the Latitude 10 will be available for purchase to all customers.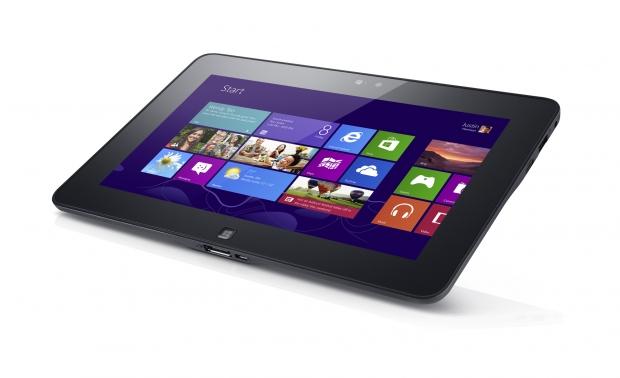 The XPS 12 is two devices in one: a fully-featured, full-powered laptop that easily becomes a fully-featured touch-powered tablet. The unique flip hinge touchscreen display is elegant and innovative and easily transitions between laptop and tablet mode with a simple flip. When in tablet mode, the display completely covers the keyboard, protecting it from dirt and spills. The vibrant Full HD display provides 90 percent more pixels than a standard HD display for an exceptionally crisp reading and viewing experience.
Making the Enterprise Cool
The Latitude 6430u, Dell's first business Ultrabook, is the perfect balance between aesthetic and corporate needs with the combination of a thin, highly-mobile form factor with striking design and the security, manageability and durability companies require. The Latitude 6430u is a highly manageable notebook in addition to being the most durable, having undergone a broader set of United States' Military's MIL-STD 810G standard tests than any other system in its class. The Latitude 6430u is the first to offer a wireless docking based on WiGig technology, which allows devices to communicate wirelessly at multi-gigabit speeds for data, video, and audio. With 10 hours of battery life on a single battery charge, the Latitude 6430u delivers all day battery life, crucial for road warriors and on-the-go executives.
The sleek 23-inch OptiPlex 9010 All-in-One empowers productivity while preserving limited desk space. As businesses incorporate touch interfaces into work environments, collaboration and productivity can increase; however, some workers have space limitations. The business-class All-in-One offers options for a multipoint touchscreen, fixed or rotating camera and an articulating stand and is optimized for Microsoft Lync to enhance the user's work experience with Windows 8.
New Touchscreen Experiences for the Holidays
The award-winning XPS One 27 All-in-One is designed for creative enthusiasts with a super high resolution display and performance graphics for multimedia creation and entertainment. The gorgeous, space-saving design features a 27-inch Wide Quad HD Display, which has 78 percent more pixels than a Full HD display, and an articulating stand that tilts the display to a 60-degree angle, providing additional options when using the touchscreen interface. Whether one is designing a digital masterpiece or experiencing HD entertainment, the XPS One 27 delivers the power, sound, graphics and pixels for a brilliant multimedia experience.
Dell is also updating its popular systems in time for the holidays. The award-winning XPS 13 has been updated with a new specification, including the Ivy Bridge chipset. As a result, the new XPS 13 is up to two times faster than the previous generation XPS 13. The Inspiron One 23 All-in-One PC, with its impressive performance and a bright Full HD display in a space-saving, sleek design, is now available with a touchscreen option for entertainment, education and fun for the whole family.
Dell is also unveiling the Inspiron 15z Ultrabook just in time for the holidays. The Ultrabook has an optional touchscreen interface, and packs loads of features into a svelte silhouette, perfect for those who want "more" - more display size, more entertainment options, and more processing power. Measuring less than 1-inch thick, the Inspiron 15z boasts plenty of performance, great battery life and responsiveness, along with an attractive aluminium finish.
Dell is not only designing great tablets and PCs for Windows 8, it also is updating its line of computing peripherals. Dell is making available a 23-inch S2340T multi-touch monitor and TP713 wireless touchpad designed specially to extend the Windows 8 experience. The S2340T is Dell's first multi-touch monitor, designed to maximize a media entertainment experience with beautiful aesthetics, performance and a multi-position, 90-degree articulating stand. Unlike most other touchpads, the TP713 has a full-touch work surface that extends across the entire device top, allowing users to swipe and scroll with ease. Users can place multiple fingers on the smooth, durable glass touch surface; the multi-touch functionality provides expanded capabilities when using the new apps on Windows 8. Seamless and intuitive to use, the S2340T monitor and the TP713 wireless touchpad bring Windows 8 alive across Dell's entire range of work systems, helping users tackle projects with efficiency and productivity.
Quotes:
"Dell continues to address the requirements of consumers who desire innovative blends of style and performance, and IT which needs to support flexible, yet controlled, computing environments," said Charles King, president and principal analyst, Pund-IT, Inc. "The new Windows 8-based XPS, Latitude and OptiPlex lineups should certainly appeal to consumers and IT alike. Dell's solutions are designed to support the core security and manageability processes which concern business IT and are key to fulfilling the promise of BYOD."
Availability and Pricing:
The following systems are available for purchase today for delivery this week:
XPS One 27 with touch - starting at AUD$1899
XPS13 - starting at AUD$1299
S2340T multi-touch monitor - starting at AUD$699
Inspiron One 23 AIO with touch - starting at AUD$1199
The following products are available for purchase today and delivery in the coming days and weeks:
XPS 12- starting at AUD$1,499
Latitude 10 tablet - starting at AUD$930 (incl. 12 months Next-Business-Day onsite warranty)
Latitude 6430u - starting at AUD$2599 (incl. 12 months Next-Business-Day onsite warranty)
OptiPlex 9010 All-in-One with touch- starting at AUD$1499
Inspiron 15z - starting at AUD$799
The following product is for purchase and delivery in the coming weeks:
TP713 wireless touchpad - starting at AUD$69
Inspiron 15z (touch) - starting at AUD$999
Last updated: Apr 7, 2020 at 12:07 pm CDT