For those who haven't taken a leap to Intel's Z77 and Ivy Bridge combo yet, either you're cultivating self discipline or you're planning to prey upon something big. Well, now is the big moment, because ASRock is releasing its beastlike Z77 Extreme11!
This tiptop motherboard has 8 SAS2/SATA3 connectors supported by an LSI SAS2308 PCIe 3.0 x8 controller. For extreme graphics, 3-Way SLI/4-Way CrossFireX is supported via a PLX PEX 8747 bridge. The LAN solution is also tempting. Two Intel LAN chips to support dual LAN and teaming, while there's also a 2T2R Dual Band WiFi & Bluetooth 4.0 module and a bundled Wi-SB Box. Specially designed for computer enthusiasts, Z77 Extreme11 possesses unbeatable hardware and extreme powers waiting to be unleashed.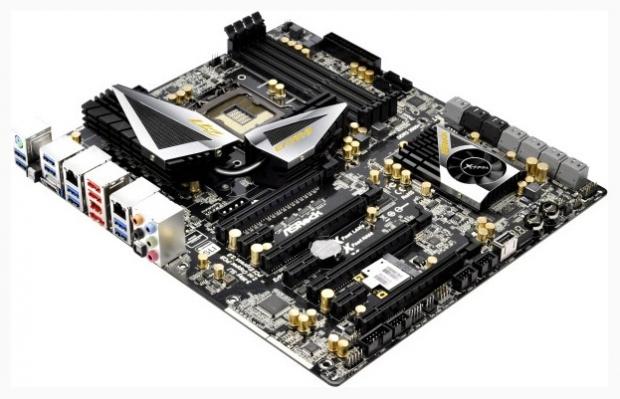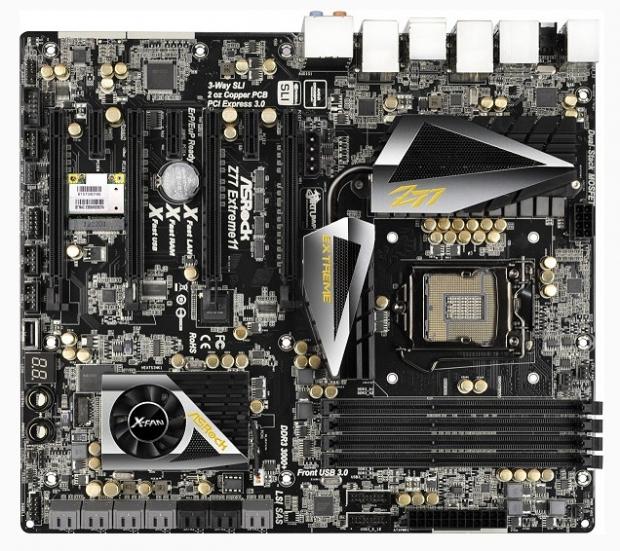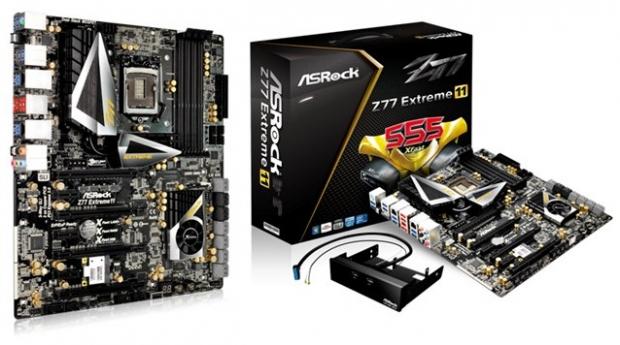 8 SAS2/SATA3 Ports from LSI SAS2308 PCIe 3.0 x8 Controller
Having insufficient storage space and mediocre file transferring speed is an unforgivable crime for a topnotch motherboard. Therefore, besides the two native SATA3 and four native SATA2 ports, Z77 Extreme11 has eight additional SAS2/SATA3 ports powered by an LSI SAS2308 PCIe 3.0 x8 controller. The abundant SAS2/SATA3 ports support RAID 0, RAID 1, RAID 1E, RAID 10 and MegaRAID utility. Moreover, users may get up to 3.8 Gb/s transfer speed through 8 SSDs in RAID 0 mode.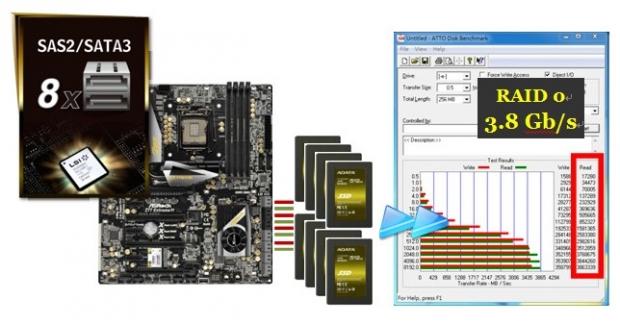 3-Way SLI and 4-Way CrossFireX via PLX PEX 8747 Bridge
We all agree that eye appealing graphics is fundamental for a good PC. But merely being good is never enough, and the onboard graphics might not meet your high expectations. That's why Z77 Extreme11 has a PLX PEX8747 bridge embedded for building 3-Way SLI/CrossFireX in x8/x8/x8 mode or 4-Way CrossFireX in x8/x8/x8/x4 mode.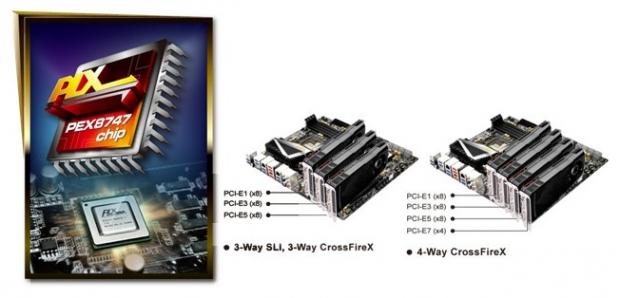 Intel Dual LAN/2T2R Dual-Band WiFi & BT v4.0 Module/Wi-SB Box
In case you're concerned whether the LAN solutions are acceptable, then get a load of this. The onboard Intel Dual LAN chips support teaming function, while there is also a 2T2R Dual-Band WiFi & Bluetooth v4.0 Module which supports WiFi a/b/g/n, dual band 2.4/5 GHz and of course, Bluetooth 4.0. The WiFi module comes with ASRock's exclusive Wi-SB BOX for you to connect the WiFi antenna and two USB 3.0 ports.
Deluxe Hardware and Components
As usual, ASRock Z77 Extreme11 is equipped with top tier gears. Including 2oz copper PCB that effectively controls the PCB's temperature when overclocking; 8 + 4 power phase design and Digi Power bring smoother voltage to the CPU Vcore; Premium Gold Caps to extend the motherboard's lifespan; Dual-Stack MOSFET which provides lower Rds(on) and efficient currents for the CPU. As for your need to literally connect a dozen peripherals on USB 3.0 ports, ASRock Z77 Extreme11 is ready to comply with your demand with a total of twelve speedy USB 3.0 ports. Eight USB 3.0 ports on the rear I/O and two front USB 3.0 headers that supports four USB 3.0 ports.
Software For the Win
The Windows 8 launch date is just around the corner. ASRock Z77 Extreme11 is ready for Windows 8 with "Fast Boot", an easy setting in ASRock's UEFI which allows users to logon to Windows 8 within 1.5 seconds! It boots up so fast that it will make your head spin and it's almost impossible to enter into the UEFI again. Good news is there's also "Restart To UEFI". By enabling this function under OS, the computer will automatically enter the UEFI on its next restart. There's also other useful software such as Lucid Virtu MVP for improving visual performances.
ASRock Z77 Extreme11 has everything an enthusiast could wish for on a motherboard and even more. From the selection of high-end hardware to the artistic designs and the powerful software bundled. If you are in search of a Z77 chipset motherboard that is full of wins and reliable in quality, Z77 Extreme11 won't let you down.
For more information, please check: http://www.asrock.com/mb/Intel/Z77%20Extreme11/
Last updated: Apr 7, 2020 at 12:07 pm CDT