For the second time this year, a SpaceX Dragon spacecraft is at the International Space Station. Expedition 33 crew members Akihiko Hoshide and Sunita Williams today grappled Dragon and attached it to the station, completing a critical stage of the SpaceX CRS-1 cargo resupply mission.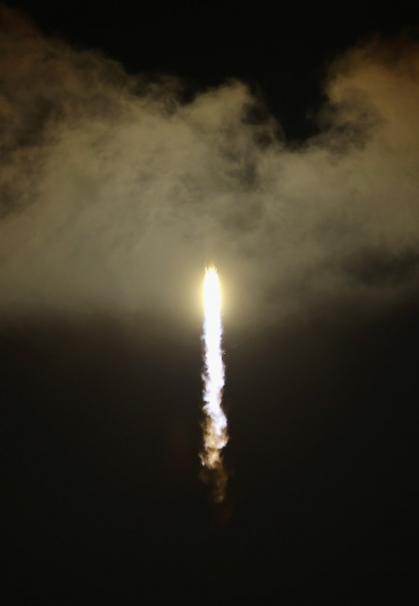 Hoshide used the station's robotic arm to capture Dragon and guide it to the station's Harmony module, and then Expedition 33 Commander Williams installed Dragon to Harmony's common berthing mechanism, enabling it to be bolted in place for an expected 18-day stay at the station.
Upon capture, Expedition 33 Commander Sunita Williams of NASA remarked, "Looks like we've tamed the Dragon."
Grappling was complete at 6:56AM ET, and at 9:03AM ET Dragon was attached to the space station.
"This is a big moment in the course of this mission and for commercial spaceflight," said SpaceX CEO and Chief Technical Officer Elon Musk. "We are pleased that Dragon is now ready to deliver its cargo to the International Space Station."
Next, the station crew will pressurize the vestibule between the station and Dragon and open the hatch that leads to the forward bulkhead of the spacecraft. The crew will then begin unloading Dragon's cargo, which includes crew supplies, vehicle hardware, experiments, and an ultra-cold freezer for storing scientific samples.
The mission, designated SpaceX CRS-1, is the first of at least 12 that SpaceX will perform under NASA's $1.6 billion Commercial Resupply Services contract. Only SpaceX's Dragon spacecraft is capable of both carrying significant amounts of cargo to the station and returning cargo to Earth.
Dragon is expected to be released from the space station on October 28 with return cargo that will include used station hardware and more than a ton of scientific samples. Splashdown and recovery in the Pacific Ocean off the coast of southern California will follow the same day.
Last updated: Apr 7, 2020 at 12:07 pm CDT