DisplayLink®, the leading provider of technology for virtual graphics, today announced that it will demonstrate the latest Lenovo USB 3.0 to DVI/VGA Monitor Adapter during the Intel Developer Forum 2012 San Francisco. With support on Windows 8 and legacy operating systems, the adapter offers simple "Plug and Display" connectivity and expansion from any laptop or PC to a DVI or VGA monitor over a single USB cable, making multi-monitor solutions easier than ever.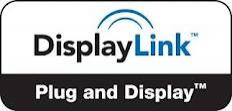 "The new Lenovo USB 3.0 to DVI/VGA Monitor Adapter offers a simple way to increase productivity and usability by adding multiple monitors to any PC," said Tom Tobul, vice president and general manager of the Think Accessories Business Unit at Lenovo. "With the ability to double or even triple a user's visual workspace, numerous applications can be used simultaneously across multiple monitors, meaning users can do more with less effort."
Using a simple USB cable and the supplied DVI/VGA converter, the new Lenovo USB 3.0 to DVI/VGA Monitor Adapter connects the host PC to an external monitor using either a DVI or VGA connection. Up to six DisplayLink Certified Monitor Adapters can be connected, allowing users to realize considerable productivity benefits. Applications can be spread across multiple displays, making multi-tasking a snap. Users can easily write documents while researching from the web and viewing spreadsheets all at the same time, with all information clearly displayed on multiple monitors in front of them. The new Lenovo USB 3.0 to DVI/VGA Monitor Adapter is software-upgradable to support Windows 8 and does not require external A/C power, making it the perfect companion to take on the road and use with projectors.
"The DL-3100 combined with our latest DL3 software ensures the dramatic increase in bandwidth is immediately on tap for Lenovo users, enabling full HD video and resolutions up to 2048x1152," said John Cummins, vice president Sales and Marketing for DisplayLink. "We've also ensured complete interoperability with Lenovo's other USB graphics products, including their award winning USB monitors and port replicators, resulting in a seamless interoperability environment for users and ultimate flexibility to expand."
Pricing and Availability
The new Lenovo USB 3.0 to DVI/VGA Monitor Adapter is priced at $79.99 and is available at www.lenovo.com or through Lenovo business partners.
Last updated: Apr 7, 2020 at 12:07 pm CDT