Adaptec Announces Highest Port-Count PCI-Express 3.0 RAID HBA
Sep 6, 2012 11:34 PM CDT
PMC, Inc.,, the semiconductor innovator transforming networks that connect, move and store big data, today announced the introduction of the industry's first PCIe Gen3 high port-count 6Gb/s SAS/SATA RAID adapters. The Adaptec Series 7 family represents the first RAID adapters to take full advantage of PCIe Gen3 bandwidth, providing unmatched performance for a broad range of enterprise and cloud computing applications. With 16 direct-connected solid state drives (SSDs), Series 7 adapters can deliver up to 450,000 input/output operations per second (IOPS) on a 4K random read block size, equivalent to nearly 10x the performance of previous-generation RAID adapters.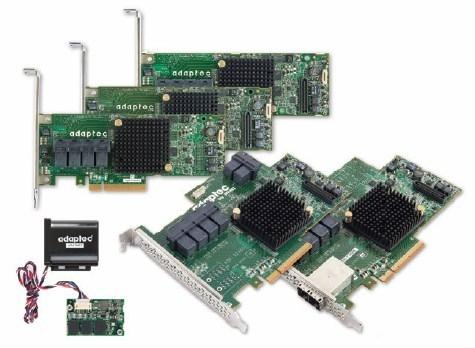 "This new series of adapters illustrates our continuing commitment to delivering storage innovations that fulfill customer's needs from the most demanding data center applications to entry-level storage servers," said Jared Peters, vice president of Server Storage Solutions at PMC. "By offering the industry's first native 16 and 24-port RAID solutions our customers can now directly attach up to 24 SSDs or HDDs with a single adapter, eliminating the need for multi-component architectures and taking full advantage of the latest PCIe Gen3 interface."
The Adaptec Series 7 family offers up to 16-ports in a low-profile MD2 form factor and up to 24-ports in a full-height half-length form factor by utilizing PMC's revolutionary 24-port RAID on Chip (RoC) and High Density (HD) Mini-SAS connectors. Other advanced technologies incorporated into the Adaptec Series 7 family include:
Adaptec maxCache 3.0, third-generation caching software, which utilizes SSDs for read and write caching to improve IOPs by 25x, reduces latency by 25x in read-intensive applications, and improves IOPs by 14x in write-intensive applications;

Third-generation Zero-Maintenance Cache Protection (ZMCP), which uses flash memory to protect cached data, eliminating the installation, monitoring, maintenance, disposal and replacement costs associated with lithium-ion battery backup units (BBUs);

New industry standard High Density (HD) Mini SAS connectors and cables for ease-of use, fit, and function in dense server environments;

Adaptec maxView, which simplifies monitoring and configuring RAID adapters in a system through a convenient web-based interface that runs on any browser (including mobile);

PMC's PM8015 RAID-on-Chip (RoC), which combines an x8 PCIe Gen3 SAS interface with 24 ports of 6Gb/s SAS/SATA;

"One Click Setup" capability allowing RAID, simple volume and physical drive configurations.
"With the evolution of hyper scale data center deployments, demand for fast and reliable access to data continues to grow," said Matt Eastwood, Group VP and GM of Enterprise Platforms at IDC. "With double the bandwidth compared to previous generations, devices that utilize the full capabilities of the new PCIe Gen3 interface represent a major step forward in providing that access."
"As data center applications continue to evolve and consume more I/O bandwidth, taking advantage of the PCIe Gen3 architecture is critical," said Jim Pappas, Director of Technology Initiatives, Intel Corporation. "PMC's delivery on PCIe Gen3 adds to the growing Ecosystem for the Intel Xeon processor E5-2600 product family by allowing customers to take advantage of increased throughput and reduced latency as a result of the 2x bandwidth PCIe Gen3 provides."
Availability
The complete family of Adaptec Series 7 RAID adapters includes eight separate SKUs, and will be available in October, 2012 through Adaptec's worldwide distributors and storage channel partners.
Adaptec Series 7 SAS/SATA RAID Adapters:
ASR-71605Q Single 16 Int. HD mini-SAS (maxCache 3.0+AFM-700) 2274600-R

ASR-7805Q Single 8 Int. HD mini-SAS (maxCache 3.0+AFM-700)

2274300-R

ASR-72405 Single 24 Int. HD mini-SAS 2274900-R

ASR-71685 Single 16 Int. 8 Ext HD mini-SAS 2274700-R

ASR-71605 Single 16 Int. HD mini-SAS 2274400-R

ASR-7805 Single 8 Int. HD mini-SAS 2274100-R

ASR-7805 Kit 8 Int. HD mini-SAS (with cables) 2274200-R

ASR-71605E Single 16 Int. HD mini-SAS (Entry level RAID solution) 2274500-R

AFM-700 Kit SuperCap Flash Back-up Module

2275400-R
Last updated: Apr 7, 2020 at 12:07 pm CDT
PRICING: You can find products similar to this one for sale below.

United States: Find other tech and computer products like this over at Amazon.com

United Kingdom: Find other tech and computer products like this over at Amazon.co.uk

Australia: Find other tech and computer products like this over at Amazon.com.au

Canada: Find other tech and computer products like this over at Amazon.ca

Deutschland: Finde andere Technik- und Computerprodukte wie dieses auf Amazon.de
Related Tags