Toshiba Corporation today announced the launch of a family of advanced 3.5-inch HDDs that bring multi-terabyte capacities to the consumer space. Four series of high-performance models offer a total of 12 variants: four models offering 3 TB capacities, complemented by models offering 2 TB and 1.5 TB levels of storage. Volume shipments of the drives, produced with manufacturing equipment acquired in a recent transaction with Western Digital Corporation of the United States, will start at the end of this month. In adding these drives to its current line of 250 GB to 1 TB consumer-use 3.5-inch HDDs Toshiba will expand its product coverage to a wide ranging 250 GB to 3 TB.
The high capacity storage devices that add to the performance of today's digital devices, among them desktop PCs, external hard drives, digital video drives and TVs with an integrated recording function, must match advances in HD image quality and the proliferation of TV channels and other digital sources with density advances that can meet increasingly heavy demands on capacity. Toshiba is making this possible with a new product line-up that includes 3.5-inch drives with a full 3 TB capacity.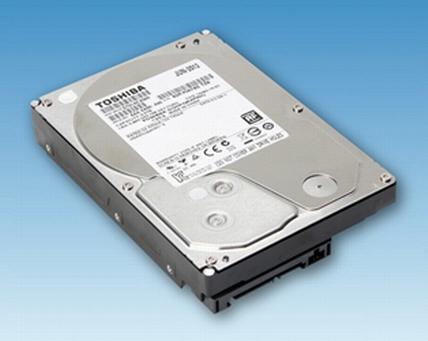 The new line-up is configured to meet diverse needs. The DT01ACA300, DT01ACA200 and DT01ACA150 offer a rotational speed of 7,200 rpm, appropriate for high performance desktop PCs. The DT01ACA300V, DT01ACA200V and DT01ACA150V are equipped with a streaming function to handle data transfer within a specified time, and are optimized for applications such as digital video recorders that must record and playback video data without any delay. Toshiba has also responded to energy-conscious users with low power consumption models offering rotational speeds of 5,700 rpm and 5,940 rpm; compared to the 7,200rpm variants, these models reduce power consumption by 19 to 25%.
Since the start of this fiscal year, as the result of a series of strategic investments that culminated in securing capabilities in 3.5 inch HDD for consumer products, Toshiba has realized the ability to develop and market hard disk drives in all key product areas. By complementing this with SSD solutions for both enterprise and consumer applications, Toshiba is uniquely positioned to meet demand across the entire range of customer needs.
Key Features
1. 3 TB high capacity
New drives with a 3 TB capacity can meet growing demand for storage of multiple HD video sources.
2. 6 Gb/s high speed SATA I/F
High-speed data transfers are secured by adoption of state-of-the-art SATA I/F capable of a 6 Gb/s transfer rate. This assures smooth playback on desktop PCs and HD video recorders.
3. Low acoustics seek technology
"Silent seek mode" performs data seek much more quietly. It reduces noise by 1 dB and 2 dB compared to normal mode for products with three and two disks, respectively. This feature is highly suited to viewing music with noise reduction in quiet environments.
4. Reduced power consumption in idle mode (Option)
A rotation speed reduction mode can be added as an option. In this mode, rotation speeds in idle mode are automatically reduced. In the DT01ACA300, 5.2W power consumption in normal rotation is reduced to approximately 2.4W. (Approximately 54% reduction)
5. Environmentally Conscious Products
RoHS compatible
The new drives are compatible with the European Union's RoHS directive on the elimination of six hazardous substances in electrical and electronic equipment.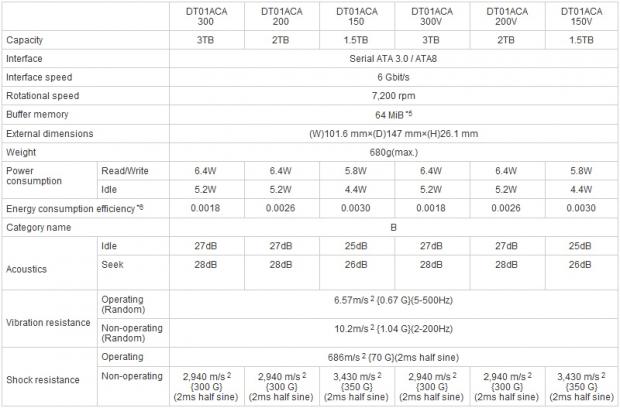 Last updated: Apr 7, 2020 at 12:07 pm CDT