Today AMD (NYSE: AMD) launched the AMD FirePro™ A300 Series Accelerated Processing Unit (APU) for entry-level and mainstream desktop workstations. Featuring AMD Eyefinity multi-display technology, the new AMD FirePro A300 Series APUs are designed for users who demand a high-performance computing platform to power their computer-aided design, and media and entertainment (M&E) workflows. The new AMD FirePro A300 Series APUs combine industry-certified performance and reliability for professional applications with world-class 24-hour customer support, delivering highly-tuned performance and robust feature support across a range of professional applications and tools.
"Design professionals demand workstation-class tools that enable productivity and flexibility in their workflow, and the AMD FirePro A300 Series APUs enable workstation integrators and OEMs an exciting new computing platform on which to design and build powerful, entry-level desktop workstation configurations that deliver unbeatable value for CAD and M&E workflows," said Matt Skynner, corporate vice president and general manager of AMD Graphics. "The AMD FirePro A300 Series APUs combines AMD FirePro™ graphics technology with advanced CPU technology, delivering incredible compute performance, refined design flexibility and outstanding efficiency."
The Edge You Crave
AMD FirePro A300 Series APUs are the first single-chip processors capable of delivering the workstation-class visual computing performance required for today's advanced professional design workflows. The introduction of AMD FirePro A300 Series APUs offers OEMs and workstation integrators (WSIs) greater design flexibility, enabling new workstation designs that help save space, are energy efficient, and have low heat and noise levels without compromising true workstation-class performance and reliability.
The Performance You Demand
AMD FirePro A300 Series APUs deliver incredible performance for the entry-level and mainstream workstation segments, providing a perfect blend of CPU and GPU performance and industry-leading features to keep design professionals efficient:
Support for AMD Eyefinity Technology for enhanced efficiency and immersive, multi-monitor productivity;

AMD Turbo Core technology, where CPU and GPU performance are dynamically scaled depending on workload demands, effectively providing a more responsive experience;

Support for horizontal display resolutions up to 10,240 x 1600 pixels, enabling large desktop spaces across multiple high-resolution display devices for advanced multitasking1;

Support for Discrete Compute Offload (DCO), allowing additional compute capability by using discrete AMD FirePro GPUs in parallel with APU graphics for extended GPGPU performance;

30-bit color support to enable breathtaking image and color fidelity for advanced workflows such as color correction and image processing when using displays capable of 10-bit-per-channel operation;

Dedicated UVD (universal video decoder/VCE, or video CODEC engine) media encoding hardware for faster "fixed function" GPU processing of H.264/MPEG4 files and other motion media formats when using compatible software, to free up CPU resources for other tasks
The Reliability You Deserve
AMD prides itself on maintaining high standards of internal quality control to help ensure unbeatable end-user experiences. To that end, AMD FirePro A300 Series APUs deliver comprehensive application compatibility and technical support to provide users with the reliability they deserve.
AMD FirePro A300 Series APUs are vigorously tested and certified for reliability and compatibility with a wide range of professional applications. All AMD FirePro A300 Series APUs are powered by AMD Catalyst™ Pro software, enabling application performance and compatibility with ISV-certified software and optimized performance for CAD and M&E applications. The AMD FirePro graphics ISV Alliances team maintains very close collaboration with dozens of ISVs to ensure alignment for product and driver updates.
Pricing and Availability
The AMD FirePro A300 Series APUs will be available in systems from a number of workstation integrators starting in August of 2012.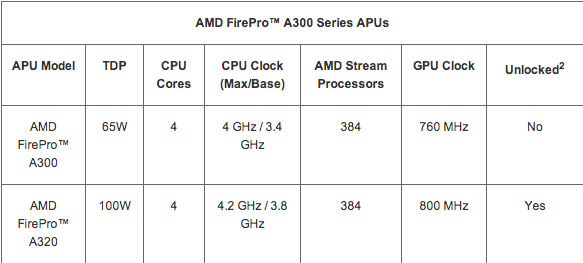 Last updated: Apr 7, 2020 at 12:07 pm CDT