Zerto today announced that 33 leading Cloud Service Providers (CSP) from around the globe have joined the Zerto Cloud Disaster Recovery Ecosystem (ZCE). Providers in the ecosystem are now able to offer cloud disaster recovery (DR) services in a way that was not possible before, enabling businesses of all sizes to cost-effectively protect production applications both to the cloud and in the cloud.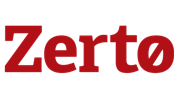 Businesses are looking to the cloud to provide cost-effective data protection for their production applications. With cloud DR, companies can now replace their primary or secondary data centers and benefit from cloud automation and flexibility while having a solid DR assurance. Until now, cloud-based DR for production applications had been ineffective, complex and cost-prohibitive. Due to limitations with legacy array-based replication, CSPs were required to have exactly the same storage type as their customers, increasing their overall costs. Further driving up costs was the complexity of managing these cloud-based DR offerings, which were inflexible, labor-intensive and difficult to scale. By resolving these problems for CSPs, Zerto makes the cloud itself more resilient, so CSPs can provide enterprise customers with tight SLAs and assurance when placing their most critical business applications in the cloud.
"Zerto's solution has been adopted by cloud service providers because it enables them to offer simple, automated, storage-agnostic DR at an attractive price," said Ziv Kedem, Zerto CEO and co-founder. "Recent outages show that until now, customers hoping to use the cloud for disaster recovery had no viable options. The widespread participation in Zerto's Cloud DR Ecosystem shows that the service provider community is eager to offer DR services that work better with their cloud environments and meet the rigorous standards companies expect of DR services."
"For our enterprise customers, disaster recovery can be a critical step in the cloud journey," said Ben Miller, Product Solution Director at Bluelock. "Before Zerto, a true multi-tenant, cloud-based DR service compatible with Bluelock's VMware vCloud Datacenter Services was not possible. Zerto provides a secure hypervisor replication capability that will allow Bluelock to provide a disaster recovery offering with the economics and agility of cloud computing that customers have been seeking."
The Cloud DR offering that ZCE partners will deliver to their customers is based on Zerto Virtual Replication 2.0, the latest version of Zerto's hypervisor-based replication solution. Companies can choose DR-as-a-Service (DRaaS), protecting on-premise applications to the cloud, and/or In-Cloud DR, protecting applications deployed in the cloud and replicated to a secondary cloud datacenter.
"Zerto provides a solution for our customers who want to decrease their costs while increasing the functionality of their DR environment," said Ken Seitz, Manager of Product Strategy at Peak 10. "Having Zerto as part of our overall BC/DR offerings allows simpler configuration for our customers and improves the ability to replicate directly into the Peak 10 recovery cloud. The ZCE combined with our existing cloud infrastructure makes disaster recovery available for a large segment of our customers who once thought it was out of reach."
Additional testimonials from members of the Zerto Cloud Disaster Recovery Ecosystem can be read at www.zerto.com/zerto-cloud-dr-ecosystem-partner-testimonials.
Zerto Cloud Disaster Recovery Ecosystem founding members include:
North America
· Arraya
www.arrayasolutions.com
· Bluelock
www.bluelock.com
· Bluemile
www.bluemilecloud.com
· Clearpath Solutions Group
www.clearpathsg.com
· CMT
www.gocmt.com
· CoreVault
www.corevault.com
· ECXSystems
www.trustecx.com
· Enterprise Networking Solutions (ENS)
www.ens-inc.com
· Integrated Data Storage (IDS)
www.integrateddatastorage.com
· Integrity Virtual IT
www.integrityvirtualit.com
· Ongoing Operations
www.ongoingoperations.com
· Peak 10
www.peak10.com
· Quest
www.questsys.com
· Recovery Networks
www.recoverynetworks.com
· Richard Fleischman and Associates (RFA)
www.rfa.com
· SHI
http://www.shicloud.com
· SIS
www.thinksis.com
· Terremark
www.terremark.com
· TierPoint
www.tierpoint.com
· Vonacom Systems
www.vonacom.com
Europe & Asia Pacific
· Colt Technology Services
www.colt.net
· Data Solutions Group
www.data-solutions.com.au
· De Novo
www.de-novo.biz
· Enables IT
www.enablesit.co.uk
· Foreshore
www.foreshore.net
· Hegerys / Magic Online
http://www.hegerys.com/pra
· Milkcloud / Global Access
www.milkcloud.com
· Millennia
www.millennia.it
· NetConsult
www.netconsult.co.uk
· Performance Technologies
www.performance.gr
· Stridon Limited
www.stridon.co.uk
· Zettagrid
www.zettagrid.com
· ZX
www.zx.nl
For additional information on joining the Zerto Cloud Disaster Recovery Ecosystem (ZCE), please visit http://www.zerto.com/zerto-cloud-dr-ecosystem-program. To find a local provider of Zerto Virtual Replication please visit www.zerto.com/cloud-service-providers.
Last updated: Jul 27, 2022 at 03:42 am CDT