SAPPHIRE Technology has just announced its HD 7970 6GB TOXIC Edition graphics card boasting the highest clock speeds in its class and believed to be the fastest single GPU graphics card in the world.
The SAPPHIRE HD 7970 6GB TOXIC Edition is based on the latest HD 7970 GHz Edition GPU from AMD, together with a host of industry first and exclusive features to deliver maximum performance. Its unique 6GB frame buffer is a World first for a consumer graphics card and makes the TOXIC Edition ideally suited to multi-screen gaming as well as providing the extra memory required for demanding professional applications such as content creation, video editing or rendering.
Performance is also World leading. By default, the HD 7970 6GB TOXIC Edition runs at 1050 MHz and dynamic boosts to 1100 MHz on the engine with the memory clock at 6000 MHz effective. By pressing the new SAPPHIRE exclusive Lethal Boost Button, the beast is unleashed, boosting the core clock speed to 1100 MHz with dynamic boost to an industry first of 1200 MHz on the engine while the memory is further overclocked to 6400 MHz effective. The fan profile and PowerTune limit is also changed to performance settings. In addition, users will be able to individually tune the card with SAPPHIRE TriXX, the company's free to download software tool that allows key parameters to be adjusted for maximum performance.
This astonishing performance is achieved partly as a result of a completely new power control system developed by SAPPHIRE - the Lethal Power Suite. The Lethal Power suite consists of many premium design features. These include a new 8 phase power design for the GPU VDDC, with an additional one phase each for VDDCI and MVDD. The design uses a brand new double sided Black Diamond Choke for the first time, as well as DirectFET technology and all on a 12 layer PCB to ensure the board runs fast and stable. (The double sided Black Diamond Choke design reduces the temperature around the power design portion by 40 degree Celsius in lab test when compared to the reference PCB design.)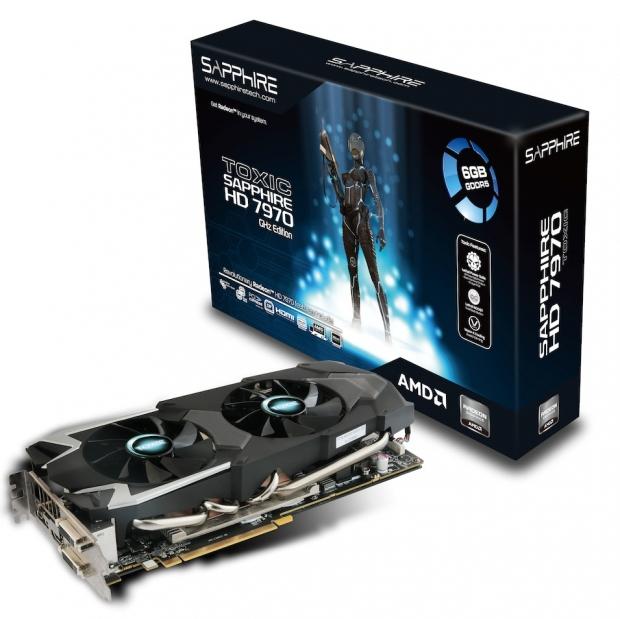 Cooling a card with such extreme performance demands a special solution - and the SAPPHIRE HD 7970 6GB TOXIC Edition has it - with a new implementation of SAPPHIRE's World acclaimed Vapor-X technology. The Vapor-X cooler on the TOXIC Edition is based on a new vapor chamber designed especially for this model. Heat is carried away by four heatpipes (2 x 8mm plus 2 x 6mm), and finally dispersed by two 90mm fan with aerofoil blades and dust repelling bearings.
The Vapor-X cooler easily handles the heat generated from Toxic HD 7970 even when it is running at over 1200 MHz. Additional peace of mind for the user is provided by another new feature - the PCB Temperature LED: The SAPPHIRE HD 7970 6GB TOXIC Edition has a built in onboard LED for users to monitors the PCB temperature.
Based on AMD's Graphics Core Next architecture, the SAPPHIRE HD 7970 6GB TOXIC Edition supports all the latest demands of multi-screen applications, multi-threaded Application Acceleration with stream processing, fast HDMI support for high resolution and stereoscopic 3D displays and all the Direct Compute features incorporated in the latest operating systems. But with its exciting feature set the SAPPHIRE HD 7970 6GB TOXIC Edition is able to deliver all this with the highest levels of performance ever achieved from a single GPU.
The SAPPHIRE HD 7970 6GB TOXIC Edition is a limited edition product that will be available to order from SAPPHIRE etailers and retailers from 17th July 2012.
Last updated: Apr 7, 2020 at 12:06 pm CDT