Sony's newest memory cards supporting the XQD specification are the fastest ever developed, with read and write speeds of 168 MB/s. The new "S Series" is perfect for professional photography applications where high performance and blazing fast image capture are critical, such as sports and live events.
Sony's S Series cards are based on the XQD memory card specification, which the CompactFlash Association approved and licensed as an open format. A unique controller and optimized flash memory enables high-speed data processing, resulting in faster write speed and performance that surpass the maximum interface speed of CF cards (167 MB/s). Transfer speeds may vary and are dependent on the host device.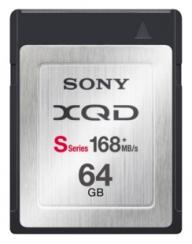 The new cards are available in 32 and 64 GB capacities and expand Sony's XQD line, joining the acclaimed H Series, recognized by the Technical Image Press Association with a 2012 award for "Best Imaging Storage Media." The S Series demonstrates Sony's commitment to enhancing its XQD memory card line-up as users' needs evolve for high-end digital imaging.
"Professional photographers need to shorten their workflow - the time between shooting, processing and editing," said Viviano Cantu, Director of Consumer Media for Sony Electronics. "With transfer times up to 30% faster than even the fastest CF cards, the S Series gives new meaning to high-performance digital image capture, more than conventional CF can offer, for pro shooters and advanced photo enthusiasts."
A new driver for devices with Thunderbolt technology lets users transfer files to Macintosh systems, when using a compatible reader/writer. The driver will be available for download in late July 2012.
Using the S Series XQD memory cards, users can capture up to approximately 108 frames in RAW format in continuous shooting mode. Translating this to real-world shooting, for example, a sports photographer can shoot RAW continuously for an entire 100 meter race without "missing the moment."
In addition to outstanding high-speed data transfer capability, the new cards are highly reliable to protect users' data and images. XQD users can also shoot with ease knowing their photos and videos are protected thanks to Sony's File Rescue Software, which can help recover photos and videos that may have been accidentally deleted. File Rescue is the only software that can support the latest 3D AVCHD file formats and the newest version now adds more advanced capabilities such as support for RAW stills and MOV files, as well as Full HD 60p video files. The software is planned to be available later this summer for free download at www.sony.net/memorycard.
Sony offers a USB 2.0/3.0 compatible XQD card reader (model MRW-E80) so users can quickly transfer large quantities of high capacity data to their PC. An XQD ExpressCard® Adapter (QDA-EX1) is available for use with computers with an ExpressCard 34 card slot.
For a unique look at the XQD card performance, please view the below video at http://www.sony.net/Products/memorycard/en_us/xqd/index.html.
The new Sony S Series XQD memory cards are available at the following prices:
QD-S32/T card, 32 GB, $259.99

QD-S64/T card, 64 GB, $459.99
Last updated: Apr 7, 2020 at 12:06 pm CDT