Elitegroup Computer Systems (ECS), the world's top 3 motherboard maker, has already announced its Z77 Golden Board OC Contest on HWBOT. Meanwhile, ECS is proud to announce its official partnership with HWBOT. "We would like to express our gratitude to ECS Elitegroup for the help in making HWBOT financially viable and enabling us to continue promoting overclocking and supporting its communities. With ECS Elitegroup's support, we have found extra motivation to make the site as pleasant as possible for the overclocking community! Thank you ECS Elitegroup!" quoted from HWBOT homepage.
ECS Z77 Nonstop OC Contest on HWBOT is sponsored by GeIL and Coolermaster for the top three winner prize. The top three winner teams can also get ECS Z77 Golden Board Limited Edition for prize! The Nonstop OC Contest is held until 15 July, consisting of four stages: SuperPI-32M, 3DMark11 IGP, Memory Clock and PCMark05. The top three participant teams with the highest scores can be the winners. HWBOT is a well-known OC platform for extreme overclockers and performance enthusiasts. It holds several overclocking competitions per year and is discussed on thousands of message boards, which can reach real overclockers, real records, and real interaction.
Exclusive Limited Edition of Z77 Golden Board for Overclockers
The Z77H2-AX and Z77H2-A2X models are already available worldwide. Each of these high-end Z77 Black Extreme Series - Golden Limited Edition motherboards is accompanied by a certificate of authenticity personally signed by the Director of Research and Development of ECS, emphasizing the company's determination to guarantee quality, performance and ultimate reliability to its customers.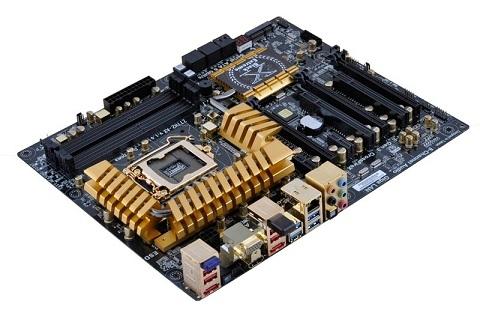 For overclockers and modders, ECS' Golden Limited Edition provides a wealth of tweaking, control and adjustment features. Solid long-life capacitors in all critical areas guard against failure even in the most challenging conditions. Triple thickness gold plating on CPU, memory and add-on card sockets ensures these two models always provide a reliable connection, even with heavy use and in hostile environments. Thor Ultra Protection guards against component damage from static electricity in dry climates. And in a sea of lookalike products, the distinctive gold and black Z77H2-AX and Z77H2-A2X boards are undoubtedly the best-looking motherboards around. Both the Z77H2-AX and Z77H2-A2X models offer Wireless LAN, Bluetooth, USB 3.0 x6 and USB 2.0 x6 support, 3-way NVIDIA SLI or ATI CrossFireX support, EZ charger and 1 Gigabit LAN to boost stronger Internet connectivity functions and expansion ability to your computer.
Last updated: Apr 7, 2020 at 12:06 pm CDT