Samsung Electronics America, Inc., a subsidiary of Samsung Electronics Co. Ltd, today announced two new products featuring the Google Chrome OS™ operating system: the Samsung Series 5 Chromebook laptop and the desktop.
"The new Samsung Series 5 Chromebook and Series 3 Chromebox provide the rapid, convenient and ever-improving computing experience that was so well-received in our first Chromebook," said Todd Bouman, vice president of marketing at Samsung Enterprise Business Division. "As the world's first Chromebox, the Series 3 provides users with the Chromebook's ease-of-use in a compact desktop product, which easily integrates with their existing accessories. The second generation Chromebook features powerful components housed in a slim, lightweight body, thanks to Samsung's advanced hardware engineering."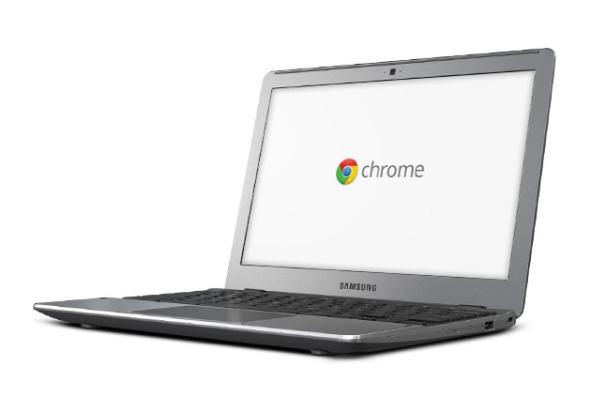 "This is the next step in our journey toward an always-new computing experience focused on speed, simplicity and security," said Caesar Sengupta, Director of Product Management at Google. "This next-generation hardware from Samsung based on Intel processors and hardware-accelerated software delivers nearly three times the performance of the first-generation Chromebooks. With a new, app-centric user interface rolling out today and thousands of available web apps, we couldn't be more excited about this evolution."
Elegant, Thoughtful Design
Both the Series 5 Chromebook and Series 3 Chromebox feature Samsung's renowned, sleek design identity. Weighing just over three pounds and measuring less than an inch thick, the Series 5 Chromebook can easily be carried everywhere. The full-sized keyboard results in maximum convenience and productivity, and the 12.1-inch, SuperBright LCD screen is ideal for all needs, from viewing photos and work documents to chatting face-to-face using the built-in webcam.
The Samsung Series 3 Chromebox is a compact yet highly powerful home or office computer, offering the Chrome operating system in a desktop form factor. At 7.6 x 7.6 x 1.3-inches, this computer is small enough to put on a desk, in a bookshelf or next to the couch - and is also easy to transport between the home and office if needed. Its sleek matte black finish and silver accents are sure to add style to any home or office environment.
Powerful Performance
The Samsung Series 5 Chromebook boots up in as little as just seven seconds, enabling users to jump into work or play nearly instantly and, unlike traditional computers, doesn't slow down over time. An Intel Celeron 867 Dual Core (1.3 GHz) processor sporting a 16GB SSD and 4GB of RAM give you all the computing power you need for an optimal experience and an optional built-in 3G wireless feature from Verizon Wireless allows connectivity to just about anywhere. With the 3G option, Verizon will provide up to 100MBs per month of Mobile Broadband service included with the device for two years.
Like the Chromebook, the Samsung Series 3 Chromebox also features a 16GB SSD and 4GB of RAM, as well as an Intel Celeron B840 Dual Core (1.9 GHz) processor. Built-in 2x2 WLAN Wi-Fi enables users to set up the Chromebox in the furthest corners of their home or office and still experience full connectivity without worrying about extra cables. Users can connect their Series 3 Chromebox to monitors up to 30-inches in size, a Bluetooth keyboard and mouse, or even an HDTV using the Display Port output. Users can also effortlessly connect up to six USB devices to upload photos or save files.
Simple, Secure and Ever-Improving User Experience
Google developed the Chrome OS operating system with three key factors in mind: speed, simplicity and security, and has improved on these factors since the launch of the first Chromebook in 2011. Both the Samsung Series 5 Chromebook and Series 3 Chromebox offer a rapid experience. With the Chrome operating system, you can get online in seconds, load web pages with incredible speed and access all of your favorite apps in one click through the app launcher.
Automatic updates mean that Chromebook and Chromebox users always receive the latest functionality, without any hassle. Security features are also built-in and updated to defend against the ongoing threat of malware and viruses, reducing the need for users to install anti-virus software.
Built-in cloud storage enables both Chromebook and Chromebox users to access their files securely from anywhere, and sync technology backs up all of your preferences, bookmarks and apps, so you can easily access them from a Chrome browser on another device.
Both new Samsung products also come equipped for Google Cloud Print for easy web printing to any Samsung Google Cloud Print ready laser printer.
The Samsung Series 5 Chromebook and the Samsung Series 3 Chromebox will be available beginning May 30th. The Series 5 Chromebook Wi-Fi model will retail at $449.99 while the 3G model will retail at $549.99. The Series 3 Chromebox Wi-Fi model will retail at $329.99. The Chromebook and Chromebox are only available at Amazon.com, Tiger.com, NewEgg.com, BestBuy.com and BHPhoto.com.
Key Specs:
* All functionality, features, specifications and other product information provided in this document including, but not limited to, to benefits, design, components, performance, availability and capability of the product are subject to change without notice or obligation.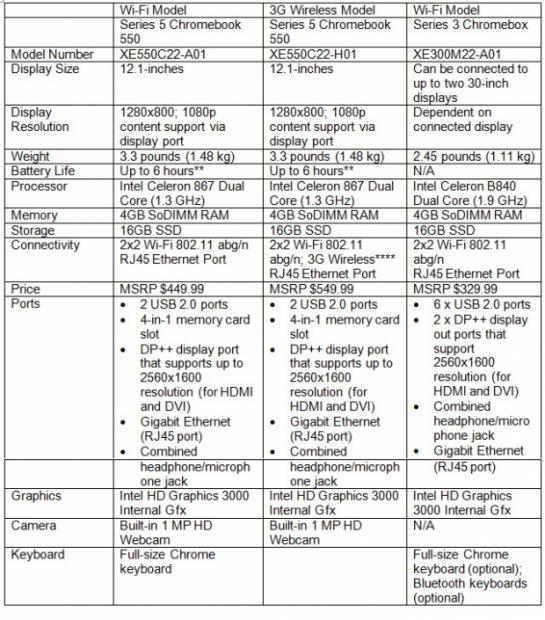 Last updated: Apr 7, 2020 at 12:06 pm CDT