(Changsha, China - May, 2012) - RunCore, the leading manufacturer of high-performance and rugged solid state drives (SSDs), today introduced their latest consumer-grade SSD for ultrabooks and MacBook Air, the Rocket Air SSD.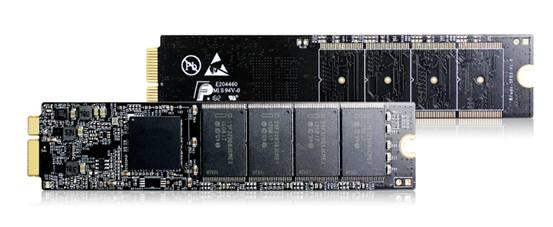 As moderns laptops are designed ever thinner and lighter to be more energy-saving and easier to carry, demand for improved storage performance is also increasing at the same time. In order to deliver both these advantages, the RunCore Rocket Air SSD is ultra-thin in size, yet provides superb performance. With its internal MLC flash and consumer-grade operating temperature, the RunCore Rocket Air SSD is particularly targeting thin laptops like ultrabooks as well as MacBook Air.
RunCore's Rocket Air SSDs are almost a half-size of conventional 2.5" SSDs without case. It is also compatible with mid-2011 MacBook Air laptops and offers nearly 4x the capacity of the original factory SSDs. With the SATA III interface and Tier 1 Toggle Synchronous NAND, the RunCore Rocket Air SSD offers data transfer rates of over 500MB/s to cater to the requirements of enthusiasts and users who seek for higher storage capacity and greater performance.
[img]2[/img] [img]3[/img]
RunCore Rocket Air SSD's Main Features:
Compatible with Late-2011 MacBook Air perfectly

SATA III interface and Tier 1 Toggle Synchronous NAND

Data Encryption: 128-bit AES-compliant

ECC: Up to 55 bits correctable per 512-byte sector (BCH)

Wear Leveling: Enhanced endurance by dynamic/static wear-leveling

Trim supported

Dimension: 108.9(L) x 24(W) x 3.2(T) mm
Last updated: Apr 7, 2020 at 12:06 pm CDT