Qualcomm Atheros Inc., the networking and connectivity subsidiary of Qualcomm Incorporated (NASDAQ: QCOM), today announced that Alienware will be the first to launch the Killer™ Wireless-N 1202 high-performance Wi-Fi® module with Bluetooth® on the Alienware line of high-performance gaming laptop computers. The high-performance 2x2 802.11n MIMO Wi-Fi module with Bluetooth is designed to provide improved performance and advanced control by automatically classifying and prioritizing gaming, video and audio network data to provide a superior, uninterrupted online entertainment experience.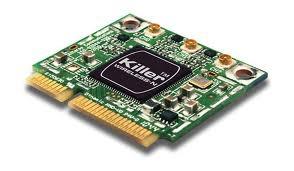 "Alienware continues to be the leader in performance laptops and we appreciate that its customers are used to getting the best gaming experience possible," said Mike Cubbage, director of business development, networking business unit, Qualcomm Atheros. "The Killer Wireless-N 1202 will continue the tradition of delivering a superior gaming and real-time communication experience for Alienware laptop users by providing the best in online application performance, intelligence and control to ensure that critical online applications get the bandwidth and priority they need, when they need it."
The Killer Wireless-N 1202 offers superior performance for all online applications through Advanced Stream Detect technology, which identifies and prioritizes all network traffic. This ensures important applications that require high-speed connectivity, such as online games and video chat, get priority over less important traffic, such as incoming email or system updates. All Killer technology ships with the exclusive Killer Network Manager, giving users the power to set priorities for all network applications, increase or reduce the bandwidth each application uses, or block an application entirely - all in a unique graphical interface.
"Gamers everywhere depend on Alienware to deliver superior experiences that help them achieve that 'epic win'," said Frank Azor, general manager at Alienware. "Integrating the Killer Wireless N-1202 technology-another first from Alienware-allows gamers to experience exceptional online gaming."
Last updated: Apr 7, 2020 at 12:06 pm CDT