Samsung Electronics America Inc., a market leader and award-winning innovator in consumer electronics, announced the nationwide retail availability of two highly-anticipated full HD camcorders, the QF20 SMART Camcorder and the rugged W300 pocket camcorder. Both camcorders offer unique feature sets that meet the video demands of a variety of different users, including those who are constantly connected and want the instant gratification of sharing videos, and the adventurist looking for a durable go-anywhere video companion.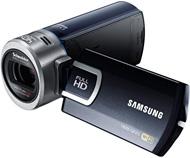 To address the growing number of users accustomed to real-time sharing, the Samsung QF20 SMART Camcorder features Wi-Fi connectivity to instantly back up and share videos with friends and family directly from the camcorder. User-friendly features like the QF20's 2.7-inch LCD with an intuitive touch screen interface make it an ideal choice for the connected user who wants to seamlessly share videos to social networking sites like YouTube, Facebook, and Picasa. The Samsung QF20 also includes an impressive 20x optical zoom, making it easy to get close to the action, such as recording a school play from the audience.
Just in time to capture the spring season's sporting events and other outdoor activities, the W300's rugged design is ideal for shooting 1080p full HD video in a range of conditions. It is waterproof up to 15 feet, shockproof from heights of 6 feet and dustproof* - making it an extremely reliable pocket camcorder to take on popular outdoor activities, such as snorkeling, hiking, playing in the sand, biking, and swimming in a pool. The W300 features an anti-fog coating, and offers an Auto Aqua mode that senses the camera is underwater and corrects the color to ensure rich and true-to-life images.
"Samsung's 2012 camcorders balance innovative features, such as Wi-Fi connectivity and shooting underwater full-HD videos, with ease of use - making them approachable for all consumers," said Reid Sullivan, Senior Vice President of Mobile Entertainment, Samsung Electronics America. "The QF20 builds on the success of last year's Q10 as an easy-to-use and affordable HD camcorder that now combines a touch screen LCD and Wi-Fi capabilities for instant uploading to popular social media sites. Additionally, the W300's waterproof, shockproof and dustproof design makes it this season's must-have gadget for capturing videos of the exciting outdoor activities and trips that the warm weather brings."
The Samsung QF20's Advanced Wireless Features
With the wireless capabilities of the QF20, uploading videos to YouTube and Facebook is seamless and easy. From any Wi-Fi hotspot, users can send videos directly from the camcorder with the touch of a button. The newly-developed login browser featured on the QF20 allows the camcorder to connect to a Wi-Fi hotspot in hotels, airports, coffee shops or other locations which may require visiting a landing page before gaining access to an internet connection. Additionally, with integrated Samsung TV Link feature, the QF20 can wirelessly connect to a TV or Blu-ray player, so videos can be played on the home's largest screen without the tangling of component cables. The QF20 also features Samsung's AllShare™, a proprietary technology that makes content sharing with a variety of devices easy, thus powering the PC Auto Backup feature so the QF20 can wirelessly transfer videos to a computer for storage.
Easy, Comfortable and Creative Shooting with the QF20
Continuing the success of the Q10, the QF20 features Samsung's innovative Switch Grip 2.0 handle design for comfortable control when shooting with either hand, or in any direction. The QF20 can rotate 180-degrees to capture video at different angles and users can quickly switch hands without missing any action. Plus, the one-button control for video record and playback makes the QF20 extremely easy to use and ideal for users at any level.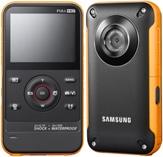 The QF20 SMART Camcorder features Optical Image Stabilization, OIS Duo, to help reduce motion blur and a new 5MP BSI CMOS Sensor that produces videos that are crisp with true-to-life clarity and color. The QF20 includes Samsung's Art Time Lapse, a setting that takes still photos at preset time intervals and then speeds up the slow passage of time to create a unique time lapse effect.
The Multi-Proof and Flexible W300 Excels in Many Shooting Conditions
The Samsung W300 rugged pocket camcorder is designed to be the ideal companion for outdoor enthusiasts or anyone looking to enjoy carefree video shooting. While the W300's waterproof, shockproof and dustproof* features make it optimal for shooting videos in extreme conditions, it's also a compact and easy-to-use camcorder that adults can feel confident giving to children who are eager to start making their own movies.
Beyond its multi-proof rugged design, the W300 features a 29.6mm wide-angle lens, a crisp 2.3-inch LCD, and a built-in USB port for convenient charging, and transferring video files to a computer. Plus, with the Record/Pause mode, the W300 can briefly pause and then restart the video recording process without creating a new file, making it easier to edit and share videos. Available in orange, red and black, the W300 gives users a range of choice to match their unique personalities.
Creative Editing Features, No Computer Needed
Both new Samsung camcorders feature creative options that will bring videos to life, without the need for any previous editing experience. In fact, videos recorded with the QF20 and W300 can be edited directly on the camcorder, and no computer is needed to use features such as My Clip and Smart Background Music 2.0. My Clip allows the user to bookmark the most important parts of the action - as it is happening live - so during playback, the best moments can be shared as a highlights montage. The upgraded Smart Background Music 2.0 adds another level to the entertainment experience by allowing users to sync their music, and automatically adjust the volume over or under a video clip.
Pricing and Availability
The QF20 SMART Camcorder (MSRP: $349.99) and the W300 pocket camcorder (MSRP: $159.99) are available now from authorized Samsung retailers. For more information on the QF20 and W300 and Samsung's full line of camcorders, please visit www.samsung.com.
Last updated: Jul 27, 2022 at 04:07 am CDT