Dell announced today it is expanding its client virtualization solutions with the introduction of the first virtualized 2U rack workstation enabling up to four concurrent professional graphics users to work from a single workstation from virtually anywhere. The Dell Precision R5500 rack workstation is the first four-GPU (graphics processing unit) configuration to be certified by Citrix with GPU pass-through on Citrix XenServer 6 using Citrix XenDesktop HDX 3D Pro, and brings additional security, IT resource optimization and end user flexibility to high performance workloads. This new usage model is designed for customers running 3D workloads in the engineering, medical, media and entertainment, scientific, software development and economic and finance market segments looking to support additional users on a single workstation.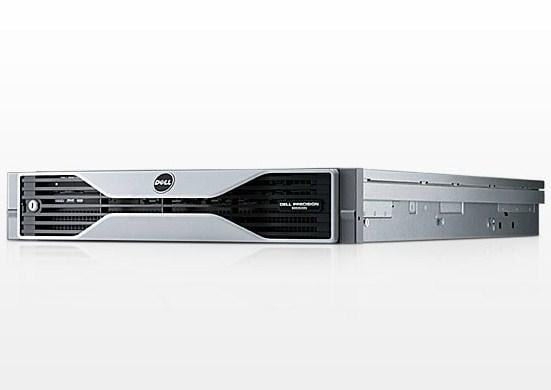 Additional benefits of a virtualized rack workstation include the ability to centralize, secure and manage data, leverage worldwide talent pool, share resources for improved cost effectiveness and run performance critical applications that require the host system and data to be in close proximity. Users can connect to the powerful, dependable and manageable Dell Precision R5500 via Dell and non-Dell computing devices including thin clients, laptops, desktops or other mobile devices that have a loaded Citrix Receiver.
"The Dell Precision R5500 offers the highest user density available on a XenServer certified platform for XenDesktop HDX 3D Pro, with four concurrent users per host," said Derek Thorslund, director of product management, HDX technology at Citrix. "This makes it a very attractive option for customers looking to deliver high-end 3D professional graphics while keeping their intellectual property safe in the data center."
Citrix XenServer with HDX 3D Pro enables the virtualized workstation environment with a dedicated discrete graphics card per user or virtual machine. The dedicated graphics provides the user with full access to the graphics card in a virtualized environment. Users can configure their Dell Precision R5500 with up to four NVIDIA Quadro 2000 mid-range graphics cards, with other high-end NVIDIA Quadro graphics cards available soon. Dell's 2U rack workstation offers industry standard bus slots with options of up to five full-height and full-length PCIe slots, and industry standard graphics and GPU compute cards including the newest NVIDIA Quadro and NVIDIA Tesla solutions.
"This new rack workstation configuration from Dell provides designers and engineers with a unique virtualized desktop performance option," said Jeff Brown, general manager, Professional Solutions Group, NVIDIA. "Dell's R5500 powered by NVIDIA Quadro GPUs gives these users an opportunity to experience the full power of high-end OpenGL, Direct X and CUDA applications in a small form-factor, virtualized desktop environment."
In addition to high-end graphics support, the R5500 provides the full scalability and powerful performance of Dell's high-end tower workstations in a 2U form factor. It is purpose-engineered for professionals who run compute and graphics intensive workloads and require extreme performance with remote capability. It offers high-performance Intel Xeon processors with memory capacity of up to 192GB¹ and dual-wide GPU slots that scale up to 450 watts, up to six 2.5-inch SAS HDDs or five SATA HDDs.
"We are working closely with Citrix and NVIDIA to enable new usage models to address the needs of our workstation customers," said Efrain Rovira, executive director of Dell Precision workstations. "This industry first four-GPU XenServer certification delivers increased productivity and flexibility to our customers, and it adds to the list of innovations we've introduced to the workstation industry."
Availability
Citrix XenServer with GPU pass-through is available worldwide through Citrix and Dell S&P. The starting price for the Dell Precision R5500 is $2,742 USD.
Last updated: Apr 7, 2020 at 12:06 pm CDT