QNAP Systems, Inc. today announced its new additions for the high-end SMB market segment with two 16-drive 3U rackmount Turbo NAS models with up to 64TB storage capacity using 4 TB drives. The TS-EC1679U-RP and TS-1679U-RP, powered by the Intel Xeon processor and the Intel Core i3 processor respectively, are the highest capacity and highest performing NAS products ever developed by QNAP. Both models feature optional 10GbE networking and 6Gb/sec SATA interfaces, achieving incredible 2,000 MB/sec and 200,000 IOPS throughput; delivering sustained ultra-high performance suitable for demanding data center & high-end SMB environments. The new models feature cable-less disk drive backplanes, hot-swappable power supply, and cooling fan modules for maximum reliability and uptime.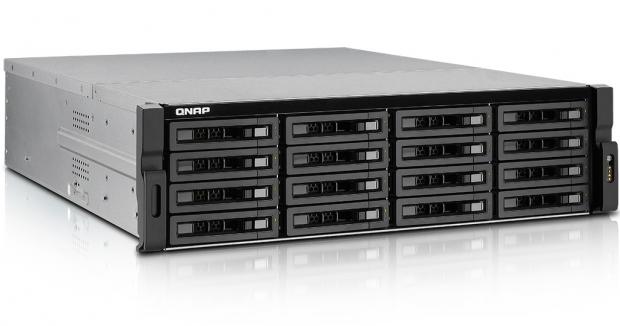 The new models can simultaneously provide storage solutions for IP-SAN (iSCSI) and NAS implementations and are VMware Ready, Citrix Ready, and Windows Hyper-V compliant, making them ideal for providing network shared storage for virtual server environments. These two new models are designed with cable-less backplanes connecting drives to the controller board seamlessly, significantly reducing failure points. The hot-swappable fan module and cooling ducting/heat exchange simplify data center installations. Hardware security is enhanced with intrusion detection, which generates a log entry and alerts the administrators when the chassis is opened.
"QNAP is making a foray into the data center with these two new Turbo NAS models which deliver stunning 2,000 MB/sec and 200,000 IOPS performance," said Meiji Chang, general manager of QNAP Systems, Inc. "Performance is only part of the equation though, the new models also raise the bar on reliability and uptime by reducing failure points and maximizing redundancy in critical components so the system administrators have peace of mind they made the right choice for their networked storage."
The new series supports RAID 0, 1, 10, 5, 6, 5+ hot spare, 6+ hot spare, 10+ hot spare, single-disk, JBOD, and the Global Hot Spare allowing a spare drive to flexibly replace a failed drive on any RAID volume on the NAS for automatic RAID data rebuilding. The large capacity of the new units also provide an ideal solution for network-wide backups, file sharing in mixed Windows, Mac, Linux, and UNIX environments, private cloud storage, and high-performance computing applications such as high definition video editing.
"The rapid growth of data and the demanding requirements for efficiency and reliability require high performance network attached storage (NAS) solutions. Intel Xeon processors are energy efficient without sacrificing performance and provide increased data protection by supporting enhanced error handling capabilities" said David Tuhy, General Manager, Intel Storage Group. "Intel technology powers a broad range of innovative solutions to ensure business continuity, including the Intel Core i3 processor family for entry level data storage solutions."
Key Specs of New Models
TS-EC1679U-RP - 16-drive 3U rackmount unit, Quad-core Intel Xeon Processor E3-1225 (3.1 GHz), DDR3 ECC RAM, 600W redundant power supply, 2X expansion slots for storage expansion and network expansion, 4X Gigabit LAN ports (several expansion options for Gigabit + 10GbE networking);
TS-1679U-RP - 16-drive 2U rackmount unit, Dual-core Intel Core i3-2120 Processor (3.3 GHz), DDR3 RAM, 600W redundant power supply, 2X expansion slots for storage expansion and network expansion, 4X Gigabit LAN ports (several expansion options for Gigabit + 10GbE networking).
Both new models ship with QNAP's renowned NAS management software and provide a broad range of secure and robust business-ready applications, including sophisticated user privilege design, Windows AD integration, LDAP server and client implementation, well-rounded backup solutions, seamless cross-platform file sharing, and much more.
Availability
TS-EC1679U-RP and TS-1679U-RP are shipping immediately. For more information, please visit the product pages of TS-EC1679U-RP and TS-1679U-RP.
Last updated: Apr 7, 2020 at 12:06 pm CDT