Lenovo today announced the Lenovo ThinkStation E31, an entry-level workstation for professionals requiring a powerful desktop workstation within a PC budget. Offered as a mini-tower or small form factor (SFF) both include choices of the latest speedy Intel Xeon Processor E3 along with enhanced memory performance and graphics capabilities.
"The ThinkStation E31 an ideal choice for small-to-medium businesses or professionals that need more power and performance than they are getting out of their desktop computer," said Robert Herman, director of product and vertical solutions, Workstation Business Unit, Lenovo. "We have worked closely with customers to figure out how to deliver compact design, reliable hardware components and comprehensive support for the latest ISV applications to meet their needs. The ThinkStation E31 offers businesses a powerful way to get more from their business applications without breaking the bank."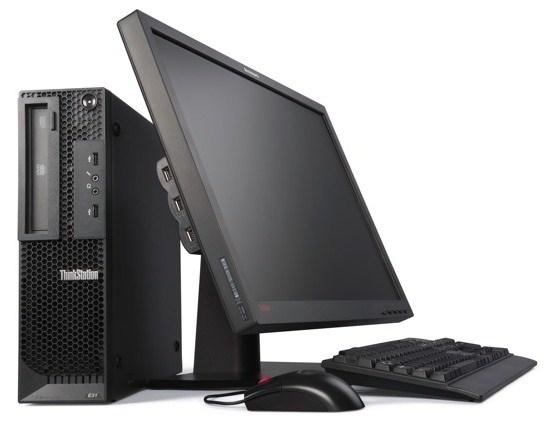 Strong, Seamless Performance
The dependable ThinkStation E31 tower and SFF feature the Intel Xeon processor E3-1200 v2 product family or 3rd Generation Intel Core i7 Processor so applications run fast and reliably, helping to maximize productivity. Users also benefit from the workstation's Error Correcting Code (ECC) memory which virtually eliminates memory-related failures, as well as 1600 MHz DDR3 Memory DIMMs, for application responsiveness and the ability to multitask without slowing down. Adding to the productivity features of this workstation is the inclusion of USB 3.0 ports which provides up to 10x faster transfer rates over USB 2.0.
Both models offer professional graphics capabilities with the option of Intel HD Graphics P4000 or NVIDIA Quadro Graphic cards (up to the Q4000 in the tower model and Q600 in the SFF). The E31 ThinkStation can handle end users' large storage needs with up to 9TB of storage for the tower model or 6TB on the Small Form Factor. Equipped with Windows 7 Professional, the ThinkStation E31 workstation supports a variety of independent software vendor (ISV) applications for professionals in the engineering, design and financial services industry, including Adobe, AutoDesk, Dassault, PTC, Solidworks and Siemens.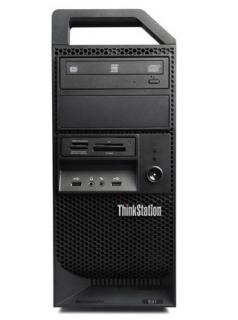 "We are all about helping users employ technology to support them in acquiring greater insight faster. Lenovo's ThinkStation E31 entry level workstation combined with our new Intel Xeon processor E3- 1200 v2 product family is helping to do that by bringing workstation performance to designers, engineers, and others who until now believed this level of speed and capacity was out of reach," said Frank Soqui, Workstation Group General Manager, Intel Corporation. "The ThinkStation E31 with Intel HD Graphics P4000 is also an ideal upgrade for users who have been using consumer technologies to perform basic 2D, 3D, video editing, and financial modeling and require the support for up to three monitors."
Sustainable Green Machine
The workstation's eco-conscious design offers up to a 92 percent efficient power supply, as well as Energy Star 5.2, 80 Plus Platinum, EPEAT Gold and GREENGUARD certifications. Our innovative design allows our workstation to run cooler and quieter. Additionally, at less than half the size of the mini-tower, the newest SFF (11L) option provides an ideal space-saving choice for smaller office work areas.
Pricing and Availability
The Lenovo ThinkStation E31 tower model will be available beginning June 5th 2012 and the Lenovo ThinkStation E31 SFF will be available beginning July 13th 2012. Pricing for models starts at approximately $629. The workstation will be available through Lenovo business partners and on www.lenovo.com.
Last updated: Apr 7, 2020 at 12:06 pm CDT