Elitegroup Computer Systems (ECS) is pleased to introduce uniquely-designed, gold plated Super Alloy Chokes. While the current industry standard is to use iron or ferrite materials for the magnetic cores of the chokes, ECS has created market-leading chokes that not only maximize performance and stability thanks to the Super Alloy core, but also prevent corrosion from damaging your system with the gold plating. These innovative Super Alloy chokes are available on three motherboards in the H77 and Z77 chipset series, the X77H2-A3, Z77H2-AX, and Z77H2-A2X.
For PC users troubled by inexplicable crashes, poor stability or disappointing performance, Elitegroup's innovation delivers the solution that other PC motherboard manufacturers only promise, with the new Super Alloy Choke. This much-needed upgrade to a critical - but usually overlooked - motherboard component lets users enjoy the full power of their systems without the instability and degradation often caused by lower quality components.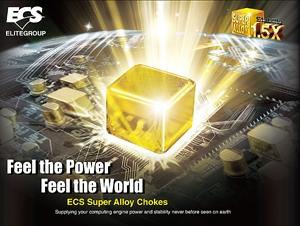 The choke filters and conditions the power supply reaching the CPU and other highly-sensitive components by blocking harmful high frequencies. Choke quality is a vital factor in PC performance because even tiny fluctuations in power input can be enough to cause inexplicable system crashes, lockups, failure to start up, or even long term damage. Lower quality chokes can not only lead to instability and shorter system life, but also increase electricity costs by wasting power.
Under full system loads or unstable currents, chokes made from standard materials are more likely to burn out or cause system shut down, according to ECS analysis. The new super alloy material is 150 percent more stable than the standard materials in challenging conditions, including hot environments and overclocking.
Helping Super Alloy achieve this much greater stability is its extremely wide stable operating temperature range - more than 25% wider than that achieved by other materials. So even in punishing overclocking and heavy power users' scenarios, ECS' Super Alloy Chokes will ensure the power supply to the CPU and critical components remains perfectly stable. The ability to better endure extreme temperatures also lengthens the operating life of ECS Super Alloy Chokes, and, of course, the ECS motherboards that use them.
This Super Alloy is also more energy efficient, reducing power consumption and EMI (Electromagnetic Interference). This provides a safer and more stable operating environment.
Using these industry-leading chokes, the X77H2-A3, Z77H2-AX, and Z77H2-A2X motherboards offer the lowest EMI interference, the longest life-span, and a 150 percent greater stability than other motherboards available in the market. These advantages translate into a smoother, better computing experience.
Besides these three models, there are still wide diversities of H77 and Z77 chipset series, such as H77H2-M, H77H2-M3, H77H2-M4, and Z77H2-A2X Deluxe, and Z77H2-A3. Please consult the ECS website at www.ecs.com.tw for more information and full specifications.
Last updated: Apr 7, 2020 at 12:06 pm CDT