Genius, a leading manufacturer of computer peripherals, is pleased to announce the SP-i250G Portable Speakers for the GX Gaming Series. Able to play rich and vivid audio from virtually any device, these dual compact speakers are ideal for the modern on-the-go users.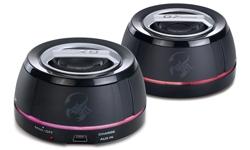 Listening to high-quality on these 40mm omni-directional neodymium speakers is easy. Users simply plug in the gold-plated 3.5mm jack into their preferred electronic device, be it an iPod, iPad, or notebook, and they can experience the full spectrum of sound including deep low tones.
Twisting the body of the SP-i250G allows you to turn these portable speakers on and off as well as to adjust the volume. Adding more visual appeal, an LED ring circling the middle of the SP-i250G changes colors when music or audio is playing.
The 6W speakers play audio from your electronic devices either together or separately, and are able to play continuously for up to eight hours on a single charge thanks to the built-in lithium battery. When the GX Series SP-i250G does need a recharge the included USB cable is easily plugged into a notebook or desktop for a quick charge.
With a included travel pouch for each of these compact speakers, they can be taken wherever you may go without worry of nicks or scratches. The SP-i250G is currently available in the US and Canada for the suggested retail price of $49.99.
Technical Specifications:
Total output power (watts): 6 watts
Driver unit: 40mm neodymium metal driver
Frequency Response: 100Hz ~ 20KHz
Signal-to-noise ratio: 80 dB
Battery Capacity: 470mAh
Length of use: up to eight hours
Package Contents
Two speakers
Audio/charging cable
Two pouches
Multi-language user's manual
Last updated: Apr 7, 2020 at 12:06 pm CDT