Lite-On, renowned as an Optical Storage innovator, has today announced its first solid state drive (SSD) for the UK. The E200 SSD is aimed at small/medium business users, with a design which is easily integrated into existing systems for minimal disruption and with a fast, consistent and reliable performance over time - at an affordable cost.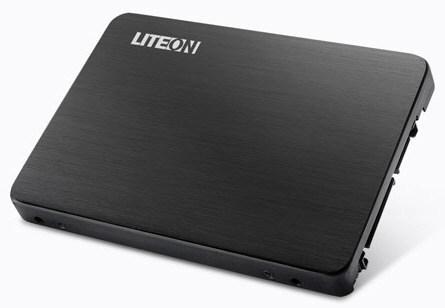 "With the E200 we aim to challenge the concept that SSDs are an unaffordable luxury for SMB; our aim is that smaller companies will be able to experience the increased speed and performance that a fast SSD provides," says Maarten Souren, Marketing Manager at Lite-On.
Key Features:
- 2.5" internal SSD drive with 3.5" mounting bracket
- True Speed technology for consistent performance
- Sequential read/write speeds of up to 503 MB/s and 256 MB/s and
- Random read/write speeds of up to 71,000 IOPS and 64,000 IOPS
- Supports latest SATA 6 Gb/s (SATA III)
- Uses Marvell controller & NAND Toggle Flash
Advanced hardware provides consistent performance:
The E200 boasts a maximum sequential read and write of 503 MB/s and 265 MB/s. Random read and write speeds (4K) are up to 71,000 IOPS and 64,000 IOPS.
The drive supports the latest SATA 6 Gb/s (SATAIII), and uses a Marvell controller and high-quality NAND Toggle flash for speed and stability.
With this ideal combination, the E200 SSD provides consistent performance for both compressible and non compressible data. It delivers faster boot-up and loading times and smoother operation to business users, making it a truly effective upgrade for office environments, business computers, or specialist systems - even at entry level.
Reliable performance over lifespan with True Speed:
Business users can often experience a decrease in performance over time with prolonged/heavy SSD usage. In order to combat this issue, the E200 SSD has been designed to True Speed certification standards.
By combining the power of the Marvell controller with the Instant Restore function in the firmware, the E200 will optimise data and prepare unused space for use. This process automatically continues in the background even when used in conjunction with operating systems that don't support the TRIM command.
True Speed ensures the efficiency of the drive remains consistent throughout its lifespan, providing peace of mind for users whose business depends on reliable performance.
Easy installation into desktop or notebook PCs:
The 2.5" E200 SSD is bundled with a 3.5" bracket, making it versatile for use inside a wide variety of notebook PCs or a standard desktop drive bay.
The E200 can be used as a replacement drive in a new build or as a boot drive in an existing system. Installation is as simple as fitting a hard drive, making it a fast, cost-effective way to upgrade system performance with minimal disruption to the office environment.
Pricing & Availability:
The Lite-On E200 SSD will be available from April 2012 in 80 GB and 160 GB capacities (pricing to be confirmed).
The drive comes with a three year warranty period.
Last updated: Apr 7, 2020 at 12:06 pm CDT