Digital Storm, the predominant name in computer system integration and engineering, unveils Aventum, the first system to feature its patent pending chassis and CES Innovations Award-winning Cryo-TEC cooling system. Designed by Digital Storm engineers from the inside out, Aventum's chassis boasts a proprietary thermal exhaust chamber, intelligent 5 thermal zone regulation and exclusive Aventum software that controls 13 customizable fans to effectively dissipate performance inhibiting heat. Together with the Cryo-TEC liquid cooling system that chills liquid below 0ºC, Digital Storm has designed the industry's first truly custom high-performance PC.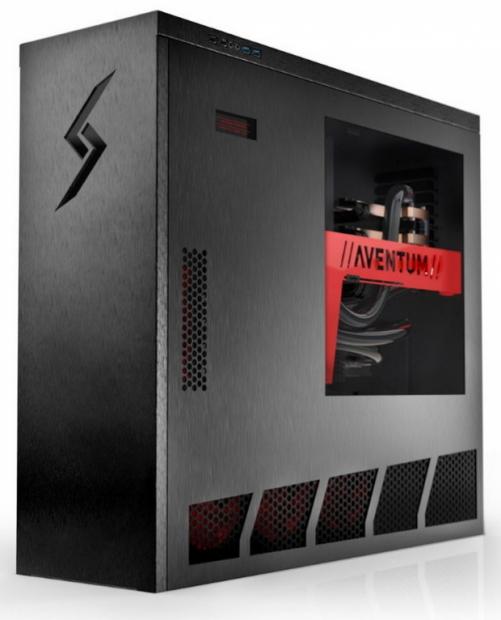 The Aventum Advantage
Every aspect of Aventum's chassis has been scrutinized during months of R&D by Digital Storm engineers who utilized thermal imaging cameras to perfect the Aventum's air flow design. Starting with the patent pending thermal exhaust chamber, Digital Storm has ensured that performance diminishing heat is contained and dispersed so it doesn't recirculate through the system. The Cryo-TEC liquid cooling system utilizes direct contact heat dissipation to remove heat from the CPU and then processes that liquid through 3 massive 420 mm heat exchange radiators.
System Monitoring & Control
Enthusiasts and creative professionals will delight in the extraordinary level of automated and self-initiated system control. Digital Storm has integrated automated regulation of five thermal zones and their corresponding fans, all of which are monitored by individual temperature probes. With Digital Storm's exclusive Aventum software, users can fine-tune 13 chassis fans, monitor and regulate thermal zones, and personalize chassis LED colors all within Microsoft Windows via exclusive Digital Storm software. Aventum's critical system performance information and personalized systems specs can be displayed on an LCD screen located on the side panel.
"Unlike any other chassis, Aventum's intelligent design enables it to exceed the demands of the most power hungry enthusiasts, gamers and creative professionals," remarked Rajeev Kuruppu, Digital Storm's Director of Product Development. "We've spent months analyzing every conceivable way to effectively eliminate heat from Aventum and as a result, our engineers devised new systems that have never been attempted. Every integral component and every zone is constantly being monitored so our customers can ensure their dream machine is always delivering optimal performance."
Last updated: Apr 7, 2020 at 12:06 pm CDT