Taipei, Taiwan, 23rd March, 2012 - VIA Technologies, Inc. today announced that the WonderMedia PRIZM WM8650 ARM SoC has been adopted by Wishtel in the world's first tablet computer to feature support for native Indian languages.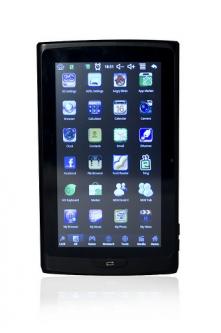 Designed and manufactured in India, the Wishtel 'IRA' and 'IRA Thing' will enable Indian users to enjoy a rich computing, entertainment, and internet experience in their own native language such as Hindi, for the first time, and combine advanced multimedia, connectivity, and computing capabilities with a rich feature set in a sleek, light, yet highly durable device.
"With the introduction of the IRA and IRA Thing, Wishtel is leading the way in driving tablet innovation in India," commented Richard Brown, VP International Marketing, VIA Technologies, Inc. "The potential for these devices is breathtaking, particularly in areas such as education."
Milind Shah, CEO, Wishtel, said, "This launch is the first step in our long term vision of bringing people closer to technology by creating gadgets that truly touch their lives. By enabling support for Indian languages, we are providing the opportunity for hundreds of millions of Indians to join the tablet revolution that is sweeping the globe today. We also hope to reach out to those brilliant minds in India that are inhibited for the lack of proper resources."
The tablets also come with a rich set of personal productivity, social media, communications, and entertainment apps, making them ideal solutions for a wide variety of home, educational, and corporate uses. These include an innovative eBook reader app that will allow users to enjoy eBooks in Hindi and other Indian languages on their device, as well as a growing range of course content for ICSE, CBSE and state boards plus engineering, medical, and other higher education offerings.
Availability & Pricing
Powered by the VIA WonderMedia PRIZM WM8650 SoC, the tablets are available nation-wide at prices between INR 4,000 (US$80 approx) to INR 5,500 (US$110 approx) through over 350 distribution and support centers throughout India.
The main features include the following:
High-resolution 7" capacitive and resistive touch screens
WonderMedia PRIZM WM8650 ARM SoC
720p HD video support
802.11b/g WiFi
3G WCDMA EVDO USB dongle support
UBS 2.0 port
External microphone, 3.5mm earphone, internal stereo speakers
Built-in camera
Up to four hours battery life
Google Android 2.3 and Linux (native Indian Language)
Besides the above, a rich array of productivity, communications, social media, and entertainment apps, including Internet browser, email, word processor, photo album, music album, video player, Facebook, Twitter, and eBook reader will also be provided.
Last updated: Apr 7, 2020 at 12:06 pm CDT