BALDWIN PARK, CA (March 22, 2012) - CyberpowerPC Inc. www.CyberpowerPC.com , a global manufacturer of custom gaming machines and Intel's 2011 Performance Client Innovation award winner, today announced it will feature the new NVIDIA GeForce GTX 680 graphics card, the fastest single GPU video card, across its entire desktop gaming PC line.
The GeForce GTX 680 offers the fastest, smoothest and richest graphics experience of any single GPU on the market with its eye-popping visual technologies, blazing performance and superior power efficiency as well as support for multiple displays including NVIDIA's stereoscopic 3D Vision technology.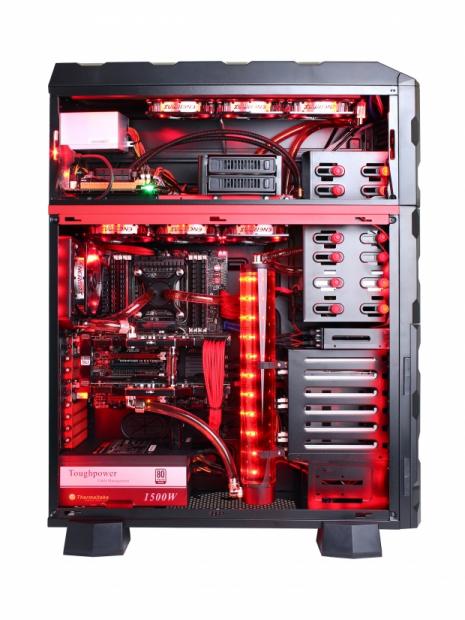 The new GeForce GTX 680 GPU will be offered in all CyberpowerPC desktop gaming PCs including the Gamer Infinity, Gamer Ultra, Gamer Xtreme, Zeus, and the top of the line, Fang III series. Customers can configure their CyberpowerPC gaming rig with a single GPU, dual or triple GTX 680 for 3-way SLI. Base price of a CyberpowerPC gaming system based on the GeForce GTX 680 starts at $1,199.
CyberpowerPC customers who configure GeForce GTX 680-based systems are assured maximum application and gaming performance with a number of advanced graphics features. The GTX 680 includes NVIDIA GPU Boost Technology, which dynamically maximizes clock speeds based on workload of the game to push performance to new levels and bring out the best in every game or application. Support is also included for Microsoft DirectX 11, which provides sophisticated shading and texturing techniques such as tessellation.
The GeForce GTX 680 series also supports NVIDIA 3D Vision and NVIDIA Surround, which bring a fully immersive stereoscopic 3D experience to the PC. In addition, you can stream 3D movies and 3D digital photographs from 3DVisionLive.com in eye popping, crystal-clear quality. NVIDIA Surround allows you to expand your PC games across three displays in full stereoscopic 3D for the ultimate "inside the game" experience.
Additional support is included for NVIDIA SLI Technology; PhysX Technology; CUDA Technology and Pure Video HD - all of which offer amazing performance for scaling games across multiple GPUs, more realistic gaming experiences through GPU acceleration and precise HD image scaling for games, movies and video.
CyberpowerPC's Fang III gaming PCs also have standard support for HDMI and PCI Express 3.0 bus architecture, which offers the highest data transfer speeds for the most bandwidth-hungry games and 3D applications, while maintaining backwards compatibility with existing PCI Express motherboards. With the implementation of the GTX 680 into the Fang III Black Mamba system, gamers can enable stereoscopic game play and content creation simultaneously with the Overclocking Media Control Center option. Additionally, Fang III Black Mamba gaming systems will incorporate the liquid cooled version of the GTX 680 for maximum heat dissipation.
All CyberpowerPC gaming systems can be customized with a number of performance hardware and components such as CyberpowerPC's Advanced Hydro Liquid Cooling kit, Solid State Drives, Blu-Ray drives, performance gaming memory, gaming peripherals, business and productivity software, and more.
All systems are housed in a gaming chassis from top-tier manufacturers that are designed to be feature rich with advanced cooling, silent performance and extreme airflow. Every system is meticulously built with precise cable routing to ensure optimal airflow and a clean aesthetic appearance. CyberpowerPC loads every system with Microsoft Windows 7 Home Premium Operating System for an enhanced gaming and multimedia experience. All CyberpowerPC desktop gaming systems include an industry-best 3-year limited warranty.
Last updated: Apr 7, 2020 at 12:06 pm CDT