IRVINE, Calif., March 15, 2012 /PRNewswire/ -- - Western Digital® (NYSE: WDC), the world's leader in external storage solutions, is now shipping its first external hard drive with Thunderbolt™ technology - the My Book® Thunderbolt™ Duo dual-drive storage system. The new My Book Thunderbolt Duo provides professionals and Mac® enthusiasts with five primary areas of performance, double-safe data protection and flexibility; ultra-fast data transfer rates for greater work efficiency; a 4 TB/6 TB large-capacity; customized dual-drive storage system with RAID 0, 1 and JBOD options; customer serviceable drives; and dual Thunderbolt ports for daisy-chaining multiple My Book Thunderbolt Duo devices or other peripherals.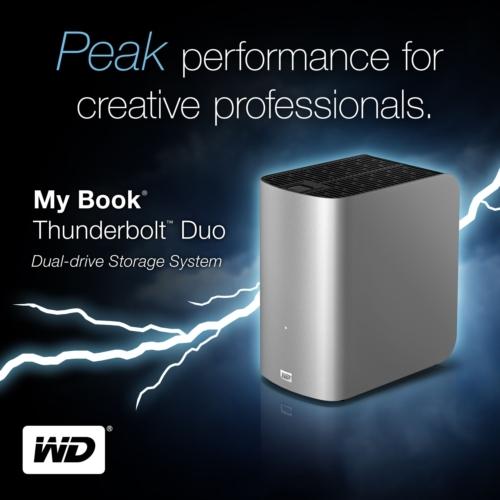 Thunderbolt technology brings a new way to connect high-speed storage devices to any desktop or notebook computer with a Thunderbolt port while delivering unmatched speed for multitasking activities such as, editing video/music, 3D rendering, and completing other high definition graphics-intensive projects.
"Offering lightning-fast throughput in both directions, the new WD Thunderbolt Duo storage systems are just what I need for organizing, editing, and archiving complex High Definition video projects," said Bruce Dorn, DGA (Director's Guild of America). Configurable as either RAID 0 or RAID 1 - and offered in both 4 TB and 6 TB capacities - these new WD Thunderbolt Duo systems are the perfect solution for video filmmakers who are desperate for an uber-fast time sensitive project management solution."
"The My Book Thunderbolt Duo offers large storage capacities for creative professionals and enthusiasts who produce, edit, or need quick access to large files, including HD video," said Jody Bradshaw, general manager of WD consumer storage solutions. "Its dual Thunderbolt ports provide amazing creative flexibility while allowing daisy-chaining of up to six My Book Thunderbolt Duo drives or other high performance peripherals for fast and efficient workflow. The combination of storage, backup, security, flexibility and speed makes the My Book Thunderbolt Duo the ideal choice for creative professionals who need to write, store, protect and edit high-definition and graphic intensive projects."
My Book Thunderbolt Duo is an ideal, all-in-one external drive for creative professionals, enthusiasts, and consumers who own vast amounts of digital content including videos, music, and photos. The drive serves as a safe and reliable way to backup content stored on your computer while providing the fastest way to get information to and from the WD drive. In addition, its RAID 1 support allows users to create a second copy of their digital content on the drive for double-safe protection, and peace of mind. The drive also supports a JBOD mode (allocate each disk individually to a specific task) excellent option for users running Windows OS on a Mac.
Additional features found on the My Book Thunderbolt Duo include out-of-the-box compatibility with Mac OS Time Machine and formatting for HFS + Journaled for Mac; capability for multi-stream workflows; and a 3-year limited warranty.
Price and Availability
The My Book Thunderbolt Duo is available now at select U.S. retailers and online at www.wdstore.com starting at $599.99 USD MSRP (4 TB) and $699.99 (6 TB).
Last updated: Apr 7, 2020 at 12:06 pm CDT