SAN JOSE, CA - March 8, 2012 - OCZ Technology Group, Inc. (Nasdaq:OCZ), a leading provider of high-performance solid-state drives (SSDs) for computing devices and systems, today announced that Drobo will utilize the OCZ Talos SAS SSD Series for integration into its B1200i iSCSI SAN solutions for business environments. Drobo, makers of award-winning data storage products for businesses and professionals, has chosen to provide customers with even faster and more robust storage systems by complementing the sophisticated feature set of the B1200i with the superior performance, energy efficiency, and maximum endurance of Talos SSDs.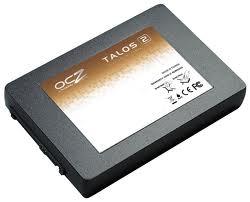 Ideal for small-and-medium businesses (SMBs), the Drobo B1200i provides reliable, high-performance, and self-optimizing storage for server virtualization, email, and data protection and features seamless integration with existing infrastructures as an iSCSI SAN device. With innovative automated data-aware tiering, the B1200i delivers a level of automation and technical sophistication that is easier to use and less costly to deploy than typical enterprise solutions. The B1200i is the first Drobo product to leverage the benefits of SSDs for increased bandwidth, lower power consumption, and instantaneous access times.
"Drobo is a leader in data storage products for both professionals and businesses and we are thrilled that they have qualified and selected our enterprise-class Talos SAS SSDs for their business oriented solutions," said Ryan Petersen, CEO of OCZ Technology. "This collaboration is a perfect example of how our SSD technology can act within a complete solution to deliver superior application-optimized storage for small- and medium-business IT."
"Just like larger organizations, SMBs should be able to afford and enjoy the benefits of SSD technology and performance," said Tom Buiocchi, CEO of Drobo. "For the best capacity and performance, our unique automated data-aware tiering allows customers to easily and affordably add SSDs to the same Drobo environment that already has high-capacity traditional disk drives."
Drobo will offer the B1200i Series with OCZ Talos 3.50-inch SAS 6Gb/s SSDs in 200GB capacities. For SMBs seeking an easy to deploy yet state-of-the-art storage system, Drobo with Talos SSDs offer incredible reliability, unparalleled responsiveness, and optimized energy efficiency when compared to traditional storage systems that only leverage mechanical hard drives. The new Drobo B1200i with OCZ SSDs will be available through Drobo's worldwide network of authorized distributors and resellers.
Last updated: Apr 7, 2020 at 12:06 pm CDT