SAN JOSE, CALIF. - February 23, 2012 - Qualcomm Atheros Inc., the networking and connectivity subsidiary of Qualcomm Incorporated (NASDAQ: QCOM), announced today the launch of its 802.11ac Wi-Fi® ecosystem. With the growing number of devices and bandwidth-intensive multimedia applications placing greater demands on wireless networks, 802.11ac-the newest chapter in the Wi-Fi technology evolution-expands performance and coverage to enable HD video-grade connectivity across increasingly crowded networks. Qualcomm's portfolio of 802.11ac products target mobile, home and office networking, including smartphones, tablets, PCs, laptops, televisions, home routers, gateways and enterprise access points. Qualcomm is introducing its multi-channel portfolio to enable end-to-end 802.11ac performance benefits to speed adoption of the new Gigabit-capable Wi-Fi networking technology.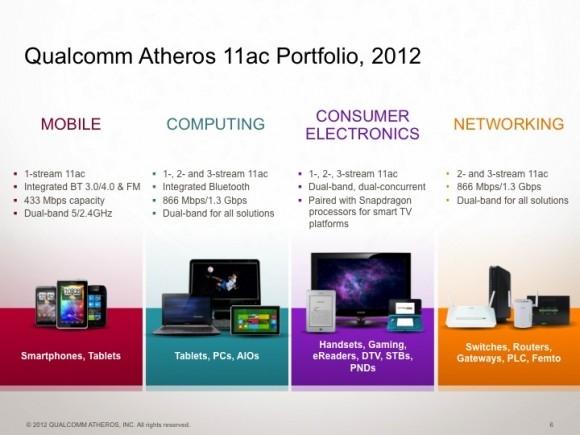 "Qualcomm Atheros is enabling a client-to-infrastructure 802.11ac ecosystem by combining its Wi-Fi expertise across virtually all segments with Qualcomm's position in mobile channels," said Craig Barratt, president, Qualcomm Atheros. "By enabling client devices, such as smartphones, tablets and notebooks, with easy migration from 802.11n to 802.11ac, Qualcomm Atheros is paving the way for rapid adoption of products based on the new Wi-Fi standard. This should provide for a smooth, full-scale transition to Gigabit-capable Wi-Fi networking within the next two years."
Qualcomm Atheros 802.11ac for Mobile
A key catalyst driving the ecosystem, the WCN3680 is a mobile 1x1 802.11ac combo Wi-Fi/Bluetooth/FM chip that is the connectivity companion to the Qualcomm 28nm Snapdragon™ family of processors, and will be integrated with the Snapdragon S4 MSM8960 processor featuring a dual-core Krait CPU and the S4 APQ8064 processor featuring a quad-core Krait CPU. Targeted at mobile consumer electronic devices like smartphones and tablets, the WCN3680 chip has high throughput for fast data transfer and low power consumption, enabling longer battery life and superior performance for demanding applications. The Snapdragon S4 processor class supports a wide range of leading operating systems, provides data rates up to 433 Mbps, and is pin-compatible with Qualcomm Atheros' 802.11n mobile solution, the WCN3660, to provide customers with a simple upgrade path to 802.11ac performance.
"We are thrilled to be the industry's first company with a mobile 802.11ac combo chip. The WCN3680 is an important development for the wireless industry," said Barratt. "Qualcomm Atheros is improving the way new Wi-Fi technologies are propagated and expanding on the strength of Qualcomm's mobile footprint to enable 802.11ac more quickly for everyone."
Qualcomm Atheros 802.11ac for Computing
To address the broad and growing array of connectivity needs for computing, Qualcomm is offering a rich family of solutions, including 1-, 2- and 3-stream 802.11ac solutions that can achieve up to 1.3 Gbps wireless data rates:
• WCN3680 1-stream 802.11ac with integrated Bluetooth and FM paired with the Snapdragon S4 MSM8960 offers the benefits of high-performance WAN and LAN connectivity for multimedia and gaming on smartphones, tablets and PCs;
• WCN3680 paired with the Snapdragon S4 APQ8064 for non-WAN, advanced multimedia and gaming on tablets and PCs;
• Standalone QCA9860 (3-stream) and QCA9862 (2-stream) 802.11ac/a/b/g/n and Bluetooth combo chips support up to 1.3 Gbps PHY rates and feature a system-on-chip architecture to optimize CPU utilization for support of three times faster transfer rates and extended battery life versus legacy Wi-Fi.
The Qualcomm Atheros 802.11ac chips for computing are highly integrated to enable the smallest, thinnest notebooks with support for leading operating systems. The chips also support Wi-Fi Direct and Wi-Fi Display for full peer-to-peer functionality.
Qualcomm Atheros 802.11ac for Consumer Electronics
The Qualcomm Atheros 802.11ac solution ecosystem provides consumer electronics customers with 1-, 2- and 3-stream dual-band 802.11ac performance options that can achieve up to 1.3 Gbps wireless data rates. For utilization in televisions, gaming systems and streaming media devices, the Qualcomm Atheros chips for consumer electronics optimize video delivery within the evolving home network. The chips can be paired with the Qualcomm Snapdragon media processor to provide enhanced smart television performance options; standalone options can be paired with optional television system-on-chip/media processors. The high level of integration allows for thin designs, including 4mm OLED panels. The 802.11ac chips for consumer electronics include:
• QCA9860, 3-stream dual-band 802.11ac/a/b/g/n with Bluetooth 4.0/LE
• QCA9862, 2-stream dual-band 802.11ac/a/b/g/n with Bluetooth 4.0/LE
Qualcomm Atheros 802.11ac for Home and Enterprise Networking
To complete its end-to-end Gigabit wireless ecosystem, Qualcomm Atheros is also launching 2- and 3-stream, dual-band 802.11ac Wi-Fi to PCIe single-chip radios for home and enterprise network access equipment. These new chips achieve up to 1.3 Gbps wireless data rates and target next-generation dual-band, dual-concurrent (DBDC) wireless access points, routers and gateways. A new, highly efficient architecture reduces overall system cost, processing requirements and power consumption, while nearly tripling wireless performance, to enable broad adoption. A high level of integration reduces external components compared to the previous generation of 3x3 802.11n solutions, to enhance reliability and simplify end product design and manufacturing. The Qualcomm Atheros solutions for retail, carrier and enterprise networking customers include:
• QCA9880 3x3 and QCA9882 2x2 chips for 802.11ac/a/b/g/n home networking
• QCA9890 3x3 and QCA9892 2x2 chips for 802.11ac/a/b/g/n enterprise networking, with enhanced in-building location and spectral sensing capabilities
Last updated: Apr 7, 2020 at 12:06 pm CDT