SANTA CLARA, CA -- (Marketwire) -- 03/07/2012 -- NVIDIA today announced that its NVIDIA® Tesla™ GPUs will be included in HP ProLiant Generation 8 (Gen8) servers, delivering new levels of computational performance for scientific applications at world-class power efficiency.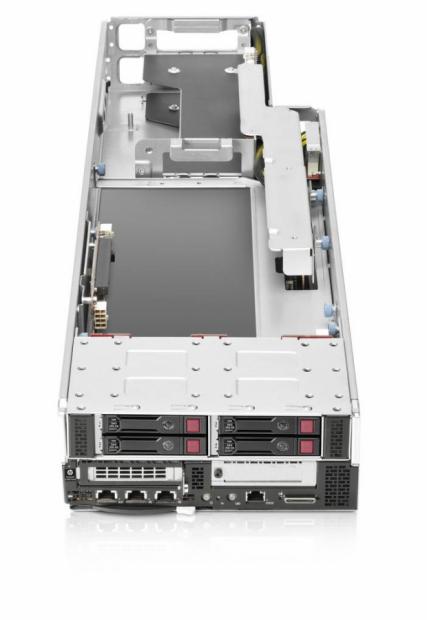 HP ProLiant SL250 Gen8 CPU-GPU hybrid servers combine the world's most powerful parallel processors, NVIDIA Tesla M2090 GPUs, with new Intel Xeon E5-2600 series CPUs based on the Sandy Bridge microarchitecture.
With an average of 12 percent higher performance for scalar processing, the new Intel E5-2600 CPUs relieve sequential bottlenecks for GPUs to tackle and complete parallel tasks significantly faster1. This results in dramatically higher GPU utilization and overall increased application performance.
Based on testing with LAMMPS, one of world's most popular molecular simulation applications, the HP ProLiant SL250 Gen8 server accelerated key benchmark workloads by over 20X with the addition of three NVIDIA Tesla M2090 GPUs2.
In addition, by allowing the combination of up to four CPUs and six GPUs in a 2U server configuration, two side-by-side HP ProLiant SL250 Gen8 servers deliver up to 4.6 teraflops of peak performance to accelerate compute- and data-intensive applications3.
"The HPC industry is rapidly embracing hybrid computing architectures based on their superior performance and energy efficiency," said Sumit Gupta, director of Tesla GPU computing at NVIDIA. "Higher-performance Sandy Bridge CPUs unleash the power of NVIDIA GPUs to an even greater degree, enabling them to maximize acceleration for a range of commercial and scientific HPC applications, include AMBER, GROMACS, LAMMPS, Simulia Abaqus, seismic processing, and others."
"HP ProLiant Gen8 servers with NVIDIA GPUs accelerate applications in high performance computing environments, enabling clients to drive innovation and scientific discovery," said McLeod Glass, director, product marketing, Industry Standard Servers and Software, HP.
NVIDIA Tesla GPUs are massively parallel accelerators based on the NVIDIA CUDA® parallel computing platform. Tesla GPUs are designed from the ground up for high performance computing (HPC), computational science and supercomputing, delivering dramatically higher application acceleration for a range of scientific and commercial applications than a CPU-only approach. Today, Tesla GPUs power three of the world's top five supercomputers.
For more information about NVIDIA Tesla GPUs, visit the NVIDIA web site. To learn more about CUDA, visit the CUDA web site. For more NVIDIA news, company and product information, videos/images, and other information, visit the NVIDIA newsroom.
Last updated: Apr 7, 2020 at 12:06 pm CDT