Taipei, Taiwan, February 21, 2012 - Leading memory storage brand, SP/Silicon Power announces the launch of the Year of the Dragon Souvenir Edition Touch 836 USB flash drive to welcome this lucky Chinese Zodiac Year with customers. The Chinese dragon has a legendary mystery and symbolizes good fortune and luck. SP/ Silicon Power combines traditional Chinese spirit and brilliant design into modern technology to create a unique and excellent product.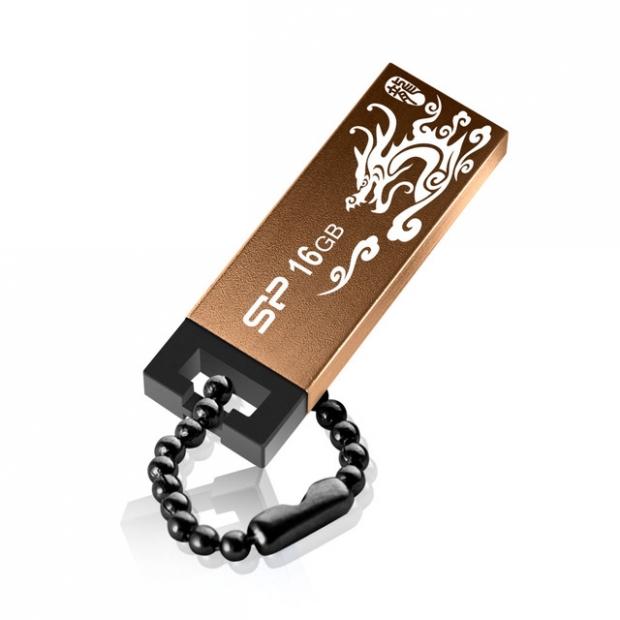 Inherited the design concept of the SP/ Silicon Power Touch series, the tiny and one-step forming streamlined casing of Touch 836 thoroughly brings out its exquisite and modernistic features to the consumers. The antique bronze color of the device also perfectly portrays the majesty of the Chinese dragon. The coating is processed using a metal sandblasting technique to reflect a luxurious metallic glamour and also to protect the surface from scratches. The front of the designer casing features an extraordinary dragon totem, and comes with a strap hole that is easy for users to carry it around to satisfy their instant storage needs as well as for good fortune and luck!
SP/Silicon Power Touch T836 utilizes COB (Chip On Board), the advance packaging technology. It is dust-proof, vibration-proof and waterproof to reduce the risk of losing your precious data. It also comes with SP Widget free download software, providing seven major back up and security tools as well as a 60 day free trial of Norton AntiVirus 2011. All SP products are made to meet with the stringent EU RoHS standards, and offer a lifetime guarantee. For more product information, please go to SP/ Silicon Power website: www.silicon-power.com.
Features:
- Sandblasting antique bronze color portrays the majesty of the Chinese dragon
- Lidless design
- Plug in and use: no external power supply required
- SP Widget free download software, providing 7 major back-up and security functions
Spec.
- Dimensions: 35.5mm x 12.3mm x 4.5mm
- Weight: 4.5g
- Interface: USB 2.0 & 1.1 compatible
- Support OS: Windows XP/Vista/7, Mac OS 10.3.x, Linux 2.6.x
- Durability: 10,000 insertions (minimum)
- Operating Temperature: 0°C - 70°C
- Storage Temperature: -40°C - 85°C
- Capacity: 4GB, 8GB, 16GB
- Color:Bronze
Last updated: Aug 9, 2020 at 12:18 am CDT