Icy Dock is proud to introduce the MB082SP EZ-FIT PRO, the newest product in the incredibly popular SSD/HDD bracket & converter line. The EZ-FIT PRO is a full metal dual 2.5" to 3.5" bracket with a matte black finish, featuring a hassle free installation requiring no tools or screws required to install or change your HDD/SSD. The heavy duty solid metal construction and the simplicity of the drive installation make protecting and swapping your hard drives as easier than ever.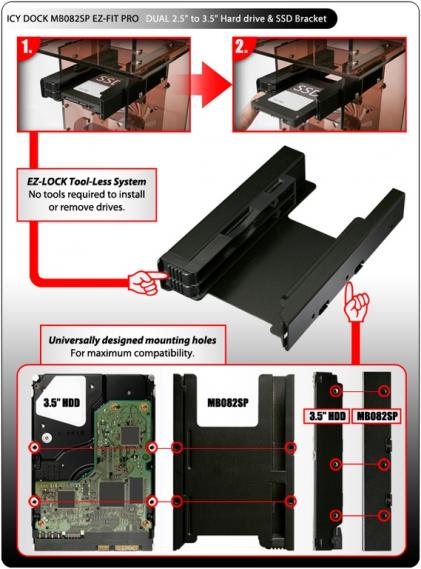 Key Feature:
EZ-Lock mechanism for tool-less drive installation
Heavy Duty Full metal construction with matte black finish
Fits 2 x 2.5" SSD/HDD into one 3.5" device bay
Compatible with SSD or hard drives up to 9.5mm height
Anti-Vibration design for improved reliability
Universally designed screw placement for maximum compatibility
To learn more about EZ-FIT PRO, visit this page.
Last updated: Apr 7, 2020 at 12:06 pm CDT