TAIPEI, Taiwan, February 20, 2012 - The global leading motherboard brand ASRock today announced the winner list of the 2012 Global OC Competition, partnered with Futuremark® and sponsored by Intel, Kingston, Cooler Master, Sparkle and ROCCAT. The final champion of Sandy Bridge-E event goes to Montenegro overclocker Perica_barii while the Croatia overclocker Quake won the title of Sandy Bridge event final champion.
Incredibly, Perica_barii from Montenegro achieved a 3DMark 11 performance preset score of P12773 with ASRock X79 Extreme4 Motherboard, Intel Corei7 3930K and NVIDIA GeForce GTX 580, and set the official world record of 3DMark 11 single GPU score. The former record holder SuidePhoenix also made a breakthrough on his own score to P12529 with ASRock X79 Extreme6, Intel Corei7 3930K and NVIDIA GeForce GTX 580, which came on the top in the final week of the competition. Moreover, in Futuremark's official 3DMark 11 Physics score Hall of Fame, 3 out of the top 20 results were from this contest.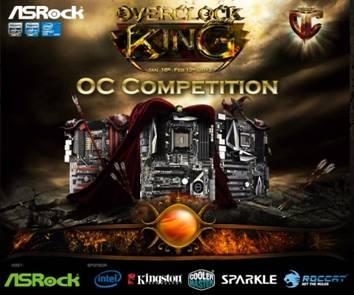 The competition which ran from January 16 to February 12, 2012 attracted approximately 100,000 entries worldwide that made the competition was extremely intense. With 22 entries scoring exceeding P10,000 on 3DMark11 test from the competition and myriads of positive reviews from the global media, ASRock X79 and Z68 series is widely regarded as motherboards of high reliability and excellent performance.
Sandy Bridge-E Champion System Specifications:
ASRock X79 Extreme4,
Intel Corei7 3930K
Sandy Bridge Champion System Specifications:
ASRock P67 Performance,
Intel Core i7‐2600K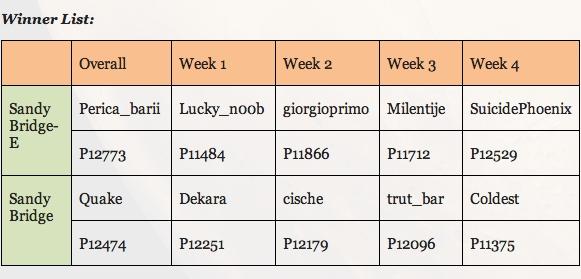 For full winner/prize list of the ASRock Global OC Competition, please visit
http://www.asrock.com/microsite/oc/
For more product information, please visit :
http://www.asrock.com/microsite/intelx79/
Last updated: Apr 7, 2020 at 12:06 pm CDT