NORFOLK ISLAND, 17 February, 2012 - Panasonic has introduced a range of slim, stylish LUMIX zoom models designed to be pocketable for travel and everyday shooting. The versatile DMC-SZ7 and DMC-SZ1 offer photographers on the move flexible photography with a 10x zoom and an ultra wide-angle 25mm LEICA DC VARIO-ELMAR lens.
Special effects add fun to the shooting experience, including Miniature Effect, Panorama Shot and Auto Retouch, and Intelligent Auto (iA) for intuitive control.
The DMC-SZ7 is designed for fast, impressive imaging and movie capture - with a 14.1 megapixel MOS sensor, ultra-fast Light Speed AF of around 0.1 second, and Full HD movie recording. This sleek camera has everything the creative photographer wants, with effects such as 3D Photo and Creative Retouch, supported by the latest iA features such as High Dynamic Range, Handheld Nightshot and Motion Deblur modes.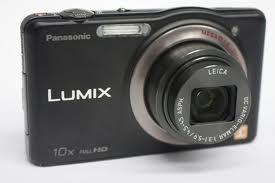 Ms Aki Yamamoto, Product Manager - LUMIX, Panasonic Australia, said: "The SZ Series offers the advantage of a zoom that fits in your pocket, so you are ready for any photographic occasion. You have everything you need to achieve stunning results with ease, from a 10x zoom LEICA lens, to Full HD movies with the SZ7 and the latest effects to enhance your images."
In Miniature Effect[viii] mode, the peripherals are defocused while saturation and contrast is emphasised to create the look of a diorama. The range and location of the area to defocus is adjustable according to the composition of the picture either in horizontal (landscape) or vertical (portrait). Video recorded in this mode can also be played back in 10x fast forwarding for full effect. Panorama Shot makes it possible to create a dramatic horizontal or vertical panoramic image by taking consecutive shots and then overlaying the images.
Both models also feature Auto Retouch which at the touch of a button, corrects contrast and brightness to enhance the image. The DMC-SZ7 adds to this with Creative Retouch, which includes six filters - Toy Effect, Soft Focus, Dynamic Monochrome, Expressive, High Key and Retro, each of which give photos a more artistic look.
The DMC-SZ1 offers Sonic Speed AF for responsive shooting. Other convenient features offered by both the new cameras include MEGA O.I.S, which suppresses the hand-shake that tends to occur when shooting with high zoom, USB charging, and sharing of images and movies instantly via Facebook© or YouTube™ with LUMIX Image Uploader.
The DMC-SZ7 is also equipped with 3D Photo mode, which produces realistic 3D images. Take 20 panning shots and the camera automatically selects the two most suitable images - one for the right eye and one for the left eye - to produce a 3D composite. The 3D images can be viewed on a VIERA 3D HDTV or played back on other MPO-compatible 3D equipment such as TVs, digital photo frames or printers.
LUMIX DMC-SZ7 RRP $329 Available March 2012
14.1-megapixel MOS sensor
Black, pink, white
LUMIX DMC-SZ1 RRP $249 Available March 2012
16.1-megapixel CCD sensor
Red, silver, blue, black
Key features
LEICA DC VARIO-ELMAR lens system
Both cameras offer a new 25mm ultra wide-angle LEICA DC VARIO-ELMAR lens system with a powerful 10x optical zoom (35mm camera equivalent: 25-250mm). Comprising nine elements in seven groups, including four aspherical lenses with six aspherical surfaces, this slim, compact lens unit offers a versatile zoom range from ultra-wide to telephoto and delivers exceptional optical performance with stunning clarity and minimum distortion and flare.
Intelligent Zoom extends the 10x optical to 20x digital equivalent, incorporating Panasonic's Intelligent Resolution technology to maintain picture quality.
14.1-megapixel MOS Sensor - DMC-SZ7
The new 14.1-megapixel MOS sensor and the Venus Engine excel in image processing for both sensitivity and speed. The excellent S/N ratio of the MOS sensor and the Intelligent Noise Reduction system in the Venus Engine reduce noise for the best possible picture even in low-light conditions.
The high speed digital signal output technology ensures smooth video, and lets the DMC-SZ7 shoot at 10 fps in 14-megapixel full resolution with mechanical shutter and 5 fps with continuous AF. The frame rate, AF setting and the recording resolution can be easily adjusted according to the subject movement. The DMC-SZ7 offers fast start-up and achieves Light Speed AF of around 0.1 second to capture even the most fleeting photo opportunities.
AVCHD Full HD Video Recording - DMC-SZ7
The LUMIX DMC-SZ7 records Full HD 1920 x 1080 50i videos in AVCHD (MPEG-4 / H.264)[ix] format and also offers shooting in MP4 at 25p. A separate button on the top lets the user instantly start recording videos while shooting photos without having to make any extra settings. iA (Intelligent Auto) is also conveniently available.
The powerful 10x optical zoom also operates in video recording. Dolby® Digital Stereo Creator provides highly realistic stereo sound, and the mechanical noise caused by the zoom operation is suppressed for greater clarity while the Wind Cut function helps to block out wind noise.
Photos or video recorded in AVCHD on SD Memory Cards can also be viewed on a Panasonic VIERA TV or Blu-ray Disc Player - simply insert the card into the device's SD Memory Card slot. Alternatively, users can use an optional mini HDMI cable to output still images and movies directly to the TV via VIERA Link.
The DMC-SZ1 records video at 720p in MP4.
Convenient features
Convenient Intelligent Auto features include High Dynamic Range, Intelligent Handheld Nightshot and Motion Deblur mode, offered by the DMC-SZ7; in addition to AF Tracking, Intelligent ISO Control, Face Recognition (DMC-SZ7) / Face Detection (DMC-SZ1), Intelligent Scene Selector and Intelligent Exposure.
Using High Dynamic Range, the camera takes several shots at different exposure levels and then automatically combines them to produce an image that faithfully represents the scene and preserves detail in the highlights, midtones and shadows for a clear, sharp shot. Handheld Night Shot takes advantage of the DMC-SZ7's high-speed sensor, combining consecutive shots to produce a blur-less, beautifully illuminated night shot without the need for a tripod. The Motion Deblur mode updates motion detection (Intelligent ISO Control) and brightness control (Intelligent Exposure) to gain as high a shutter speed as possible. Users can be confident that their images and video will be clear and blur-free, when captured on the go or with moving subjects.
Both cameras have a 3.0-inch Intelligent LCD that automatically adjusts the backlight for easy viewing based on the lighting situation.
Included accessories: Battery pack, AC adaptor, USB cable, hand strap, CD-ROM with PHOTOfunSTUDIO software.
Last updated: Jul 27, 2022 at 04:07 am CDT