NORFOLK ISLAND, 17 February, 2012 - Panasonic has released the seventh generation in its iconic TZ Series of LUMIX travel zoom cameras, with the new DMC-TZ30 now covering even wider shooting situations with a huge 20x zoom and 24mm wide-angle lens, redesigned MOS sensor, Full HD AVCHD and MP4 recording, and enhanced GPS functionality, supported by the latest creative effects.
The newly-redesigned LEICA DC VARIO-ELMAR lens is the slimmest in its class[i], and the camera body is also lighter than its predecessor. This camera is designed for impressive imaging whether you are shooting stills or movies.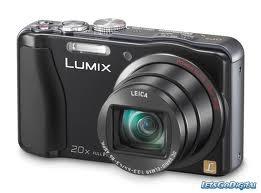 The newly-developed 14.1-megapixel High Sensitivity MOS sensor reduces noise and provides advanced performance in low light, and responsiveness has been enhanced with 0.1 sec Light Speed AF. Full HD AVCHD movie recording has been upgraded to 1920 x 1080/50p.
The built-in GPS functionality automatically embeds the location, latitude and longitude where a photo was taken in the EXIF data. This is now supplemented with map data which can be installed from a bundled DVD.
This camera gives the user complete creative control with a wide selection of artistic filter effects to apply when recording and retouching. Intelligent Auto (iA) is now even more intuitive with the addition of High Dynamic Range (HDR) which ensures high-contrast images are detailed and sharp.
For added convenience when you are travelling, the DMC-TZ30 can now be charged via USB as well as by conventional AC power.
Ms Aki Yamamoto, Product Manager - LUMIX, Panasonic Australia, said: "This is our best Travel Zoom yet. The DMC-TZ30 has the amazing zooming power you need to capture those once in a lifetime travel experiences - from wildlife on safari to sweeping landscapes.
"In addition, it has benefited significantly from the development of the G Series, with a swag of shooting effects that make it the most creative compact we've ever offered at this level. Now your travel image library of memories will be truly unforgettable."
Panasonic also offers a companion model to the DMC-TZ30, the DMC-TZ25. The DMC-TZ25 offers a LEICA DC VARIO-ELMAR lens with 16x zoom and a 24 mm wide-angle lens.
Other DMC-TZ25 features include:
· 12.1-megapixel high sensitivity MOS sensor
· Full HD AVCHD movie recording at 1920 x 1080/50i and MP4 movie recording in 25p
· O.1 sec Light Speed AF and 10fps burst shooting
· POWER OIS with Active Mode
· Intelligent Auto with HDR, POWER O.I.S. with Active Mode, AF Tracking, Intelligent ISO Control, Face Recognition, Intelligent Scene Selector, Intelligent Handheld Nightshot, Motion Deblur mode, Intelligent Burst mode and Intelligent Exposure
· Creative Control mode including Miniature Effect, Panorama Shot, Creative Retouch and Auto Retouch
· 3.0-inch 460,000-dot intelligent LCD
· USB and AC power charging
LUMIX DMC-TZ30 RRP $449 Available April 2012
Black
LUMIX DMC-TZ25 RRP $399 Available April 2012
Silver
Key features
Imaging and movie technologies
The advanced lens system that is the hallmark of the TZ Series, achieving both high picture quality and small size, has been redesigned to boast a short total lens length within a slim camera body. The optics incorporate an ultra-thin lens design with 12 elements in 10 groups including three aspherical lenses with six aspherical surfaces and two ED lenses.
To minimise ghosting, the Nano Surface Coating boasts an extremely low reflectance ratio compared with conventional multi-coating. This Panasonic black box technology combines with the LEICA optics to deliver exceptional optical performance and stunning clarity.
The new 14.1-megapixel High Sensitivity MOS sensor boasts a signal to noise ratio that is improved over the DMC-TZ20, for reduced noise and better clarity for images shot in low-light situations.
The DMC-TZ30 uses the high speed digital signal output technology introduced by the DMC-GH1 Micro Four Thirds camera. This allows the DMC-TZ30 to shoot at 10fps in 14-megapixel full resolution with a mechanical shutter and 5fps with continuous AF. This also enables the camera to record Full HD 50p movies and capture high speed QVGA movies at 220fps. The frame rate, AF setting and recording resolution can be easily selected according to the movement of the subject.
Full HD AVCHD movie recording is a format that provides easy viewing via SD Memory Card on Panasonic TVs or Blu-ray devices. The high frame rate records moving subjects with outstanding smoothness. The camera also records MP4 at 25p for high compatibility with PCs and smartphones when editing and sharing videos. The 20x zoom and iA functions are available to further enhance movie recordings.
A stereo zoom microphone and Dolby® Digital Stereo Creator offer highly realistic sound, with suppression of the mechanical noise caused by zooming. An Auto Wind Cut function is also available to block out most background wind noise.
The included software PHOTOfunSTUDIO 8.1 Premium Edition makes it easy to view and edit recorded content. Users may also choose to upload videos to YouTube™ or burn them to a DVD disc for archiving.
Advanced GPS System with World Map information
The DMC-TZ30 features a comprehensive built-in GPS, now supplemented by bundled map data that provides detailed maps of major regions worldwide on a scale of around 1/25,000. This information is provided on a DVD.
The GPS function shows the name of the country, state, city and key landmarks using the internal data library, giving users real-time information to locate where the photo is being taken. Great for holiday makers, the area information covers 203 countries or regions, plus more than 1,000,000 landmarks across 82 countries or regions are in the database. Photos and movies with location names are automatically sorted alphabetically in the camera so they can be accessed quickly. By using the PHOTOfunSTUDIO software, users can sort images by location name. The internal clock of the camera automatically adjusts to reflect the local time where the image is being taken.
Special effects and iA to enhance shooting enjoyment
The DMC-TZ30 now offers a rich suite of creative effects in addition to enhancements to Intelligent Auto (iA).
The Creative Control mode has a selection of artistic filter effects when recording images: including Expressive, Retro, High Dynamic, Sepia, Dynamic Monochrome, High Key, Low Key, Miniature Effect, Toy Effect and Soft Focus.
Miniature Effect and Panorama Shot are also available. Miniature Effect[iii] creates the look of a diorama; and Panorama Shot makes it possible to capture a 360º horizontal/vertical panoramic image by overlaying consecutive shots. At the press of a button, Auto Retouch adjusts contrast and brightness if you want to improve the photo you just took.
Creative Retouch has six filters -Toy Effect, Soft Focus, Dynamic Monochrome, Expressive, High Key and Retro - that can be applied to images after they have been shot. Also, at the press of a button, Auto Retouch adjusts contrast and brightness if needed.
In iA, the camera does all the work, leaving the user free to compose shots and capture moments. Just press, aim and shoot.
The newest addition to Intelligent Auto (iA) is High Dynamic Range (HDR). When photographing scenes of very high contrast, like a bright landscape on a sunny day, detail can be lost in the highlights and shadows. In HDR mode, the camera takes several shots at different exposure levels and then automatically combines them to produce an image that faithfully represents the scene and preserves detail in the highlights, midtones and shadows for a clear, sharp shot.
Other iA features include POWER O.I.S. with Active Mode, AF Tracking, Intelligent ISO Control, Face Recognition, Intelligent Scene Selector, Intelligent Handheld Nightshot, Motion Deblur mode, Intelligent Burst mode and Intelligent Exposure.
Other Features
The DMC-TZ30 uses touch-screen operation with a 3.0-inch large 460,000-dot Smart Touch LCD offering Touch AF, Touch Zoom and Touch Shutter modes. Auto Focus is immediately set to the subject by simply touching the selected area on the large LCD, and users can also release the shutter.
LUMIX Image Uploader allows instant image and movie sharing via Facebook© or YouTube™ with any PC. The 3D Photo mode produces realistic 3D images. Take 20 panning shots and the camera automatically selects the two most suitable images - one for the right eye and one for the left eye - to produce a 3D composite. The 3D images can be viewed on a VIERA 3D HDTV or played back on other MPO-compatible 3D equipment such as TVs, digital photo frames or printers.
Included accessories: Battery pack, AC adaptor, USB cable, hand strap, DVD with Map and PHOTOfunSTUDIO software.
Last updated: Jul 27, 2022 at 04:07 am CDT