NORFOLK ISLAND, 17 February, 2012 - Panasonic has expanded its multimedia camcorder line-up to include the new HX-DC2 camcorder and the waterproof HX-WA2 - combining a fun, appealing style and easy-to-use vertical design with quality imaging and versatile shooting features.
Doug Campbell, Product Marketing Manager - Camcorder, Panasonic Australia said: "These camcorders are ideal for the active user, with an ergonomic vertical design that gives them greater shooting flexibility."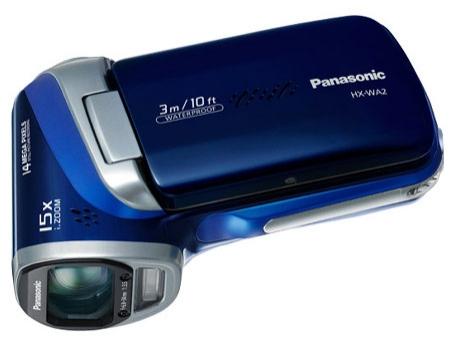 The HX-WA2 is waterproof down to three metres,[x] making it ideal for shooting footage outdoors and underwater.
"The HX-WA2 is the ideal choice for users who need a high-quality camcorder that can survive even in challenging conditions - so you never miss a moment," added Mr Campbell.
The design of both camcorders makes it easy to shoot with just one hand, and the controls have been redesigned this year to allow for even simpler operation.
A joystick can now be found on the back of the camcorder to control the menu, and the original twin shutter buttons have been made larger so that it is even easier to flick between taking photo and video footage using your thumb. The widescreen LCD rotates through 285º, making it easy to see the subject, and brightness can be adjusted in seven levels.
Both the HX-WA2 and the HX-DC2 shoot Full HD 1920 x 1080/50i movies and high-quality 14-megapixel images.
Users can also add more fun and versatility to shooting. For example, capture stunning landscapes thanks to Panorama mode, where the user simply pans the camera up, down, left or right to capture vertical and horizontal panoramic images. In addition, High Speed Reverse Consecutive Shooting[xi] creates a series of consecutive still images at the press of a button, while Burst Shooting[xii] captures up to 10 consecutive fast motion images.
The 5x optical zoom can be switched to 15x Intelligent Zoom[xiii] when shooting video, allowing users to record faraway subjects in great detail. Active E.I.S (Electronic Image Stabilisation) delivers stunning blur-free still and video recordings.
High Dynamic Range (HDR) Backlight Compensation is a new feature that ensures images are always correctly exposed with no blown highlights and blocked shadows. Three images are taken at different exposures and combined for one optimal still image. HDR Paint allows users to further expand their creativity, giving still images an artistic, painting-like effect.
Both models feature Panasonic's trademark iA (Intelligent Auto) mode. When iA is engaged, the camcorder automatically selects the most suitable shooting mode with the press of a button for impressive images and movies every time.
Intelligent Auto combines the Active E.I.S. with Intelligent Scene Selector, which automatically selects the best Scene Mode to record in based on detected light and objects; and Face Detection, which senses ambient lighting to adjust exposure and capture faces beautifully even in dim or backlit scenes.
Designed with the active social networker in mind, the HX-WA2 and HX-DC2 make it easy to capture and share content. The new camcorders record in the MPEG-4 AVC file format for easy file transfer and HD Writer VE 2.0 Software is also included, so users can upload to social networking platforms - such as YouTube™ and Facebook© - in an instant.
Users can also record videos using iFrame, ideal for both Mac and PC users. Other convenient connectivity features include a SD memory card slot and a micro HDMI[xiv] port allowing playback from a Full HD TV.
The HD Writer VE 2.0 software features a "Smart Wizard" that automatically runs when the camcorder is plugged to a PC via a USB port, prompting users to follow a simple, onscreen guide to upload content to a PC or burn to a DVD with ease.
Advanced editing features also allow users to select their favourite songs[xv] as background music, add various effects and transitions and even apply Photo Retouch. With the new Short Movie Story feature, users can transform a series of still images into a dramatic short film. Once the image data, theme and background music are selected, the camera takes over to finish the story, which can be saved onto a disc in HD quality and easily shared online.
HX-WA2 RRP $349 Available April 2012
Available in blue and orange
HX-DC2 RRP $249 Available March 2012
Available in grey
Included accessories: AC Adaptor, Rechargeable Battery Pack, AV Cable, USB Cable, HD Writer VE 2.0 software.
Last updated: Jul 27, 2022 at 04:07 am CDT