NORFOLK ISLAND, 17 February, 2012 - Panasonic today introduced the HC-V10 camcorder, offering High Definition video recording and a powerful 70x enhanced optical zoom in a compact and easy-to-use design.
Packed with advanced features - including Panasonic's popular Intelligent Auto (iA) mode, POWER O.I.S (Optical Image Stabiliser) with Active Mode as well as convenient Quick Start and Pre-Record functionality - the HC-V10 makes it easy to point, shoot and capture impressive HD video with confidence.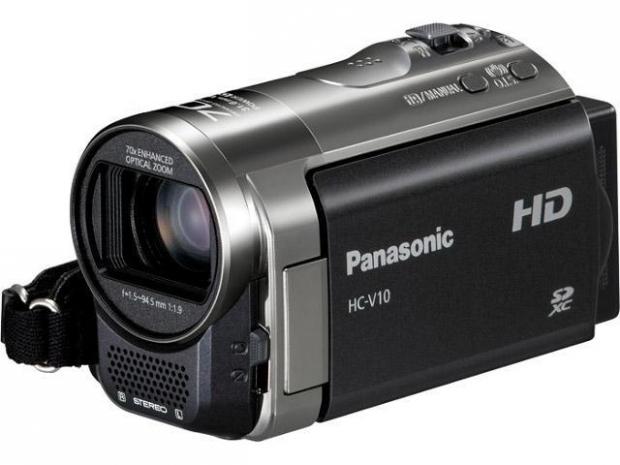 Doug Campbell, Product Marketing Manager - Camcorders, Panasonic Australia said: "Panasonic's HC-V10 is a versatile, 'go-anywhere' model, offering users an HD camcorder that makes it easy to shoot as well download and share footage. In addition, the zoom functionality captures even distant subjects in extreme detail."
With a powerful 63x optical zoom lens that steps up to an Enhanced Optical 70x zoom, users can capture beautiful images of subjects up close or pull in distant subjects for truly dynamic close-ups. A 31.6mm wide-angle lens makes shooting indoors or in tight spaces more effective by allowing more to be incorporated into the frame.
For greater flexibility, HD video can be recorded in MP4 format, offering broad compatibility and high compression for small, easy-to-share files. Alternatively, it can be captured in iFrame for fast importing and editing.
HC-V10 RRP $299 Available April 2012
Available in black
Key features
Advanced imaging
The HC-V10 features a powerful 63x optical zoom lens with an Enhanced Optical 70x Zoom function that uses the effective area of the sensor to further extend the zooming power at the wide-angle setting. This allows the user to capture beautiful images of sweeping landscapes and pull in distant subjects for truly dynamic close-ups, without the image degradation that occurs with a digital zoom. POWER O.I.S. (Optical Image Stabiliser) produces clear, blur-free images even with handheld 70x zooming.
The HC-V10's 31.6mm wide-angle lens[viii] is especially convenient for recording indoors or in tight spaces, making it possible to shoot at a close distance from the subject while fitting both the subject and surrounding area into the frame. The wide-angle setting also offers versatility for capturing either landscapes or large groups.
POWER O.I.S. (Optical Image Stabiliser) with Active Mode
The HC-V10 is equipped with a high-quality optical hand-shake compensation function essential for its compact, lightweight body. The POWER O.I.S. suppresses hand-shake while maintaining high image quality. It also features an Active Mode to assure clear, beautiful images, even during hand held shooting while moving.
Creative flexibility
When Panasonic's iA mode is activated, it automatically selects the most suitable shooting mode at the press of a button. iA modes include Power O.I.S. with Active mode; Intelligent Contrast Control, which optimises contrast by preventing blown highlights and blocked shadows; Intelligent Scene Selector, which automatically selects the best Scene Mode to record in based on detected light and objects; and Face Detection, which senses ambient lighting to adjust exposure and capture faces beautifully even in dim or backlit scenes.
Pre-Record and Quick Start are ideal for capturing spur-of-the-moment shooting opportunities. In Quick Start mode, you simply flip open the LCD and you're ready to shoot in 0.8sec. The Pre-Record function continuously records three seconds of buffer memory so you don't miss those spontaneous moments.
Uploading and editing
Archiving and editing videos taken with the HC-V10 has never been easier. HD video can be recorded in the MP4 or iFrame formats.
The camcorder's HD Writer HE 1.0 software (included) allows for highly versatile PC editing and sharing functions. The software is compatible with YouTube™ and Facebook© allowing even the most inexperienced users to share videos online with ease.[ix] Image data can also be transferred to a Mac computer for editing in applications such as iMovie.
The HC-V10 features an SD Card slot that supports SD/SDHC/SDXC Memory Cards.
Included accessories: AC Adaptor, Rechargeable Battery Pack, AV Multi Cable, USB Cable, software CD-ROM.
An extensive lineup of optional accessories is available for all Panasonic camcorders including the HC-V10.
Last updated: Jul 27, 2022 at 04:07 am CDT