NORFOLK ISLAND, 17 February, 2012 - Panasonic Australia today announced the new HC-X900M Full High Definition 3MOS camcorder, designed to deliver best-in-class imaging.
The HC-X900M is powered by Panasonic's 3MOS System Pro next-generation imaging system, with the core components - lens, sensor and engine - completely re-engineered. This newly-developed system with three enhanced MOS sensors produces 1920 x 1080/50p Full HD video with breathtaking colour, detail and gradation. It ensures bright recordings with minimum noise even under dim lighting.
"Panasonic is proud to continue its strong heritage in camcorders with the release of this latest model. This camcorder is designed for the enthusiast videographer who wants to capture truly stunning images," said Doug Campbell, Product Marketing Manager - Camcorder, Panasonic Australia.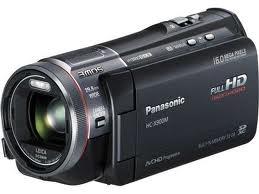 The improved HYBRID O.I.S. + (Optical Image Stabilisation) allows users to capture crisp, clear images without blurring, in nearly every shooting situation. The system employs five-axis correction to help suppress blurring in both wide-angle shots and powerful zoom shots - allowing for steady images across the entire zoom range and achieving superb results even when shooting on the move.
The user has greater creative scope with a manual ring for easy and convenient fingertip-control of commonly-used settings.
"With amazing broadcast-standard 3MOS technology and advanced features such as a manual ring, 5.1-channel surround sound as well as the advanced Hybrid O.I.S + system, the HC-X900M is a feature-rich camcorder with impressive capabilities," Doug Campbell added.
For those looking to explore the third dimension in video, the HC-X900M can also shoot Full HD 3D with the new optional 3D conversion lens. This lens is smaller than its predecessor and boasts an increased brightness to F2.4 as well as 1.5x digital zooming. The camcorder also offers 2D to 3D conversion and the ability to view 3D via the LCD screen as you shoot.
HC-X900M - RRP $1799 - Available April 2012
VW-CLT2 optional 3D lens - RRP $399 - Available April 2012
Both available in black
Key features
Advanced imaging
Thanks to the advanced 3MOS sensor's unique pixel shift technology that runs at high speed and with superb accuracy, the HC-X900M further reduces noise by 40 per cent when compared to last year's HDC-SD900.
Furthermore, the new Crystal Engine Pro II achieves high-speed processing that is approximately equivalent to four times the pixel count of Full HD pixels, producing superb Full HD image quality, even in the most detailed images.
The HC-X900M features a bright F1.5, 29.8mm wide-angle LEICA DICOMAR lens with 12x optical zoom - allowing for a wider-framed shot ideal for shooting landscapes and large groups of people. The lens has a new Nano Surface Coating Technology, to dramatically reduce ghosting and flare.
With an Octagon Iris Diaphragm, the user can apply a defocusing effect, so it is possible to shoot at a close distance from the subject while fitting both the subject and the surrounding area into the frame. This allows the voice of the subject to be clearly recorded, while a full and wide frame is still successfully captured.
Hybrid O.I.S + (Optical Image Stabiliser)
In addition to the HYBRID O.I.S. + system, the HC-X900M provides even more powerful stabilisation correction with O.I.S. Lock. By pressing the O.I.S. Lock button on the LCD monitor, the blur detection sensitivity is maximised and camera movements are detected and corrected without image degradation. O.I.S. Lock is ideal for applications that may require zooming at a fixed angle, such as bird watching.
Creative flexibility and ease of use
The HC-X900M features a manual ring for easy and convenient fingertip-control of commonly-used settings, including focus, zoom, exposure, shutter speed and white balance. Improvements to the manual ring mean it is much more intuitive and user-friendly for settings that are adjusted often as opposed to accessing them through the menu screen. Plus, with manual operation, the HC-X900M gives the user freedom to craft creative and expressive videos with ease.
Intuitive touch operation enables extremely easy control on the LCD. The Touch Zoom function allows the user to simply touch the LCD to activate slow zooming. The LCD also supports Touch Shutter, which automatically focuses and takes a still photo when the user touches the subject on the screen.
For beginners who are looking for a more intuitive setting, the HC-X900M also includes Panasonic's highly popular iA (Intelligent Auto) function which automatically selects the most suitable shooting mode. There are six iA functions: Face Recognition, the new HYBRID O.I.S. +, AF/AE Tracking, Intelligent Scene Selector, Face Detection and Intelligent Contrast Control.
3D image shooting with the 3D conversion lens
Vivid and immersive Full HD 3D content can be created with Panasonic's optional VW-CLT2 3D conversion lens mounted to the camcorder. Simply connect the camcorder to a compatible 3DTV to view your 3D movies at home.
3D is recorded using the MVC (Multiview Video Coding) system of the AVCHD 3D format. During 3D recording, the right-eye and left-eye images are both recorded and played in Full HD quality, using the Frame Sequential Method, which results in a lifelike ambience.
The HC-X900M is equipped with a 1,150,000-dot 3.5-inch LCD that allows 3D viewing without the need for special eyewear, so 3D images can be viewed immediately. The display can be switched between 2D and 3D.
Even without mounting the conversion lens, images shot in 2D can be converted to 3D thanks to the new 2D to 3D Conversion function.
Users can play back 3D videos recorded using the 3D lens on 3DTVs, including Panasonic VIERA 3DTVs - either by connecting the Camcorder to the TV via the optional 3D-compatible Mini HDMI cable, or via the SD card slot of any AVCHD-compatible player/recorder.
PC Editing/Archiving
The camcorder is supplied with HD Writer AE 4.1 PC editing software for 2D and 3D editing (Windows OS). Import your recorded 3D footage to your PC via SD Card slot or HDMI cable. 3D footage can be viewed or edited on your PC and archived to SD Card, or Blu-ray disc.
The software allows easy uploading of video clips to YouTube™ and Facebook©, so even inexperienced users can post video clips on the web. For added convenience, the iFrame video recording format, which is optimal for Mac users to import quickly and maintain small file sizes, is also supported.
Also, the ordinarily time-consuming task of converting and archiving data from 50p to AVCHD or MPEG-2 format can be easily done at high speed by connecting the 3MOS camcorder to a PC with a USB cable and using the Conversion Assist function.
Other HC-X900M features include:
32GB built-in memory, plus an SD Memory Card slot that supports SD/SDHC/SDXC Memory Cards.
· Zoom Microphone, which links the microphone's zoom action to the camera's action and reduces surrounding noise, making it possible to record target sounds with superb clarity. The HC-X900M boasts 5.1-channel surround sound and noise is reduced by -20 dB while zooming.
· The Electronic Viewfinder provides greater precision when shooting
· The Wind Noise Canceller automatically detects and suppresses only wind noise to ensure natural sounds with lifelike ambience.
· Pre Record function continually records three seconds of buffer memory so you don't miss those spontaneous moments.
Eco mode[ii] automatically turns off the power when the camcorder is not operated for five minutes, reducing wasteful energy use and saving battery power.
For easy playback, insert the SD card into the slot of a compatible VIERA TV or AVCHD-compatible player/recorder. VIERA Link compatibility allows the user to simply connect a camcorder to a compatible VIERA TV via a Mini HDMI cable, and operate it using the TV remote control and following on-screen prompts.
· Optional accessories - including the VW-CLT2 3D conversion lens; a Wide Conversion Lens (VW-W4907H); Filter Kit (VW-LF49N); a Video DC Light (VW-LDC103) for illuminating dark scenes, with a switchable Spot/Wide function that allows the lighting range to be selected according to the scene; a Shoe Adaptor (VW-SK12) for attaching multiple accessories; Stereo Microphone (VW-VMS2); and DVD Burner (VW-BN01E).
Included accessories: Li-ion battery, AC Adaptor, AC Cable, DC Cable, lens hood, Shoe Adaptor, IR Remote Control, USB Cable, AV Multi Cable, HD Writer AE 4.1 PC editing software.
Last updated: Jul 27, 2022 at 04:07 am CDT