Taipei, Taiwan, February X, 2012 -Leading memory storage brand, SP/Silicon Power today announces to launch the newest SSD Extreme E25. It fits 2.5"SATA interface with excellent transmission rate of 278MB/s maximum reading speed. It supports TRIM Command allowing Windows 7 users to power on their computers within tens of seconds.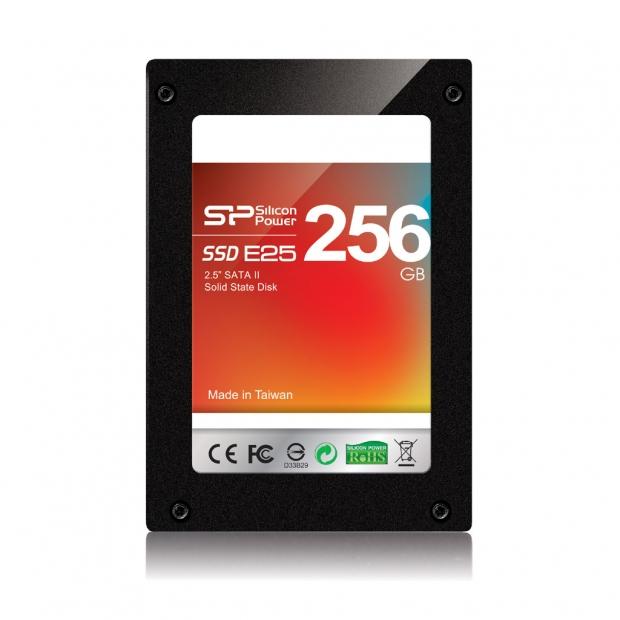 Aiming on the prosperous SSD market, SP/ Silicon Power will seize SSD market-share territory with its strong ambition. A concrete SSD products line, including the newest E25, E20 of the same series, and V30 matching the highest transmission standard SATAIII can satisfy all the requirements of consumers!
E25 has 3 major technologies to ensure it maintains the highest performance and excellent stability. With DDR2 DRAM Cache Memory built-in, even during continuous intensive write situations, computers shall lag no more. ECC error correcting code guarantees data liability. After 3 to 5 thousands read/write circulations, wear-Leveling technology extends at least 5 years lifecycles! More excellences as low power consumption, shock proof and noiseless are included.
Considering diverse requirements of consumers, SP/ Silicon Power all series of 2.5" SATA interface solid state disks are in standard size that are easily installed for your desktop, laptops, or other servers compatible for 2.5" hard disk. SP/ Silicon Power devotes in good product quality. All the SSD products adopt high-level controlling chip and flash memory. All the products are under strict testing before delivery to ensure their 100% efficiency guaranteed.
Features
- Excellent transmission performance and stability.
- Support TRIM Command, write-in function increased.
- Available capacities: 64GB/128GB/256GB
-Compatible SATA I and SATA II interfaces and conforms 2.5"SATA interface(SATA SSD)
- DDR2 DRAM Cache memory implementation to enhance E25's reading performances and lifespan
- Built-in ECC error correcting code to guarantee data reliability. Super high speed transmission speed Wear-Leveling technology to extend its lifespan
- Compliant with European RoHS requirement, meeting the green environment trend
- Low power consumption and vibration proof
- Noiseless operation, no latency delay and no seek error
- 3-year Warranty
Specifications
- Dimension: 100x69.85x9.4mm
- Weight: 77 g
- Durability: 10,000 insertions
- Operating voltage: 5V +/- 5%
Vibration resistance test: 20G peak-to-peak max
- Shock resistance test: 1500G Max
- Transmission rate: Maximum read rate 278/MB/s (note 1)
*Note 1: Performances may vary due to platform differences
Last updated: Apr 7, 2020 at 12:06 pm CDT