MAINGEAR, an award-winning PC system builder of custom desktops, notebooks, and workstations, now offers PC enthusiasts the AMD Radeon HD 7750 and HD 7770 graphics solutions in their award-winning desktop systems.
MAINGEAR will offer the option of choosing AMD Radeon HD 7700 series cards, which is AMD's latest mainstream variant of their 7000 series GPUs, on their desktops. The new AMD Radeon HD 7700 series graphics cards offer the world's most advance graphics with the industry's very first 28 nm GPU design at an affordable price point.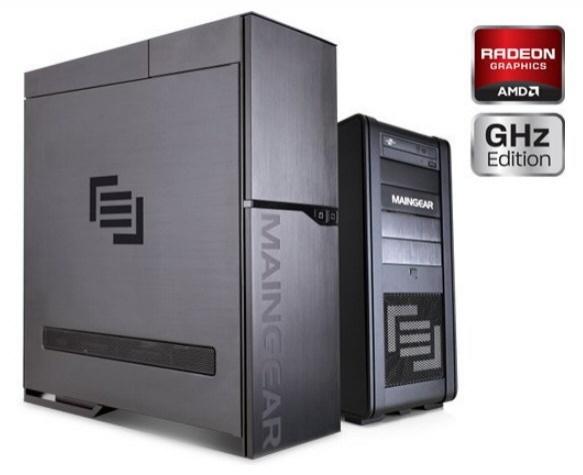 Similar to the AMD Radeon HD 7900 series, the AMD Radeon HD 7770 also offers 1 GB GDDR5 video memory, 1 DVI, 2 mini-display ports, and 1 HDMI output, as well as superior performance with dual card configurations thanks to AMD CrossFire technology. The AMD Radeon HD 7750 sports a single slot design, sips a mere 55W, and supports 1 DVI, 1 HDMI, and 1 DisplayPort output. Both the AMD Radeon HD 7900 and 7700 series graphics supports DirectX 11 and with AMD Eyefinity, and gamers and creative professionals can enjoy support for up to 6 displays for immersive entertainment and enhanced productivity.
These powerful, "Never Settle" graphics solutions will be available on the SHIFT and F131 MAINGEAR desktops initially and will be offered on the VYBE in the near future, along with their EPIC Research Labs innovative line of enthusiast-grade product offerings like the EPIC CPU Liquid cooling solution. All MAINGEAR products are supported with lifetime labor and phone support in the US, along with one to three year hardware warranty options. For more information about MAINGEAR's desktops with AMD Radeon™ HD 7000 graphic solutions, click here.
"We are excited to offer an affordable 28 nm GPU design from AMD, and the AMD Radeon HD 7700 series cards offers great performance and features to a wider audience." said Wallace Santos, CEO and Founder of MAINGEAR. "With AMD's Radeon™ HD 7770 GHZ Edition, gamers will be very excited with the performance they get for their dollar."
Last updated: Apr 7, 2020 at 12:06 pm CDT