BALDWIN PARK, CA (February 15, 2012) - CyberpowerPC Inc. www.CyberpowerPC.com, a manufacturer of custom gaming machines, today announced its Zeus series -- a powerful new line of desktop computers that offer the power of thunder with Intel's new i7-3820 CPU; the speed of AMD's lightning fast FX CPUs; the refined design of NZXT's Switch 810 chassis, and legendary Advanced Hydro Liquid Cooling.
The initial Zeus rollout includes six models. The Zeus Thunder 1000, 2000, 300 and MAX will all feature Intel's latest CPUs, including the new 2nd Gen. Core i7-3820 Sandy Bridge-E quad-core CPU operating at 3.6GHz, a 10MB L3 cache and HyperThreading support. The Zeus Lightning series consists of the 1000 and 200 models with the AMD FX series native 8-core desktop processor, which allows you to immerse yourself in the most advanced 3D games and achieve extreme mega-tasking with ease.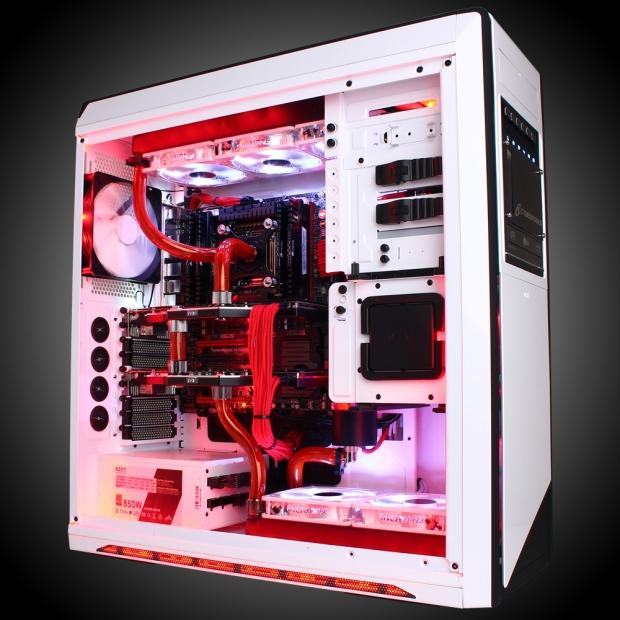 High definition gaming will be no myth because the Zeus series is outfitted with leading edge graphics from AMD and NVIDIA. They not only deliver excellent gaming performance but provide great versatility and speed in video transcoding. You can also harness the power of multiple video cards with your choice of CrossfireX or SLI graphics performance.
The CyberpowerPC Zeus series does not forget the memory and uses low-latency high capacity memory modules from top tier brands such as Kingston HyperX or Corsair Vengeance DDR3 memory. Solid state drives (SSDs) are also a standard feature with a choice of Intel, Corsair Kingston and OCZ models to provide super fast system response and quick loading times.
To become the supreme ruler of gaming as the Zeus name implies, you need an elegant and refined chassis to house your weapons. The CyberpowerPC Zeus series employs the NZXT Switch 810 full tower hybrid chassis. PC enthusiasts can easily modify this classy-white case for liquid cooling, silent performance, or extreme airflow. With a quick switch, the hybrid fins on the NZXT can open up to allow maximum air flow or close for enhanced sound reduction. The Switch 810 chassis is also loaded with front panel ports for enhanced connectivity, which includes dual USB 3.0 ports and an Integrated SD card reader convenient for on-the-fly file transfers.
Each Zeus gaming PC has the option of up to 10 120mm case fans for supreme cooling and is also "hydro-ready" for intricate water cooling solutions. CyberpowerPC's Advanced Hydro Liquid Cooling can be added to any Zeus system to cool both the CPU and GPU(s). With the Advanced Hydro Liquid Cooling kit, you can opt for a 240mm or 360mm radiator for ultra cooling.
Base price of the Zeus Thunder series with Intel CPUs starts under $1329. Base price of AMD-based Zeus Lightning systems is $999.
All CyberpowerPC gaming systems are available worldwide and can be customized with a number of performance hardware and components such as Solid State Drives, Blu-Ray drives, gaming memory, gaming peripherals, business and productivity software, and more.
North American customers can configure their Zeus system at www.CyberpowerPC.com. In Europe CyberpowerPC Zeus systems can be custom configured at www.cyberpowerpc.co.uk.
Every system is meticulously built with precise cable routing to ensure optimal airflow and a clean aesthetic appearance. CyberpowerPC loads every system with Microsoft Windows 7 Home Premium Operating System for an enhanced gaming and multimedia experience. All CyberpowerPC desktop gaming systems include an industry-best 3-year limited warranty.
Last updated: Apr 7, 2020 at 12:06 pm CDT