SANTA CLARA, CA -- (Marketwire) -- 02/14/2012 -- The traditional workstation is being liberated for the first time from the bulky confines of its traditional tower, with the launch of the HP Z1 Workstation -- which combines the world's first all-in-one workstation with the high performance graphics and computing processing capabilities of NVIDIA® Quadro® professional graphics.
The HP Z1 features a 27-inch diagonal display that snaps open, like the hood of a car, so users can easily swap out parts and make upgrades without any tools required1. The elegant space-saving design doesn't compromise the ability to run the powerful 3D graphic applications required by designers, engineers and digital media and entertainment professionals.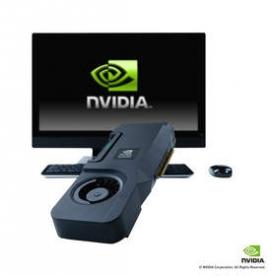 Foundational to the HP Z1 is the introduction of a new custom line of NVIDIA Quadro GPUs. Developed through a multi-year collaboration between HP and NVIDIA, these GPUs utilize less power, generate less heat and require less cooling. Designed especially for all-in-one workstations, the NVIDIA Quadro 500M, Quadro 1000M, Quadro 3000M, and Quadro 4000M GPUs offer professionals a full range of whisper-quiet, upgradeable graphics options from the most trusted source in professional graphics.
"HP and NVIDIA have joined to rescue the workstation from its tower," said Jeff Brown, general manager, Professional Solutions Group, NVIDIA. "The HP Z1 transforms the traditional workstation from its long familiar footprint into something truly spectacular -- the industry's first all-in-one workstation."
"As more professionals demand increased muscle from graphic-intensive applications, they will realize the need for blazing fast rendering and 3-D graphics performance," said Jim Zafarana, vice president and general manager, Commercial Solutions Business Unit, HP. "NVIDIA Quadro graphics will deliver increased visualization capabilities for the creative professional with our category-defining HP Z1 All-in-One Workstation."
Joint Collaboration
The new line of NVIDIA Quadro professional GPUs for all-in-one workstations were born of extensive collaboration between NVIDIA and HP to deliver a range of processors that meet exacting thermal, performance and mechanical standards. The result is a set of new discrete GPUs that enable the HP Z1 to unleash professional workstation graphics in what has, until now, been viewed solely as a consumer form factor.
Industry's Highest Visual Quality
The new line of Quadro All-in-One GPUs provide the industry's highest visual quality and performance, with up to 2GB of fast GDDR5 memory2, enabling more interactivity on larger data sets than ever before. Dynamic tessellation allows greater detailed geometry for cinematic quality environments and scenes.
NVIDIA CUDA® parallel architecture, with its mainstream adoption by leading applications from Adobe, Autodesk and others, accelerates performance by offloading complex computation from the CPU. 10-bit color provides the utmost precision and accuracy for a higher level of visual quality and fidelity in digital video workflows.
Certified and optimized across the broadest spectrum of industry-leading professional applications for CAD, digital content creation, and science, including those from Adobe, Autodesk, and Dassault Systèmes, Quadro professional graphics solutions are designed, engineered and built by NVIDIA to ensure the highest standards of quality, delivering industry leading performance, capabilities and reliability.
Availability and Pricing
NVIDIA Quadro professional All-in-One graphics, including the Quadro 500M, Quadro 1000M, Quadro 3000M, and Quadro 4000M, are available immediately. For additional information, including pricing of the new HP Z1 All-in-One Workstation featuring these Quadro graphics options, please visit http://www.hp.com/z1.
Last updated: Apr 7, 2020 at 12:06 pm CDT