SAN JOSE, CA-February 14, 2012-OCZ Technology Group, Inc. (Nasdaq:OCZ), a leading provider of high-performance solid-state drives (SSDs) for computing devices and systems, today announced the Z-Drive R4 CloudServ PCI Express (PCIe) flash storage solution, designed to dramatically accelerate cloud computing applications and significantly reduce operating expenses in the data center. The new Z-Drive R4 CloudServ features monumental data throughput, and raises the bar in performance and capacity.
"The Z-Drive R4 CloudServ PCIe solid state drive delivers game-changing performance and enables clients to process massive data-sets with up to 16TB of storage capacity on a single, easy-to-deploy card," said Ryan Petersen, CEO of OCZ Technology. "With this new solution, system architects are able to design more efficient and dynamic cloud computing infrastructures while simultaneously reducing system complexity and the high maintenance costs associated with traditional infrastructures."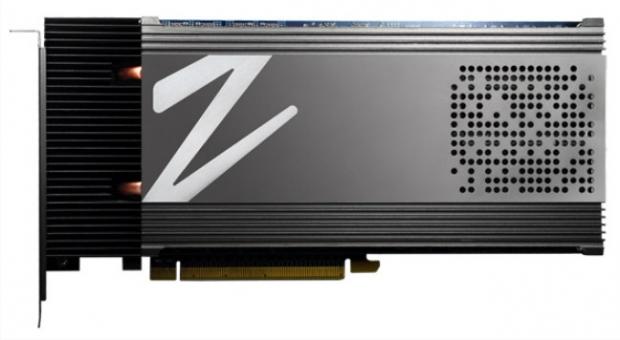 With increasing emphasis on cloud computing and the sheer growth in data, PCIe-based flash storage systems have the ability to bypass traditional storage overhead by reducing latencies, increasing throughput, and enabling efficient processing of massive quantities of data. The Z-Drive R4 CloudServ is capable of transferring multiple gigabytes per second and delivering over a million IOPS with a level of concentrated performance that enables system architects to design more productive infrastructures while lowering costs associated with hardware failure, maintenance, structural footprint, and energy consumption.
The latest evolution of the Z-Drive R4, the CloudServ, is specifically designed for the most demanding cloud computing applications with increased capacities and even greater bandwidth capabilities delivering up to 1.4 million IOPS. Melding hardware and software managed solutions with OCZ's integrated Virtualized Controller Architecture™ (VCA) 2.0 and OCZ's SANRAD VXL virtual acceleration caching software, the Z-Drive R4 CloudServ can be employed as a high-performing host-based flash cache that works in conjunction with the VXL to dynamically allocate flash resources to accelerate all virtual machines. This maximizes the performance of critical applications and provides a seamless migration from one host to another without the loss of cache data. As these virtual machines are migrated from one host to another, they must retain full access to the flash cache without loss of performance or interruption of service. OCZ's SANRAD VXL software is the only software that allows for this seamless migration without loss of access to the flash cache.
The Z-Drive R4 CloudServ PCIe SSD will be available in models ranging from 300GB-16TB capacities throughout OCZ's global channel in the coming weeks. As with all OCZ enterprise products, customer-specific configurations and functionality are available upon request.
For more information, please visit our product page here.
Last updated: Jul 27, 2022 at 03:42 am CDT