AVADirect, a leading provider of custom notebooks, is the first to offer Clevo's P270WM mobile gaming notebook.
The future is here, and AVADirect is readily expanding its offerings with hardware to prepare for it. For those who need ultimate performance on the go, AVADirect can feed your need for mobile speed with the Clevo P270WM. Based off of the Intel X79 chipset and Sandy Bridge-E processors, end-users can expect performance increases as much as 35-50 percent while keeping current and ahead of the curve for their much needed productivity, efficiency, and entertainment. Promising new features give the Clevo P270WM a name and reputation that is surely to leave a lasting impression for those who have it at their fingertips. The industry rookie, relative to age rather than experience, has no limits to its depth of functionality.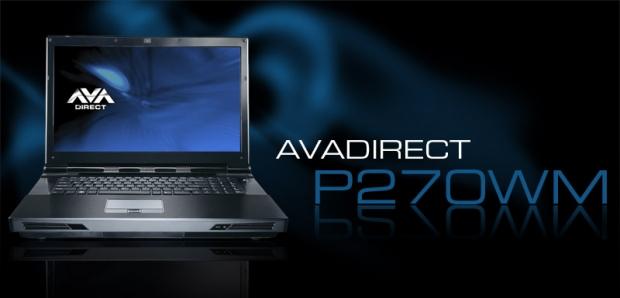 The P270WM's design shapes the ground we stand on by creating new standards for mobile desktop replacements. The revolutionary X79-fueled P270WM, being the successor of the world renowned Clevo X7200, supports all of the functionality provided by its older brother. Three 9.5 inch hard drives, with optional RAID, two USB 3.0 ports, SLI support, HD LED screen, HDMI 1.4a support, and the recently re-designed express card slot for third-party expansion are still key features of the newly offered Clevo P270WM Gaming Notebook.
The Nvidia GTX 580M 2GB comes standard in the Clevo P270WM and offers SLI support for gaming duality. The GPU offers 384 CUDA cores, or 768 when in SLI. Furthermore, the victor of desktop replacements offers the Quadro 5010M 4GB for the elitist AutoCAD or developing engineer. Combined with the support of Quad-channel DDR3 SODIMM RAM and speeds up to 1866Mhz, creating a configuration suitable for your tasks is as simple as a few clicks on AVADirect's website. The board features a total of four SODIMM slots expandable up to 32GB. The P270WM includes full 3D support, which has never been provided in a desktop replacement until now. End-users will more importantly be interested in the first-ever backlit keyboard integrated in the P270WM notebook. Clevo has not received outstanding remarks in the past for their lack of aesthetically pleasing designs, but a backlit keyboard changes everything enthusiasts have grown to know about Clevo's design.
AVADirect will begin to accept pre-orders for the X79 high-end gaming notebook as of today. The base price starts at around $3000.00 and will feature the Intel core i7 3930K, GTX 580M 2B, 4GB of DDR3 RAM at 1333Mhz, 750GB 7200RPM hard disk, and Windows 7 Home Premium 64-bit.
Last updated: Apr 7, 2020 at 12:06 pm CDT