Customers Love Kindle Owners' Lending Library - KDP Authors and Publishers Benefit
Tue, Jan 17 2012 7:47 PM CST
Kindle Owners' Lending Library now over 75,000 books
KDP Select books were borrowed 295,000 times in December
Due to strong customer adoption, Amazon adds $200,000 bonus to January fund - an increase from $500,000 to $700,000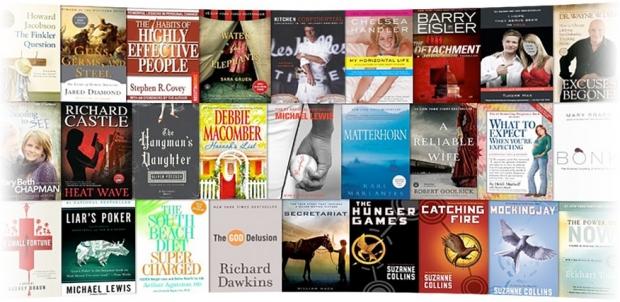 SEATTLE--(BUSINESS WIRE)--Jan. 12, 2012-- (NASDAQ: AMZN)-The Kindle Owners' Lending Library is off to a strong start: customers borrowed 295,000 KDP Select titles in December alone, and KDP Select has helped grow total library selection to over 75,000 books. With the $500,000 December fund, KDP authors have earned $1.70 per borrow. In response to strong customer adoption of the Kindle Owners' Lending Library (as well as seasonal, post-holiday use of new Kindles), Amazon.com, Inc. has added a $200,000 bonus to the January KDP Select fund, raising the total pool from $500,000 to $700,000.
Paid KDP sales grew rapidly in December - and results show that paid sales of titles participating in KDP Select are growing even faster than other KDP titles. On top of this growth in paid sales, KDP Select authors and publishers on average are receiving an incremental 26% in December as a result of their participation in the Kindle Owners' Lending Library.
"KDP Select appears to be earning authors more money in two ways. We knew customers would love having KDP Select titles in the Kindle Owners' Lending Library. But we've been surprised by how much paid sales of those same titles increased, even relative to the rest of KDP," said Russ Grandinetti, Vice President of Kindle Content. "Due to this early success and a seasonally strong January, we're adding a $200,000 bonus to January's KDP Select fund, growing this month's total pool to $700,000."
The top ten KDP Select authors earned over $70,000 in the month of December from their participation in the Kindle Owners' Lending Library, a 30% increase on top of the royalties they earned from their paid sales on the same titles in the same period. In total (paid sales plus their share of the loan fund), these authors saw their royalties grow an astonishing 449% month-over-month from November to December. The list of top 10 KDP Select authors includes Carolyn McCray, Rachel Yu, the Grabarchuk family and Amber Scott.
Carolyn McCray, a writer of paranormal romance novels, historical thrillers and mysteries, earned $8,250 from the KDP Select fund in December. "KDP Select truly is a career altering program," said McCray. "I couldn't be happier with the tools, support and exposure it has given me. To say the trade-off of exclusivity on Amazon for the Kindle Owners' Lending Library has been a profitable one would be a gross understatement. Participating in KDP Select has quadrupled my royalties."
Rachel Yu is a 16-year-old author of children's books, and she earned $6,200 from the KDP Select fund in the month of December. "It's so cool to be part of the success of KDP Select," said Yu. "It's just like a library but with easier access. There's truly no other opportunity like Amazon for self-publishing."
The Grabarchuk family earned $6,300 from the KDP Select fund in December from their puzzle books. "After only a month KDP Select has dramatically changed things - finally indie publishers are playing as equals with the big publishing houses in the world's biggest eBook marketplace," said Serhiy Grabarchuk, Co-Founder of the Grabarchuk Puzzles company.
Amber Scott is a romance writer and earned $7,650 from the KDP Select fund in December. "Enrolling in KDP Select utterly transformed my career," said Scott. "I've experienced not only a surge in royalties but a surge in readership thanks to the increased exposure. I love the chance to earn new readers through the innovation of the Kindle Owners' Lending Library. What an exciting time to be an author!"
Since launching Kindle Owners' Lending Library on November 2, Prime members with Kindles can now choose from over 75,000 books to borrow for free-including over 100 current and former New York Times Bestsellers-as frequently as a book a month, with no due dates.
For more information about the Kindle Owners' Lending Library, please visit https://www.amazon.com/kindleownerslendinglibrary. Independent authors and publishers can enroll their books in KDP Select at http://kdp.amazon.com/self-publishing/KDPSelect. To learn about all of the additional benefits included with Amazon Prime, or to start an Amazon Prime free trial visit www.amazon.com/prime.
Last updated: Apr 7, 2020 at 12:06 pm CDT
PRICING: You can find products similar to this one for sale below.

United States: Find other tech and computer products like this over at Amazon.com

United Kingdom: Find other tech and computer products like this over at Amazon.co.uk

Australia: Find other tech and computer products like this over at Amazon.com.au

Canada: Find other tech and computer products like this over at Amazon.ca

Deutschland: Finde andere Technik- und Computerprodukte wie dieses auf Amazon.de
Related Tags