Japanese cooling expert Scythe is expanding its product portfolio by the new Kaze Master Pro Ace fan controller. The built-in technology is based on the already announced Kaze Master Pro 5.25 fan controller, which now comes with classy aluminum front panel design. Hence allows it to match more pc chassis on the market, especially pc chassis with an aluminum front panel.
New Kaze Master Pro Ace fan controller allows users to adjust fan speed of up to fans separately as well as monitoring up to 6 temperature sensors. Adjustments of fan speeds are being made using the 6 potentiometers located in the lower part of the aluminum front panel. Using the other two potentiometers located on the sides, it is possible to choose 2 of the 6 channels to be displayed on the built-in VF-Display (Vacuum Fluorescent Display).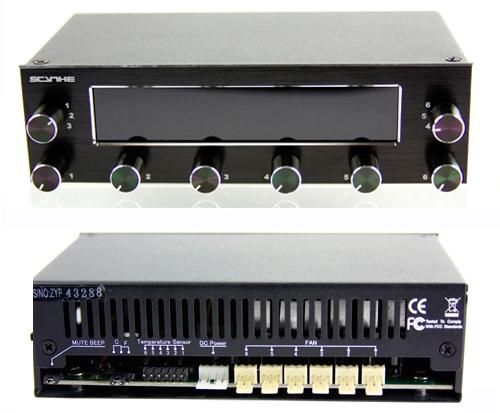 Connected fans speed is controlled by altering of the output voltage. Each fan channel can be separately regulated in a voltage regulation range between 3,7 and 12 Volts. Users are able to monitor the actual fan speed on the VF-Display in 30 rpm steps up to the maximum fans peed of 9990 rpm. Temperature values can be displayed both in degrees Celsius or degrees Fahrenheit. Kaze Master Pro Ace is able to measure temperatures in the range between 0 and 100°C or 32 and 199,9°F.
Furthermore Kaze Master Pro Ace fan controller is equipped with various safety mechanisms. Hence alarms users visually and audibly when safe values are exceeded. Audio alarm signals can be turned off using a jumper on the rear side of the fan controller. All relevant information in regards to safety mechanisms is explained in detailed in the supplied multilingual user manual.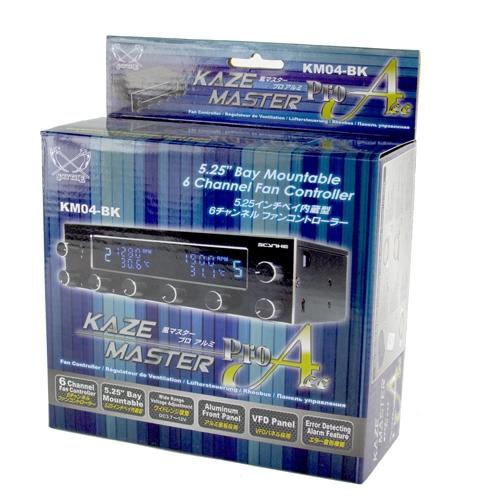 Scythe Kaze Master Pro Ace fan controller (Model No. KM04-BK) is available only in black color as of today for 34,90 EUR (excl. VAT/TAX).
Last updated: Apr 7, 2020 at 12:06 pm CDT