-- World's First Motherboard to Achieve 57x Multiplier with Intel® Core™i7 3930K --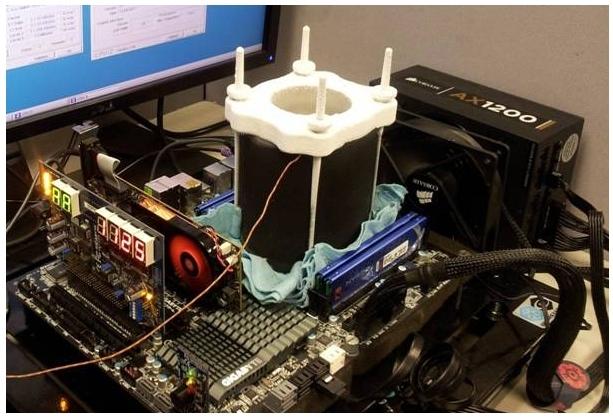 City of Industry, California, December 30th 2011 - GIGABYTE TECHNOLGY Co. Ltd., a leading manufacturer of motherboards and graphics cards, today announced a record highest clock speed on the Intel® Core™ i7 3930K processor, producing new Intel® Core™ i7 3930K processor records for Super Pi and PiFast benchmarks. These records were achieved using the GIGABYTE GA-X79-UD3, the first motherboard to reach a maximum possible multiplier of 57x.
Equipped with the recently issued F7 BIOS and liquid nitrogen cooling, respected overclocker Hicookie was able to reach an incredible clock speed of 5,643.3MHz (5.6GHz) on an Intel® Core™ i7 3930K processor. This record clock speed was reached using a never seen before 57x CPU multiplier configurations thanks to the F7 BIOS, producing record scores for the Super Pi 1M and 32M and PiFast benchmarks.
New World Records (inc. HWBot links)
Super Pi 32M - 6mins 8.516 seconds
"These new world records underline how the GIGABYTE 3-way digital power engine on existing X79 motherboards makes breathtaking performance possible on our X79 series enthusiast platforms. They should also erase any skepticism regarding the performance and overclocking capabilities of our new F7 BIOS for GIGABYTE X79 motherboards," commented Tim Handley, Deputy Director of Motherboard Marketing at GIGABYTE.
System Specifications
GIGABYTE GA-X79-UD3 (F7 BIOS)
Intel® Core™ i7 3930K* (@5,643.3MHz)
Kingston HyperX Genesis PC3-19200 2GB x 4 (@2376MHz)
Corsair AX1200
You can find Hi Cookie's official benchmark submissions on HWBot here:
http://hwbot.org/hardware/processor/core_i7_3930k/
Click the link below to watch a video of these world records being broken:
http://youtu.be/F89l38YiHcw
GIGABYTE X79-UD3
The GIGABYTE X79-UD3 motherboard is designed for mainstream enthusiasts who want to experience the latest Intel® Core™ i7 processors without compromising on performance or features. Based on a unique 3-way Digital Engine that brings unprecedented control over the way power is delivered to your CPU and Memory, the GIGABYTE X79-UD3 also features 4-way SLI and Crossfire X graphics, PCIe Gen 3.0 support and 4 channel DDR3 memory.
More information about the GIGABYTE X79-UD3 can be found here:
http://www.gigabyte.us/products/product-page.aspx?pid=4050#ov
New GIGABYTE F7 BIOS for Whole X79 Motherboard Series
F7 BIOS updates are available for the entire GIGABYTE X79 motherboard series. Users wanting to update to the latest firmware can download the respective BIOSes from the following links: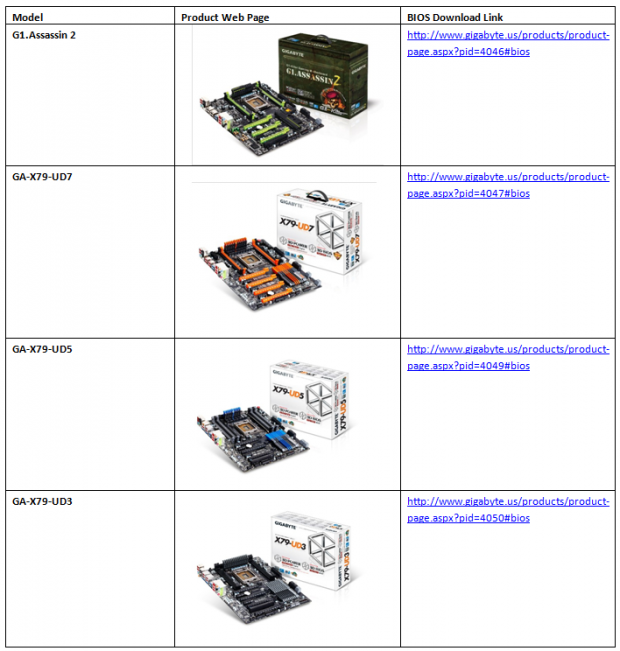 To learn more about our all new 3-way Digital Power Engine and GIGABYTE X79 series motherboards, please go to: http://www.gigabyte.us/MicroSite/304/x79.html.
About GIGABYTE
GIGABYTE Technology Co. Ltd., headquartered in Taipei, Taiwan, is known as a leading brand in the IT industry with branch offices located in 24 countries around the world. Founded in 1986, GIGABYTE started as a small research and development team, quickly rising in prominence to become one of the world's top motherboard manufacturers. In addition to motherboards and graphics cards, GIGABYTE has further expanded its product portfolio to include notebook and desktop PCs, datacenter servers, networking products, mobile handsets and home entertainment devices - serving each facet of our digital life in the home and office. Everyday GIGABYTE aims to "Upgrade Your Life" with innovative technology, exceptional quality, and unmatched customer service. In 2011, GIGABYTE celebrates its 25th anniversary, and a quarter of a century committed to quality, excellence and serving our customers with the utmost enthusiasm and professionalism. We look forward to navigating the future at full sail.
Last updated: Apr 7, 2020 at 12:06 pm CDT