Corsair, a worldwide designer and supplier of high-performance components to the PC gaming hardware market, today announced of 8GB and 16GB DDR3 memory upgrade kits for Apple Mac desktop and laptop systems.
Mac systems with two memory slots have traditionally been limited to only 8GB of memory. By increasing the individual module capacity to 8GB, Corsair's latest memory upgrade kits allow Mac owners to upgrade to 10GB, 12GB, or even 16GB of memory.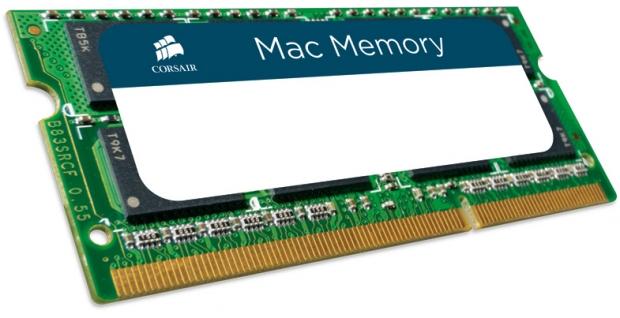 Corsair's Mac memory kits are tested at Apple Developer Compatibility Labs and work with most MacBook Pro, iMac, and Mac mini systems shipped in 2011.
The new DDR3 Mac memory upgrades, like all Corsair DRAM products, are tested to exacting standards and come with a limited lifetime warranty.
"The ability to go beyond 8GB of memory will be a boon for graphics designers and video editors on the go, IT professionals who need to run Windows virtual machines simultaneously with Mac OS X, network administrators who use Macs as servers or web hosts, or anybody who wants to push their Mac to the limits of its performance," said Thi La, Vice President of Memory Products at Corsair. "Corsair's renowned service and support and our limited lifetime warranty make our Mac memory upgrades a smart investment."
The new DDR3 Mac memory kits will be available in January from Corsair's worldwide network of resellers and distributors. For more information on Corsair Mac memory upgrades please visit this page.
Last updated: Apr 7, 2020 at 12:06 pm CDT