Offering a fresh take on one of the best-selling gaming mouse pads in history, ROCCAT Studios - the Hamburg, Germany-based manufacturer of professional PC gaming devices and equipment - today announced that the legendary ROCCAT Taito Shiny Black Gaming
Mousepad now comes in two thicknesses of 3mm and 5mm, as well as in the three sizes of Mini-, Mid- and King.
The introduction of a new thickness allows gamers to select a Taito that best offsets the amount of hand pressure used during play - which means hours of playing comfort no matter what a gamer's style is. The two heights also let players pick a Taito best suited to their desktop, as each pad provides a form fit on most playing surfaces, compensating for unevenness on a gamer's desk and delivering uninterrupted gliding.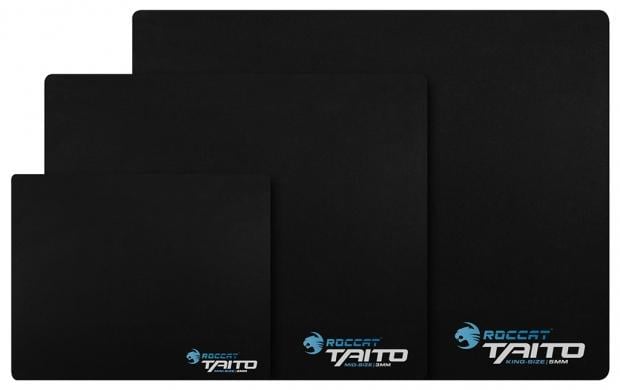 Taito's new sizes now also let gamers pick the pad that best fits their desktop -- as well as one best suited to the amount of movement used in their gaming style. Players who prefer a lower mouse sensitivity setting - i.e., a lower dpi - will appreciate more room to move, while high-sense gamers who use upper range dpi settings will enjoy the smaller, space-saving Taito versions. The smallest Taito, the Mini, measures 265 mm x 210 mm, the Mid-Size model comes in at 400 mm x 320 mm, and the King-Size version offers a generous playing field of 455 mm x 370 mm.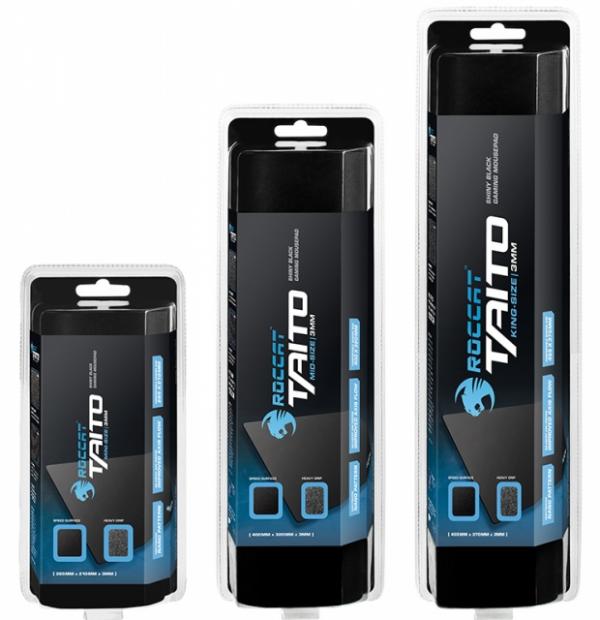 "The Taito has long been a favorite with gamers," says Rene Korte, ROCCAT Founder and CEO. "We've received a tremendous amount of thanks over the years from players who've said the Taito has made their gaming infinitely better and much more fun. And that's what it's all about. So we decided it was time to expand the line and offer players even more. We've taken a gaming phenomenon and pushed it even further. We can't wait for the reaction from fans."
Each Taito offers the pad's famous signature feature: a unique, "heat-blasted Nano Matrix" gaming surface that delivers maximum gliding speed in all directions - together with optimal control. This shiny black surface also allows for high-performance tracking with any mouse sensor.
Every Taito also features a non-slip rubberized backing that provides a steady grip during even the most hectic gaming. Even if you try moving it with your palm, a Taito won't budge. Plus, all Taito versions feature a ruggedized structure built for extremely active play, giving the pads a robust design built for a long gaming life.
Out now:
• ROCCAT Taito - Shiny Black Gaming Mousepad Mini-Size, 3mm - 9.99 €
• ROCCAT Taito Shiny Black Gaming Mousepad Mid-Size, 3mm - 14.99 €
• ROCCAT Taito Shiny Black Gaming Mousepad King-Size, 3mm - 19.99 €
Available by the end of Dec 2011:
• ROCCAT Taito - Shiny Black Gaming Mousepad Mini-Size, 5mm - 12.99 €
• ROCCAT Taito Shiny Black Gaming Mousepad Mid-Size, 5mm - 17.99 €
• ROCCAT Taito Shiny Black Gaming Mousepad King-Size, 5mm - 22.99 €
Product features:
• Heat-blasted Nano Matrix structure for quick, precise and silent mouse movement in every direction
• Non-slip rubberized backing provides a secure surface that won't move during hectic play
• Rugged build for a long life of extreme gaming
• Three sizes: Mini (265 mm x 210 mm), Mid (400 mm x 320 mm), and King (455 mm x 370 mm) let gamers pick the Taito perfect for their desktop and their mouse sensitivity preference
• Two thicknesses 3 mm and 5 mm let players select the Taito that best fits their style
For more information, visit the Roccat Studios.
Last updated: Apr 7, 2020 at 12:06 pm CDT