Quality board has many enthusiast features
SAPPHIRE Technology, a leading manufacturer and global supplier of graphics, mainboard and multimedia solutions has just introduced a new mainboard developed to support the latest high performance FX CPU family from AMD, and fully backwards compatible with previous generation AM3 CPUs.
The SAPPHIRE Pure Black 990FX is a full ATX sized board making full use of the features of the AMD 990FX and SB950 chipsets. Four dual channel memory sockets are provided, supporting up to 16GB of DDR3 memory with current technology, and capable of supporting up to 32GB when suitable modules become available. There are four USB 3.0 ports (two at the rear and two on a header supported by a high quality front panel kit) as well as eight USB 2.0 ports on the rear panel plus four more on headers.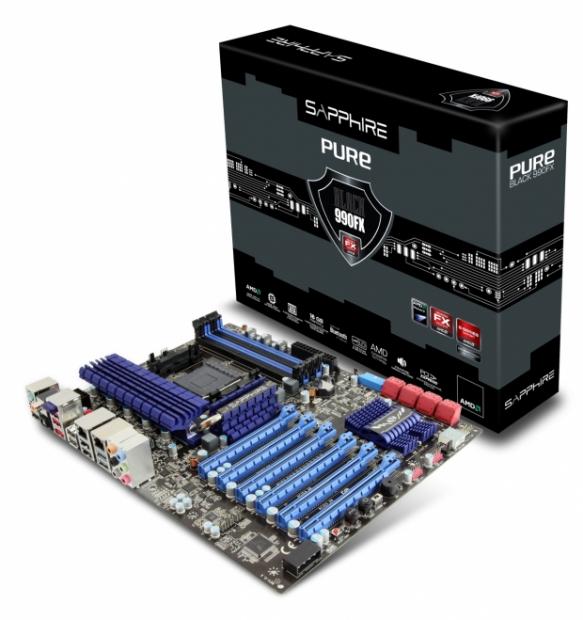 Advanced connectivity is provided by Dual Gigabit LAN sockets plus Bluetooth with EDR (enhanced data rate). The board has eight SATA 3GB ports, featuring AHCI and RAID support, conveniently mounted on the edge of the board with right angle connectors and an additional SATA 3GB port brought out to the rear panel on an eSATA connector. The back panel also carries optical and SPDIF outputs as well as the standard I/O configuration for the on board HD 7.1 Audio.
Extensive expansion support is provided by six PCI-Express Gen2 slots which allow up to six single slot cards or three dual slot cards such as high end graphics cards in CrossFireX to be used. A standard 4-pin Molex connector on the edge of the board can be used to provide additional power when multiple cards are used.
Many user friendly features have been incorporated in the SAPPHIRE Pure Black 990FX, such as digital debug display and a push button reset for the BIOS, as well as start and system reset buttons. These are especially useful for enthusiasts interested in performance tuning or overclocking. This is the first board to feature the SAPPHIRE QBIOS - an easy to use UEFI BIOS with many overclocking features. The board has a Dual BIOS, allowing for experimentation and updates, and includes S_BIOS which allows the user to update and back up the BIOS from a BIOS screen - there is no need to boot from an external disk. For the hard-core enthusiast, voltage test pads have been brought out to the edge of the board for the critical voltages on the CPU and memory.
The build quality of the SAPPHIRE Pure Black 990FX is high. It has a black multilayer PCB, and uses high quality gold plated connectors for USB 3.0 and LAN. It incorporates many of the high end features associated with the SAPPHIRE brand, such as the use of high reliability solid capacitors throughout. The multi-phase PWM voltage regulation circuitry for both the CPU and memory modules incorporate the SAPPHIRE Diamond Black chokes with coolers that have featured on SAPPHIRE's high end graphics cards. Low profile coolers on the PWM section give users a wide choice of CPU cooler without risk of obstruction.
Hardware monitoring tools and the SAPPHIRE proprietary Mainboard TriXX software allow users to review a range of system parameters while optimising performance of the CPU, memory and chipset.
The SAPPHIRE Pure Black 990FX is in production now, and will be available through SAPPHIRE's usual channel partners and retailers.
For further details please visit www.sapphiretech.com
Last updated: Apr 7, 2020 at 12:06 pm CDT