New Initiatives Strengthen Intel's Long-Standing Partnership with Taiwan's Government, High-Tech Industry, and Academia
NEWS HIGHLIGHTS
- Intel announced several new partnerships with Taiwan's leading government, industry and university players to accelerate technology development and business innovation.
- Intel Labs and the Taiwan Industrial Technology Research Institute (ITRI) have formed a research partnership intended to shape the future of information technology, with an initial focus on innovative memory technologies for tomorrow's ultra-mobile devices, exascale and cloud datacenter systems.
- Intel appointed Dr. Wen-Hann Wang, VP of Circuits and Systems Research at Intel Labs, to be its Scientist-in-Residence at the Intel-National Taiwan University (NTU) Connected Context Computing Center where he will explore new opportunities for collaboration between the center and Taiwanese industry.
- Intel and the National Science Council hosted an Innovation and Research Forum in Taiwan to share cutting-edge technologies for future computing applications such as cloud and embedded computing.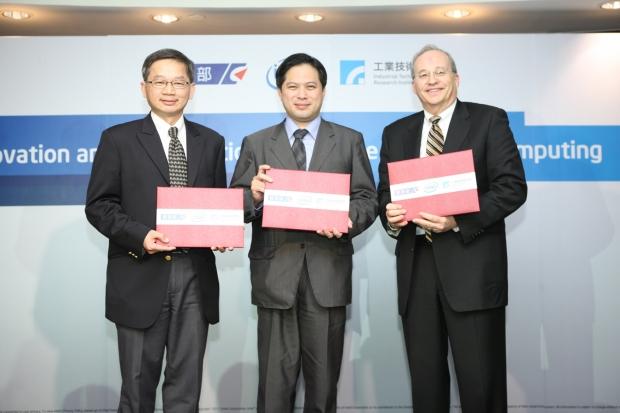 TAIPEI, Taiwan, Dec. 06, 2011 - Marking the 40th anniversary of the Intel 4004, the world's first commercially available microprocessor, Intel Corp. Vice President and Chief Technology Officer Justin Rattner today announced a series of new and expanded partnerships with Taiwan's leading government, industry and university players intended to strengthen Taiwan's R&D competitiveness and establish the island as a growing center of technology innovation for the global IT industry.
"The accelerating evolution of computing creates exciting opportunities for Intel and Taiwan to jointly pursue technology innovations and explore new growth markets," Rattner said. "The joint efforts we announced today extend the long-standing partnership between Intel and Taiwan, and will enhance Taiwan's position as a global center of IT innovation."
Intel's work with the Ministry of Economic Affairs (MOEA), the Industrial Technology Research Institute (ITRI) and the National Science Council (NSC) will advance Taiwan's R&D capabilities and capitalize on new opportunities for growth through multiple initiatives, including collaboration with ITRI on future memory technologies, the Intel Scientist-in-Residence program, and the Innovation and Research Forum.
Intel Labs will collaborate with the Industrial Technology Research Institute (ITRI) on research programs expected to shape the future of information technology. Intel will provide funding and resources worth US$5 million (approximately NT$ 150 million) over five years, with ITRI to provide matching funds for the research collaboration. The partnership's initial project will focus on super-fast, but extremely energy-efficient memory technologies for future ultra-mobile devices, such as Ultrabooks, tablets, and smartphones, as well as tomorrow's exascale and cloud mega-datacenters.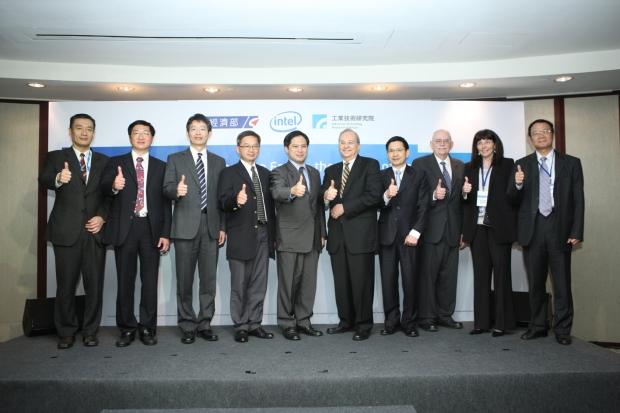 "With the rapid change of the global technology evolution and market landscape, the Taiwan's ICT industry has faced challenges and pressure to innovate. It's exciting to see Intel, the global leader of the high-tech industry, team up with Taiwan by jointly developing the next-generation memory technologies with ITRI, paving the way for future Taiwan's ICT industry development." said Dr. Ming-Ji Wu, Director General of Department of Industrial Technology (DoIT), Ministry of Economic Affairs. "DoIT has been helping the industries to proactively capture various business growth opportunities. We believe the research partnership between Intel and ITRI will bring critical influence to advance the future semiconductor industry and enable Taiwan to stay in the leading position among the global competition. With innovation, the Taiwan ICT industry will continue to transform and grow based on its solid foundation."
Advanced memory technology plays a crucial role in the future of computing. "It is our great pleasure to collaborate with Intel for research and development of the 3-D IC technology to make memories work better with microprocessors. The technology strengths of Intel and ITRI complement each other. With the many patented technologies from Intel and ITRI's solid 3-D IC R&D capabilities, this collaboration will enable the development of future memory technologies," said Dr. Cheng-Wen Wu, Vice President and General Director of the Information and Communications Research Laboratories, Industrial Technology Research Institute. "The 3-D IC technology for memories can effectively reduce the space required by hardware, enable faster data transmission, and expand capacity to meet the emerging trend of the thin-and-light consumer electronics devices. Both Intel and ITRI will be mutually benefited from this collaboration, as the collaboration will not only support Intel accelerating the development of future memory technologies but also the key technologies generated will grow the industry ecosystem from upstream to downstream to strengthen the global competitiveness of the Taiwan semiconductor industry."
With the intent to enrich people's life by providing end-to-end solutions for intelligent interaction among connected devices, the Intel-NTU Connected Context Computing Center -- a joint center established by the National Science Council (NSC), Intel and the National Taiwan University (NTU) in 2011 for machine-to-machine (M2M) computing research has made great progress. The research project entitled "NTU Robot PAL" led by Professor Bob Wang of the National Taiwan University, sponsored through Intel's higher education program, won third place in the standard platform league of the RoboCup 2011. Conferences and workshops which gathered scientists, scholars and Intel Fellows to exchange views and share the latest M2M research were conducted. In addition, five Ph.D. students were sponsored by Intel to do internships at the Intel Labs in the U.S this year and gain experience working with the latest computing technologies.
To further explore the extensive research opportunities and potential collaboration between the Intel-NTU Connected Context Computing Center and Taiwan's universities, government and the IT industry, Intel announced the Intel Scientist-in-Residence program in Taiwan, appointing Dr. Wen-Hann Wang, vice president of Circuits and System Research at Intel Labs, as the first Intel visiting scientist in Taiwan. Starting the second half of 2011 through the end of 2012, Dr. Wang will spend time in residence at the Intel-NTU Center to help accelerate the development of new technologies and identify new opportunities for research and business collaboration.
Rattner keynotes the "Innovation and Research Forum" in Taiwan to share information and research on future computing technologies and trends. Jointly organized by Intel and the National Science Council (NSC), the Forum is intended to encourage a technology-savvy and forward-leaning society by sharing leading-edge research and innovative visions of the future. The keynotes and demos at the Forum span future computing technologies, including trusted platforms, cloud computing, and embedded intelligence. In addition, Intel brings live demonstrations of current research projects at Intel Labs to help accelerate business innovation in Taiwan.
About MOEA
As the agency administering the national economy, the Ministry of Economic Affairs (MOEA) has implemented various economic policies and measures to help the Taiwan industries reinforce their competitive advantages at the different phases of the Taiwan's economic development. Additional information about MOEA is available at www.moea.gov.tw.
About Intel
Intel (NASDAQ: INTC) is a world leader in computing innovation. The company designs and builds the essential technologies that serve as the foundation for the world's computing devices. Additional information about Intel is available at www.intel.com/pressroom and blogs.intel.com.
About ITRI
ITRI is a national research organization that serves to strengthen the technological competitiveness of Taiwan. Since our inception in 1973, ITRI has played a vital role in transforming Taiwan's economy from a labor-intensive industry to a high-tech industry. Numerous well-known high-tech companies in Taiwan, such as leaders in the semiconductor industry TSMC and UMC, can all trace their origins to ITRI. To date, ITRI has cultivated 70 CEOs, 165 innovative companies, and accumulated more than 10000 patents. The six fields ITRI focuses on include Information and Communications; Electronics and Optoelectronics; Material, Chemical and Nanotechnology; Medical device and biomedical; Mechanical and Systems; as well as Green Energy and Environment.
In recent years, ITRI successively won international awards with its innovative inventions. Its innovative R&D and application capability is widely acclaimed internationally. ITRI's On-Chip AC LED lighting technology, high safety STOBA technology, eco-friendly fire retardant material REDDEX, 3D imaging "regional 2D/3D switching three-dimensional monitor and flexible display essential materials and processes FlexUPD, Universal Plane for Display have successively won R&D 100 awards. Moreover, the FlexUPD, Universal Plane for Display technology defeated Nokia, Ford and 600 other entries across the world in 2010, and also won the Wall Street Journal Technology Innovation Awards for consumer electronics, and the ultra-slim Flexpeaker also won the same award in 2009. The excellent technologies have won honor for Taiwan in the science and technology world.
About NSC
Established in 1959, the National Science Council (NSC) of the Executive Yuan (executive branch of the Republic of China) is the highest government agency responsible for promoting the development of science and technology. Over the years, the NSC's organization has adapted to meet the needs of changing times, but its fundamental character as a funding organization has never changed. Additional information about ASC is available at www.nsc.gov.tw.
Last updated: Apr 7, 2020 at 12:06 pm CDT