CUPERTINO, Calif. - November 28, 2011 - Seagate (NASDAQ:STX) is now shipping the second generation of Momentus® XT, its groundbreaking solid state hybrid drive for consumer and commercial laptops and the company's fastest drive ever for personal computers. With a simple drive upgrade, users can boost boot-up speed and overall performance to turbo-charge their laptop PC. Seven original equipment manufacturers are gearing up to ship laptops powered by the Momentus XT drive. The drive is now available at online retailers Amazon, Canada Computers, CDW, Memory Express, NCIX, Newegg, and TigerDirect.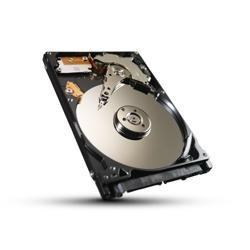 Seagate Momentus XT 750GB solid state hybrid drive, the world's fastest hard drive for laptop PCs.
Powering the Momentus XT drive are Seagate's Adaptive Memory™ and FAST Factor™ technologies. Adaptive Memory technology works by identifying data usage patterns, and then moving the most frequently retrieved information to solid state memory for faster access. Adaptive Memory effectively tailors hard drive performance to each user and the applications they use. FAST Factor technology blends the strengths of SSDs and hard disk drives for faster access to applications, quicker bootup and higher overall system speed.
"Laptop users want faster access to all of their content, from gaming, music and video to spreadsheets and documents, creating strong demand for the highest performance," said Scott Horn, vice president of Worldwide Marketing at Seagate. "Seagate is excited to answer this need with a second-generation Momentus® XT drive that delivers solid state drive (SSD) speed, greater storage capacity and easy installation at an affordable price."
"High-speed storage devices make a difference when it comes to improving overall PC performance," said John Rydning, research vice president at IDC. "Seagate's newest Momentus® XT drive gives notebook PC users an economical option for boosting PC performance while at the same time providing spacious storage capacity all in one device."
Momentus XT - Meeting the need for speed
The Momentus XT drive is nearly 70 percent faster than the prior Momentus drive version and up to three times faster than a traditional hard disk drive while providing 750GB of storage capacity. The Momentus XT hard drive's Serial ATA 6Gb/second interface and 8 gigabytes of Single Level Cell NAND flash double the interface and NAND read-write speed of the previous generation. The all-in-one design of Momentus XT drive makes installation and upgrading simple and easy for any laptop or desktop computer and with any operating system.
The Momentus XT drive is now shipping in volume worldwide. Manufacturer's Suggesting Retail Pricing (MSRP) for Momentus XT 750GB is $245.
Join a Seagate webinar for a chance to win a laptop powered by Momentus XT
Learn more about solid state hybrid drive technology and Seagate's new Momentus XT drive by joining a live webcast on Tuesday, December 6, at 11 a.m. PST. Sign up for a chance to win a high-performance laptop powered by Momentus XT: http://www.seagate.com/MomentusXTWebinar
Tuning Momentus XT for Optimal Performance
The hard drive industry is transitioning from the current 512-byte sector standard to a newer Advanced Format 4K (4096-byte) sector size that helps maintain data integrity at higher storage densities and capacities. Momentus XT takes advantage of this newer Advanced Format 4K standard and is already tuned for optimal performance on the latest PC operating systems.
Momentus XT customers can easily optimize Momentus XT to work with Windows XP and older versions of Microsoft Windows with a few simple steps. Please visit this pageon the Seagate web site to determine if Momentus XT is already tuned for your operating system version and how to do so if needed: http://www.seagate.com/momentusXT-4K.
http://seagate.com/twitter
http://seagate.com/facebook
http://media.seagate.com
About Seagate
Seagate is the worldwide leader in hard disk drives and storage solutions. Learn more at http://www.seagate.com .
Copyright 2011 Seagate Technology LLC. All rights reserved. Printed in USA.
Seagate, Seagate Technology and the Wave logo are registered trademarks of Seagate Technology LLC in the United States and/or other countries. Momentus and Adaptive Memory are either trademarks or registered trademarks of Seagate Technology LLC or one of its affiliated companies in the United States and/or other countries. When referring to drive capacity, one gigabyte, or GB, equals one billion bytes and one terabyte, or TB, equals one trillion bytes. Your computer's operating system may use a different standard of measurement and report a lower capacity. In addition, some of the listed capacity is used for formatting and other functions, and thus will not be available for data storage. Actual data rates may vary depending on operating environment and other factors. Seagate reserves the right to change, without notice, product offerings or specifications.
Last updated: Apr 7, 2020 at 12:05 pm CDT